==================
A Caveat and Affiliates
First off, a little caveat: within my articles you will find affiliate links, meaning if you buy them, I get a small commission. Your cost is not affected. In addition, I am an Amazon Associate and I earn from qualifying purchases on Amazon.
And yes, if I say that I recommend a product here, it means I truly believe it is a good product. I refuse to recommend any product that I have not researched and believe to be a good value.
Even better, I provide you with a very clear picture of the product, it's use, and the probable value.
Earning your trust is important to me. I run this website myself and the commissions and donations help support the site.
Sound reasonable and fair enough? Let's continue to the article.
==================
LOW MAINTENANCE BACKYARD PLANTS
If you're new or don't have much time in gardening to devote to plant care, select easy-to-grow plants that are versatile and low-maintenance to build a beautiful yard. From small ground covers to medium-sized trees, there are plenty of low-maintenance backyard plants. Some prefer the sun, while others prefer to be in the shade. You may also choose from several flowering and foliage plants that value their autumn colors.
Maintenance is minimal or straightforward when you select the low-maintenance backyard plants for decoration. Many people, whether out of necessity or desire, would like to engage in gardening. There is no such thing as a maintenance-free garden, but most gardening practices have a low-input approach or alternative to consider.
However, when designing a low-maintenance garden, everything begins by selecting the right plants. In that case, you're looking for something you won't be responsible for destroying. Fungicides are the last thing you want to deal with in your garden. It'd be great if you didn't have to think about when to prune. We would therefore propose in this article some of the best low maintenance backyard plants.

Plant Selection for backyard
 Choosing the right plants for your backyard is a vital part of the process. Excessive pruning, extra watering, and additional insect and disease spraying can add to your maintenance chores if you choose the wrong plant. By selecting the right plant, you can cut down on these chores and spend more time enjoying your garden.
Plants with messy fruits, pods, or shedding branches should avoid. Choose plants that will not outgrow their intended height and spread. Rather than adjust the conditions to fit the plants, choose plants suited to the growing needs.
When do you think about low-maintenance gardening?
Many gardeners prefer to keep gardening duties to a minimum because they have busy lives. However, there are occasions when low-maintenance or straightforward gardening is most acceptable. Such examples are:
Gardening in older age
When you're first starting in gardening
Managing a garden in a holiday home
When it comes to raising a family
How to make a garden that needs little maintenance
Besides selecting the low-maintenance backyard plants, you should consider a lot of other things before starting.
Planning
Begin by considering how much you should add to the garden and which features or functions are most important to you. Often, try to find more labor-intensive parts closer to the house or shed, so you don't waste time walking, dragging, or borrowing things up and down the yard.
Know your site
You'll be able to select plants that will happily thrive in your garden without having to be cosseted if you learn as much as possible about the environmental conditions, sun exposure, and soil type. Shade-loving plants are grown under trees, bog-loving plants are grown in moist soils, and drought-tolerant plants are grown on hot slopes. Understanding your site isn't tricky, and it will help you from wasting money on plants that aren't right for you.
No-dig method
The 'no dig' method can be very successful on soils with good natural soil structure. The use of organic weed-suppressing mulches minimizes soil cultivation in this process. Moreover, avoid unnecessarily compacting the soil by walking on it.
Make space for a bit of relaxation.
More outdoor space dedicated to functional living means more space to entertain guests and less space you have to commit to plants and decorative gardening. It means that your patio will have more room for your guests to enjoy during your events and less space that you will have to worry about dedicating to plants to prune and water or grass for you to mow.
Things to consider
Containers
From planting, repotting, and feeding to watering and handling, containers need a lot of care. If you intend to use planters, go for bigger ones with more compost so they do not dry out quickly.
Avoid tender plants
Lifting, winter wrapping, transfer to a safe area, and annual propagation are all tender plants' seasonal activities. Instead, check out plants that are fully hardy and can be left outside all year.
Large specimen plants
Purchasing and planting semi-mature plants can seem to be a fast way to get a garden up and running, but aftercare can be time-consuming. Younger plants also take half the time to grow and need less watering and staking. So, always avoid large specimen plants for the backyard.
Top 10 Best Low Maintenance Backyard Plants
1.    Ajuga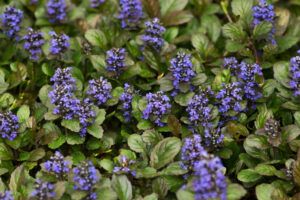 On the top of the list of low-maintenance backyard plants is Ajuga. It can be challenging to find attractive plants that will grow in the shadows if your backyard doesn't get much sun during the day. If you want to add color and reduce care in your backyard's shaded areas, this weed-smothering groundcover is an excellent option. It grows cute spikes of blue-purple flowers in the spring, followed by a mat of thick foliage for the rest of the gardening season.
Look for variegated varieties, such as "Burgundy Glow," which has pink and silver shades in its leaves, to add visual appeal. Plus, since ajuga grows year after year, you can plant it once and reap the benefits for years to come. They can help with erosion control on a bank or hill, fill in a patchy lawn where grass won't grow or add color to shady areas. They even work well as a ground cover under shrubs and trees.
2.    Caladium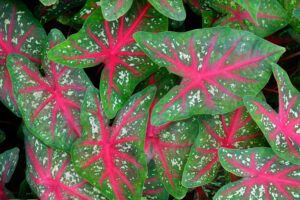 The tall, beautiful leaves of caladium will add a touch of the tropics to your shady backyard. The arrowhead-shaped leaves of this plant come in several colors, including red, pink, and white, so that you can compare them to the other plants in your garden. The white varieties are particularly appealing in the shade because they tend to glow, especially at dusk.
Caladium can be handled as an annual and left in the field all year, or it can be dug up and placed in a cool place for the winter. Caladiums are renowned for their ease of planting, and even the most inexperienced gardener can cultivate them successfully.
3.    Sedum
This low-maintenance plant rarely needs to be watered, except in the hottest months of the year. We also suggest purchasing a sedum tile (a "living carpet" made of a patchwork of smaller plants), which can often sell at garden centers due to the seemingly infinite range of sedum available, ranging from low-growing groundcovers to good bloomers. Place a sedum tile in loose soil, water thoroughly at first, and watch it grow.
Succulent leaves on Sedum plants vary in size from tiny needles to big, fleshy leaves. And, best of all, they're perennials, which means they'll come back year after year. They will go without water for long periods, and they can take some afternoon shade, but the taller varieties can flop over if they don't get enough light.
4.    Primrose beauty
When choosing plants for sandy soil, look for low-maintenance varieties like "Primrose Beauty," a flowering shrub that prefers well-drained soil. This species is recognized for its light yellow flowering and prospers in the full sun. "You don't have to prune it," the best part of it. The blooms are in full color from June to September, but with a maximum height of three feet, this shrub won't take over your garden and will blend in nicely with other plants.
Look for primroses that appear to be stable, with unopened buds if possible. They can be used in garden beds and borders and containers and to naturalize lawn areas. In reality, provided the right growing conditions, these hardy plants will multiply year after year, brightening up the landscape.
5.    Liriope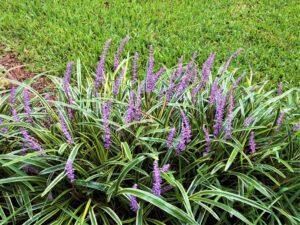 These are other perfect low-maintenance backyard plants. The Liriope plant checks off a lot of low-maintenance boxes and is a popular choice for a reason. They're inexpensive, not challenging, and come in a variety of sizes and colors. They can also divide to grow more plants. Liriope is a versatile plant that thrives in both sunny and shady conditions.
Liriope can cut once a year to allow for new development, but this isn't always necessary. It's an excellent choice for border planting, mass planting, and even Green Walls. Liriope has flower spikes that range from white to mauve and even deeper purple. Liriope is suitable for tropical, formal, and Asian environments.
6.    Cycad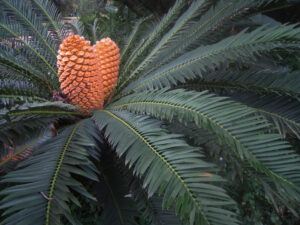 The Cycad plant is widespread in landscape design because it requires little or no maintenance. It's a striking plant that looks fantastic as a single specimen or in a grouping. These plants' foliage is rigid and cardboard-like, and they grow slowly, but they do well in both pots and inground in full sun to part shade. The only thing that needs to do in terms of upkeep is to cut old foliage once a year.
These plants fit well in gardens with Native, Tropical, Formal, and Asian themes. If you like blue leaves, make sure to select species that can grow them. Even if you live along the coast, give these plants whole light. Know that certain plants will have brown or red-tinged emergent leaves if you're looking for other colors in your cycads.
7.    Creeping thyme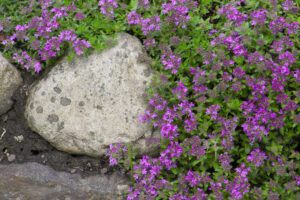 Home cooks and slacker landscapers alike love creeping thyme. Warm weather and occasional watering are all that can expect from this fragrant—and edible—perennial ground cover. Its hardiness and drought tolerance make it a good lawn substitute, and its tiny white flowers attract butterflies.
If an unseasonably cold snap occurs, cover your thyme with a tarp to keep it safe before the weather warms up. Creeping thyme can also tolerate being tromped on by mischievous children (making it kid resistant!), making it an excellent option for planting in areas with a lot of foot traffic.
8.    American Beautyberry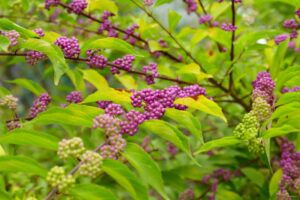 Look no further than the beautyberry shrub for a low-maintenance plant with year-round color. The beautyberry's leaves fall away in the fall and winter, exposing sparkling purple berries after months of green foliage dotted with lilac blooms in the spring and summer. This drought-tolerant garden variety and disease- and pest-resistant, needs little or no maintenance once planted.
American beautyberry prefers lush, organic soil, but it will thrive in less favorable soil as long as it drains well. It can need full sun depending on where you live and where you plant it. This shrub looks great in mass plantings and can also use for reclamation and erosion control. It's also an excellent plant for the back of the wall.
9.    Hosta
Are you looking for a low-maintenance alternative with a variety of options? Hosta is one of the most common plants for shade gardens. Colors, sizes, and shapes abound in these easy-to-grow perennials.
Leafy hosta plants can flourish almost anywhere, regardless of the amount of sunlight they get, making this groundcover an ideal choice for yards with a lot of shade. Water it in the morning to keep its green, gold, or variegated leaves from scorching and hydrate it as required during the day.
Once created, this lush plant will return year after year as a daily landscape addition. Most hostas' leaves are heart-shaped or round, but you'll also come across some that are very narrow, cup-shaped, or have wavy edges. Even the same-colored hostas hold the garden alive.
10.   European blue stars
European blue star's feathery green foliage varies with the seasons. It produces green feathery needle-like leaves in the summer, which turn dazzling gold in the fall, after blooming with soft blue star-shaped flowers in the spring. The leaves are also present for a portion of the winter months.
European blue star is low-maintenance and drought-resistant, making it a long-lasting and attractive addition to any garden. Many homeowners use the perennial as a border plant or in conjunction with other grasses. European blue star can be grown in full sun to partial shade, with well-draining soil.
Conclusion
In today's busy life, we do not have much time to spend in the garden. That is why keeping the low-maintenance backyard plants is a good idea. Because these plants require only minimal maintenance and are easy to grow, so, pick up some plants mentioned above to decorate your backyard. All these plants are easy to care for and make an excellent addition to your backyard.
Read More
The Power of Plants for mental health