==================
A Caveat and Affiliates
First off, a little caveat: within my articles you will find affiliate links, meaning if you buy them, I get a small commission. Your cost is not affected. In addition, I am an Amazon Associate and I earn from qualifying purchases on Amazon.
And yes, if I say that I recommend a product here, it means I truly believe it is a good product. I refuse to recommend any product that I have not researched and believe to be a good value.
Even better, I provide you with a very clear picture of the product, it's use, and the probable value.
Earning your trust is important to me. I run this website myself and the commissions and donations help support the site.
Sound reasonable and fair enough? Let's continue to the article.
==================
Our 10 Top Outdoor Patio Swings and Gliders
Outdoor Patio Swings and Gliders help improve the appearance of any property. But, more importantly, they improve your quality of life, particularly during the summer. In fact, most people enjoy them year-round. The sensation of swinging back and forth, whether you're reading a book or spending time with a loved one, provides both pleasure and comfort.
These swings design for the ultimate comfort, with unrivaled beauty and utility. Water-resistant, durable patio and porch swings include in this list of outdoor patio swings and gliders. All these outdoor patio swings and Gliders come from respectable manufacturers with good warranty policies and customer care.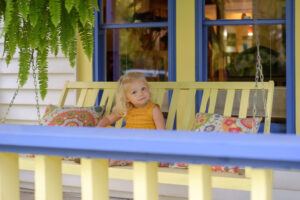 Factors to Look For Before Buying Patio Swings for Outdoors
1.  Choose A Material That Appeals To You.
Wicker, carbon steel, plastic, and, of course, wood are all used in the construction of outdoor swings. A robust recycled plastic patio swing in white or brown may match an old-fashioned brick home or a modern home with an open patio. However, many people prefer sturdy steel or even the warm feeling of wood.  Choose an oak porch swing made of wood that matches the design of your home if you want a classic appeal.
Color and texture factor into your options, too. Of course, any of the materials might feature the color of your choice. To keep it coordinated, select a neutral color and use accessories such as pillows or a soft blanket for color accents.
2.  Climate
Consider the weather in your location before purchasing a porch or patio swing for your house. In zones where there is a percentage of rain or snow, plastic swings may be the best option. An iron swing is also hefty and durable enough to endure the elements, including wind and snow. In a warm environment, a traditional white wicker swing is ideal.
3.  Strength and Durability
Your patio swing can only be as secure and dependable as it is comfortable. It entails selecting a sturdy swing material. Exceptionally durable materials, such as teak or plywood, should also consider.
4.  Fasteners and Connections
Stainless steel is the best fastener to use, especially in coastal areas. Stainless steel, though more costly, will endure the longest and will not tarnish or corrode. Dacrotized screws go through a procedure that gives them rust and corrosion-resistant coating. Galvanized and zinc-plated fasteners are also viable solutions.
5.  Safety
Examine how much pressure your backyard swing can withstand. When purchasing the swing, the product description should read. For the other type of swing, there will undoubtedly be different weight criteria. If the swing is for children, it will have a lower intensity endurance.
You can't constantly be cautious when resting, worrying about what might happen if the swing's chain failed to hold the porch. By doing this easy safety check, you can prevent any accidents from occurring.
Our 10 Top  Outdoor Patio Swings and Gliders
1.  POLYWOOD GNS60WH Vineyard Swing
This porch swing is a replica of the timeless porch swing ideal. It seems to be a fixed bench, yet it suspends chains. Simply stated, it shows an essential, sleek, and uncomplicated appearance. Constructed from a biodegradable polymer combination, it appears as wood. However, despite the wood-like look, it shows none of the cracking or rotting problems that wood might have. Best of all, it creates in the United States and is available in a variety of hues.
This swing can accommodate three people, which makes it great for families. The bench comes without cushions, although it bends for comfort. However, I recommend adding your own favorite cushions.
Thanks to clear instructions and marine-grade hardware, installation is a joy. Gentle motions will make your free time more pleasant and peaceful.
2.  Giantex Loveseat Outdoor Patio Rocking Glider
The Giantex powder-coated steel outdoor glider bench offers a sturdy and long-lasting option. It is a durable and robust bench that will not deteriorate over time. With seat and back cushions, it's a comfy bench. The cushions are comfortable to sit on and can support two persons weighing up to 500 pounds. Overall, this is a high-quality outdoor glider bench that is easy to put together. All hardware provide is ready to use right away.
It has backrest cushions, as well as an ergonomically smooth armrest. Its outdoor rocking loveseat gives a pleasant and comfortable experience. It's effortless to put it together by yourself if you follow the directions. In fact, people report it takes no more than 20 minutes to complete the installation.
3. PURPLE LEAF Patio Gliders Outdoor Swings and Gliders for Outside Patio 4 Person Swing with Canopy
When you want a unique yet comfortable glider, consider the 4 person option by Purple Leaf. In fact, not only does it seat 4 quite comfortably, but this glider system also has a canopy cover to keep off the direct sun. And, you won't need to purchase an extra table for drinks or snacks. In fact, the center table makes a nice place for these or for a fun game of cards.
But don't let the price cause you to shy away. Remember, this provides room for 4 adults with a table and canopy. That's more than twice what an average patio glider offers. It's well-made, quite sturdy, and attractive. Additionally, it offers UV- resistant, water-repellent, fade-resistant, and easy-to-clean materials.
4.  Esright Outdoor Patio Swing Chair
This inexpensive canopy swing offers sun, wind, and rain protection. Even better, the canopy is adjustable, allowing you to choose a comfortable viewing angle. Assembly takes around an hour between two adults due to its more sophisticated construction than hanging swings. The patio swing can hold up to 450 pounds, and reviews claim it comfortably seats three people. What's the best part? For enhanced comfort and safety, it has a cushioned seat cushion and non-slip foot cushions.
This swing's cover and cushions are made of polyester fabric and not fasten. They are removable and replaceable. So easy to clean, you might even use the pressure washer on the patio to clear the dirt and grime. Of course, keep the pressure low to avoid rips and tears.
5.  Jeco W00205S-C-FS011 Wicker Porch Swing
This wicker swing is equal parts sitting and décor for an old, farmhouse-style porch. Moreover, it shows resistance to most kinds of weather. It's pretty comfy, strong, and nicely manufactured, with good customer recommendations. According to one buyer, the swing "takes five minutes to install" and "significantly improved the aesthetic of the front porch. It also includes a steel frame and a sturdy chain for long-term durability and ample room for two people.
6.  VINGLI Upgraded Metal Porch Swing
The decorative pattern on this extremely highly metal swing lends elegance to porches and gardens. With a humanized (ergonomic) design, it provides a comfortable seating area of about 4 feet, The swing easily supports two people or a total weight of 800 pounds. Of course, you might not need that weight range. However, it does show the impressive strength of the swing.
Customers claim it lives up to expectations and was great to handle. A set of two sturdy hanging chains which feature safety closed loops transforms your porch, patio, or deck into the ideal lounging spot.
7.  Finefind Patio Glider Bench
Another pleasant and soft seat to choose for ultimate enjoyment outside is the Cloud Mountain outdoor glider bench. This bench, constructed of robust wrought iron, provides for long-term usage. It features a 6-inch thick cotton cushion material that is soft and comfy. The bench accommodates two people and has a maximum weight capacity of 500 pounds. While designed for two adults, some find it easily handles two adults with a child between them.
Covered with Olefin fabric, it stays both robust and attractive for a long time. This loveseat glider is a one-of-a-kind creative design with circular parts. It may not only make your yard seem more contemporary and stylish, but it can also support the most pressure.
8.  Tangkula 2-Person Patio Swing, Outdoor Yard Swing
This canopy swing has a lot of flairs and doesn't require any installation. The powder-coated paint surface is rust-resistant, and the polyester-oxford material is weatherproof and heat resistant. The canopy's angle changes to accommodate the sun's slanting rays.
The seat accommodates two people and comes with plush cushions, making it ideal for couples and families that spend a lot of time outside resting. This canopy would look great on a porch, a patio, or by a pool or grill.
With its optimum angle, the chair's slightly slanted back ergonomically matches your back spine. For relaxation, it offers a smooth, back-and-forth gliding action. The rocking chair's construction is solid and long-lasting, allowing the entire set to remain useful for many years. When reclining and resting, the glider chairs with armrests easily support your arms.
The set's water-resistant Textilene fabric offers high tensile strength and load capacity. Furthermore, this fabric provides ventilation so that you will stay cool throughout the hot day. The glass table features a hole for your patio umbrella and requires minimal setup.
10. Sophia & William Outdoor Patio 3-Seat Swing Chair
The massive alloy steel structure of this outdoor swing chair is corrosion and weather-resistant. The moisture resistance fabric provides a more pleasant ventilated seating experience. The flexible convertible canopy may adjust to a variety of angles to accommodate different sun orientations.
One of my favorite features of this set, the folding side tables, makes it ideal for resting with a cool drink, too. In fact, this might become your favorite mid-day break spot or evening rest area.
The modern porch swing glider complements the smooth arms of a compact foldable side table and cup holder for your mobile phones and drinks. The 3-seat outdoor swing with cover comes with all of the necessary components as well as installation instructions.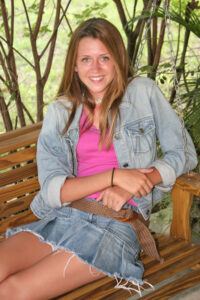 Conclusion
For a nice and peaceful moment, consider adding one of these outdoor patio swings and gliders benches to your home. In fact, you might these are among the most incredible outdoor glider and swings on the market today. Count on them to offer high-quality function for many years to come.  These quality swings and gliders bring great value for the money.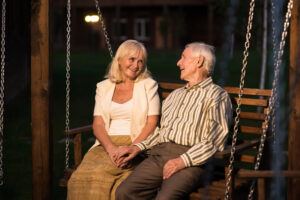 Read More
What is the Best Material for Outdoor Furniture?
Health Benefits of Being Outside (BusinessInsider)9.  Outdoor Double Glider Chair with Umbrella Hole