==================
A Caveat and Affiliates
First off, a little caveat: within my articles you will find affiliate links, meaning if you buy them, I get a small commission. Your cost is not affected. In addition, I am an Amazon Associate and I earn from qualifying purchases on Amazon.
And yes, if I say that I recommend a product here, it means I truly believe it is a good product. I refuse to recommend any product that I have not researched and believe to be a good value.
Even better, I provide you with a very clear picture of the product, it's use, and the probable value.
Earning your trust is important to me. I run this website myself and the commissions and donations help support the site.
Sound reasonable and fair enough? Let's continue to the article.
==================
Choosing a Patio Heater
Patio heaters are trendy garden heaters to warm up our outside space all year or when it's a bit chilly outside. It is becoming more popular, especially that autumn is coming. In addition, patio heaters come in a variety of materials, including stainless steel, aluminum, and steel. We can operate them by using gas, electricity, or wood. Continue reading to learn how to choose the best patio heater for your needs.
The best patio heaters will keep your backyard toasty and comfortable. Of course, it is possible to buy it for heating, but some models come with aesthetics in mind. For example, there are different types and styles of fireplaces available on the market. It ranges from open flames to wall-mounted designs and fire pits.
What We Need to Look for When Choosing a Patio Heater
We can install an electric patio heater near an electrical outlet. At the same time, a gas patio heater requires gas bottles to function. We can put up electric heaters in a short period. But, if our patio space is at the bottom of the garden, it may need an extension cable. At the same time, other Patio heaters like propane or butane don't need to be near a power outlet.
Some patio heaters only need natural gas to produce heat. Unfortunately, the bottle supply is separate, and we need to replace it as they get exhausted. Gas heaters are also far heavier than electric heaters, which makes them more stable.
The amount of heat produced.
Patio heaters are like interior heaters. They have a design that provides heat to a variety of spaces of varying sizes. The power rating of these devices ranges from those meant to heat a table for two or more. They are also capable of heating large terrace bars or garden lounge spaces. Choosing a higher heat output is not worth the effort, but be careful not to overestimate the strength of our heater at the risk of becoming chilly! We should pay close attention to whether our outdoor heater can perform as expected.
Patio heaters are available in various configurations, with new models entering the market. They are space heaters, and their operation is dependent on how they supply their power.
Four Types of Patio Heaters
Electric Patio Heaters
Electric infrared heaters use a heating element or bulb to convert electricity. It carries heat by electromagnetic waves until it reaches an object. These heaters do not heat the air itself.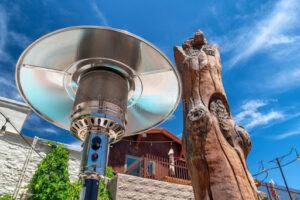 The energy absorbed by the electromagnetic waves will give us warmth. It is the same heat transmission from the sun. There are no detrimental consequences such as UV because the intensity is low. Infrared radiation is harmless.
 Infrared is a type of light that travels in straight lines and diminishes with distance. As with a light bulb, the closer we get to it, the more infrared heat you absorb and the warmer you feel. The greater the distance, the less of it reaches us and the colder we feel.
 When it comes to outdoor comfort, we can feel warm by having heaters outside or standing closer to the heater. These are the most important things you can change.
 These electric heaters have their own set of advantages and benefits. Consider the following benefits:
We can simply plug in and play an electric heater. We can place the electric heater where we want it, plug it into any ordinary home socket, and be ready to go.
Electric outdoor heaters are safe for smaller outdoor spaces. However, the air is enough for gas heaters.
Electric heaters are simple to use. But, first, we need to choose a location near your favorite chair or an area close to the party for comfort.
Our Favorite Electric Patio Heaters Include:
Propane Patio Heater
 Patio heaters can generate heat from different sources. These include electricity and natural gas. Yet, propane patio heaters have significant advantages. Not only is propane a cheap fuel source, but it is also quite portable. We can use it almost at any place without the need for municipal gas or electricity.
 The cost of these depends on how one will use them and their functions. The manufacturers produce more cheap units in response to rising consumer demand. The heaters are available at home improvement and garden retailers.
 Propane heating provides location flexibility as well as quick heating. Among the benefits of propane heating are:
The propane patio heater is portable, agile, and easy to install on job sites for quick set-up.
It has a separate power source. It allows independent use and eliminates the need for electricity.
Yet, there are several drawbacks to gas heating that we should be aware of:
First, it needs a 20-pound propane tank.
It requires expert installation if linked to an existing, direct gas line.
Our Favorite Propane Patio Heaters Include:
Natural Gas Patio Heaters
Natural gas heaters provide warmth on well-ventilated outdoor decks. You may use this kind of heater if you have natural gas lines installed on your home patio. These heaters deliver speedy heat compared to other heater types.
 The effective heating system is perfect for large gatherings and outdoor feasts. We can relax any other time we want and enjoy our outside space. However, with natural gas heaters, there are a few considerations to keep in mind.
 There are things to consider following the benefits of installation. When selecting a natural gas patio heater for your house or business:
It should have better heat output: It uses natural gas to produce more heat than electric outdoor heaters.
Many outdoor heaters now have elegant exteriors that can go well with outdoor decor. These characteristics are ideal for outdoor bar decks, patios, and pool decks.
But, there are certain disadvantages to installing natural gas patio heaters:
It needs a professional installation for safety and to protect product warranties. Professional installation may be costly. 
It has fixed heating that refers to natural gas heaters that connect to natural gas lines.
Ventilation: For safety, We should put it in a well-ventilated space.
Outdoor natural gas heaters are solid and energy-efficient. It is suitable for business and residential decks and patios. They also give much heat to outdoor areas. You can also design a fashionable outdoor lounging area on our pool deck.
We don't have access to natural gas.
However, our friends who do tell us that these two are among their favorites:
Wood Patio Heaters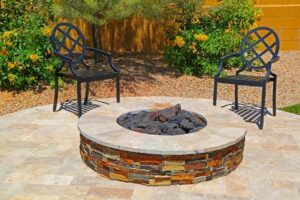 Wood patio heaters are a popular choice because of their atmosphere, but It involves more effort than any type. First, we need to add wood to keep the fire burning. Then, we also need to wipe out the ashes afterward. Fire pits and chimineas are good because people enjoy the atmosphere of sitting by a fire.
A fire pit or chiminea may be more difficult to light than other heating choices. However, you can use it, particularly on a windy day. Furthermore, you will have less management over the temperature. For many people, the appearance and feel of a wood fire are worth the trade-offs.
I must admit, wood just feels so much more comfortable to me. It's an emotional attachment, in part. I grew up in a home with wood-burning stoves that enabled us to use less oil for heat. In fact, the smell of wood-burning brings back so many happy memories. Those include warming up next to the woodstove. But also toasting marshmallows over an open campfire while sipping hot cocoa. While we don't use wood for heat anymore in our home, we do enjoy the crackle as it provides a warm glow in our fireplace.
These two options for wood-burning heat are among the
favorites of my friends who use wood for outdoor heat:
Things to Consider When Buying an Outdoor Heater
When choosing an outdoor heater, you must know all your options. Then, you need to balance which priorities are most important to you. Aside from that, here are some other things to consider when getting an outdoor heater:
How and why we will use it
An essential thing to consider when getting an outdoor heater is the usefulness, patio or yard size, and the number of people using it.
A tabletop heater is ideal for small outdoor spaces where you and your guests. However, if you have an enclosed area, you should exclude all options except outside electric heaters.
Patio heaters are the best option if the heater is a social focal point rather than a practical one. The ideal choice relies on context and personal preferences.
It's a smart option to estimate your budget before you start looking, so you know what range to look into. Some of the more expensive models are lovely. It may be worth the expenditure in the case of natural gas heaters, which can save you more in the long run. Yet, if our wants and desires are simple, there's no reason to pay more than necessary.
Heaters are risky. The weight of a patio heater can withstand windy days or fire. Many models have an auto-shutdown feature. Suppose you live somewhere where severe winds. Look for a model that has this feature, or at least secure the heater.
We should keep the gas and woods outdoors. We need to place it in an enclosed or covered patio to avoid accidents and fire. Electric heaters are the safest alternative. However, we must be careful not to set them too close to flammable materials.
Because backyard fire pits use an open flame, they are the most dangerous sort of outdoor heater. Always put out the fire and keep it restricted to the hole. This way, it will not spread.
Keep in mind that the safety of the outdoor heater is up to the user. First, we can reduce our risk of injury by reading the instructions. Then, we can use it for outdoor heater safety.
Takeaway
Some outdoor heaters are simple to use from the minute you receive them. Others will present work or maintenance tasks.
How difficult is it to light your heater? For most electric and gas types, it's a simple switch. Fire pits and chimineas need more effort and time. How hard will it be to assemble when you get it?
Some models need more complex assembly or installation than others. So be sure to prepare. For example, electric and natural gas heaters are usually only plugged in once. Other types need regular fuel replacement.
Consider the work involved in owning the type of outdoor heater we want. Some people don't mind exerting effort to get their goals. However, others may find the work required to use their goods deterring.
Read More:
Top 10 Gas Grilling Tips and Techniques
 6 Types of Outdoor Grills For Best Barbeques
 Planning Your Outdoor Space: Your Dream Backyard
 7 TOP RATED GAS GRILLS UNDER $500
 What is the Best Material for Outdoor Furniture?