==================
A Caveat and Affiliates
First off, a little caveat: within my articles you will find affiliate links, meaning if you buy them, I get a small commission. Your cost is not affected. In addition, I am an Amazon Associate and I earn from qualifying purchases on Amazon.
And yes, if I say that I recommend a product here, it means I truly believe it is a good product. I refuse to recommend any product that I have not researched and believe to be a good value.
Even better, I provide you with a very clear picture of the product, it's use, and the probable value.
Earning your trust is important to me. I run this website myself and the commissions and donations help support the site.
Sound reasonable and fair enough? Let's continue to the article.
==================
Winter Covers for Outdoor Furniture
Winter is right around the corner and while it's a fun time for most, it's not exactly the case for our outdoor furniture. Well, I show you the best winter covers for garden furniture outdoor or patio furniture.  Plus the best winter covers for garden furniture. Have you thought about what you would do with your garden or patio chairs when winter comes around? I bet you haven't.
Good thing we've got you and your outdoor furniture covered! We're going to give you several recommendations on the best winter covers for outdoor furniture in the market. If you want to skip to that part, it's here. 
But first, why do we need winter covers for outdoor furniture? For some of us who have extra space at home where you can store your outdoor furniture during the winter, this won't be a problem. Unfortunately, not all of us have that luxury, so we need extra protection for our furniture.
Outdoor furniture covers aim to protect our chairs, tables, and other outdoor furniture from snow, hail, rain, or the sun. They help in ensuring that our furniture lasts a long time and stays durable throughout its life. Unless you want your hard-earned outdoor furniture to go in the trash after one snowstorm, you should keep reading.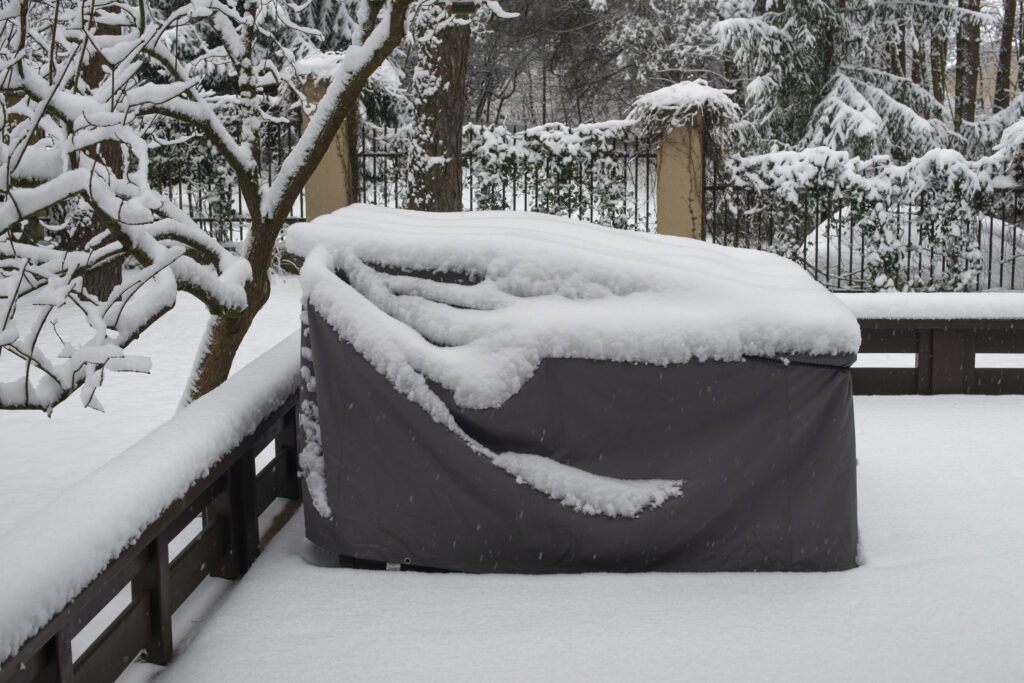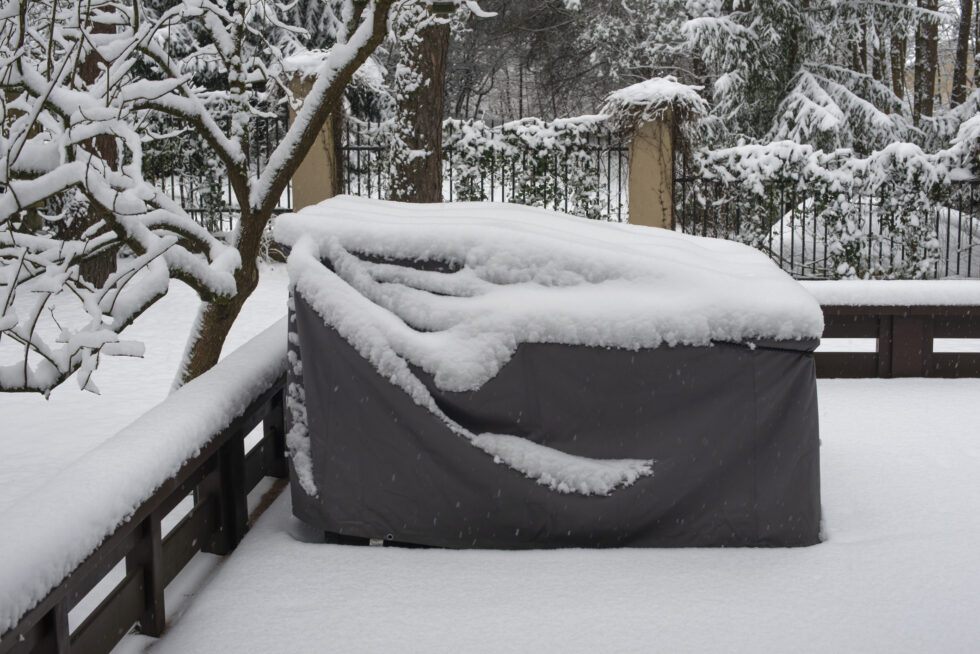 What Happens to Your Furniture When Left Outdoors in the Winter?
Your furniture reacts differently to extreme weather conditions, depending on the type of materials used on them. Thus, we've gathered some information on how the winter weather affects your outdoor furniture when left uncovered.
Wooden Furniture
Wooden furniture is easily the most vulnerable material under extreme weather conditions. If you leave your wooden furniture uncovered in the winter, moisture can seep into the wood and crack when it freezes in the cold. Applying wood sealant may help, but won't guarantee the complete safety of your wooden chairs and tables.
Aluminum Furniture
While aluminum furniture is relatively more durable than most materials, it is still very much at risk in the changing of seasons. Be careful not to leave your aluminum furniture uncovered in the rain or during winter. If water gets inside the furniture, it can freeze in the winter and ruin your perfectly good aluminum chair from the inside.
Plastic Furniture
Plastic furniture may fracture and shatter in excessive heat or cold. During the winter, protect your plastic furniture from freezing temperatures by covering it. It's easier to blow around plastic furniture during snowstorms since it's lighter, so a heavy cover is necessary.
Wrought Iron Furniture
Iron is extremely prone to rust. The winter cold does not help with this at all as water will cover your entire iron furniture if you don't.
Wicker Furniture
Wicker furniture can be pretty expensive, and you don't want to ruin your expensive furniture, right? It is better to cover throughout all seasons, but during the winter, there is a great need for it. If you have wicker furniture outside in the winter, cover it to prevent snow and ice from weighing the furniture down and damaging the rattan.
Cushion
More than the material of the furniture itself, cushions are far more prone to damage under extreme weather conditions. If you let it sit uncovered in the winter, cushions will accumulate moisture. What this moisture does is cause mold and mildew to grow inside your cushions.
Best Winter Cover for Outdoor Furnitures
Badly need winter covers for your outdoor furniture? We've looked and tried various kinds of furniture covers so you don't have to. The best thing is that they're all found on Amazon, so you literally just have to sit back, relax, and shop while sitting on your outdoor sofas.
Source: Amazon
Isn't it the most visually appealing outdoor furniture cover you will ever see? These khaki patio chair covers are extremely durable and reliable. Asinking outdoor chair covers are constructed of double PVC-coated 600D polyester, which is more UV-resistant, fade-resistant, waterproof, and tear-proof than other outdoor sofa covers. And can withstand any harsh weather conditions.
Nothing can stop you from preserving your outdoor furniture to the fullest extent with these outdoor lawn chair coverings' outstanding well-stitched and tape-sealed seams. These covers have a superior waterproof coating and air vents. Asinking winter-proof patio chair covers fit most types of outdoor patio chairs, single sofas, and other items up to 35″W x 38″D x 31″H.
The package comes with two outdoor chair covers. And while there's not much color selection, you can choose the size of your chair covers from medium (30"W x 37"D x 31"H) to large (35"W x 38"D x 31"H). It also features adjustable click-close straps and a drawstring for necessary fit adjustments.
Source: Amazon
These patio furniture covers offer complete protection from dust, grime, sun, rain, and heavy snow. The high-strength polyester top panel and a revolutionary, multi-layer, breathable wraparound panel ensure Ultimate covers are built to last and never require you to mess with any more vents. The durable fabric has double the protection with tape-sealed critical seams to prevent water leakage.
The product has four sizes, ranging from 29"W x 30"D x 36"H as the smallest to 40"W x 40"D x 36"H as the largest size. Other features include an elastic hem with a cord lock to customize the fit of the cover. It also has click-close straps to secure the chair cover in place.
Source: Amazon
Whether you have stackable chairs in your outdoor spaces, or you just want your outdoor covers to look elegant and sleek, this AmazonBasics Outdoor Chair Cover is for you. The product is also designed to fit single chairs. The cover is made of 100 percent woven polyester fabric with a laminated PVC undercoating to prevent rain from soaking through.  
The product has dimensions of 36"W x 28"D x 47"H. It features click-close straps for easy security during snowstorms or windy days. This outdoor furniture cover has tough interlocking seams to provide increased strength and drawstrings to adjust the fit of the cover on the furniture.
Source: Amazon
Every element of SunPatio's outdoor furniture cover is carefully considered to provide outstanding performance and long-lasting functioning in all weather conditions. It brings high-quality protection for your furniture throughout the year, not just during the winter. This product has great material and excellent features to complement it.
It is made with heavy-duty material, which resists UV rays, ripping, and cold cracking, so it can keep your outdoor furniture in great shape even when exposed to many types of weather. This bistro set is built to keep you dry with special sealing tape used in the double-stitched seams. This is to prevent water from seeping through the seams.
To help increase airflow, the lid has a built-in mesh vent. The closure straps lock the cover down securely, preventing it from becoming dislodged or getting blown off on windy days. The cover fits a bistro table and two chairs with dimensions of 67″L x 30″W.
Source: Amazon
Looking for a heavy-duty outdoor furniture cover? Don't look elsewhere because this is just what your outdoor dining set needs. This is made from a 600D polyester canvas that is waterproof and durable enough to protect against the elements such as rain, hail, snow, dust, leaves, and bird droppings.
The wind may be blocked thanks to the two well-made vent structures that stay open. Plastic clips and heavy-duty elastic drawcords, especially when fastened to the table leg, prevent the table from toppling during high winds and severe weather. The material of the furniture is made from PVC, which is a strong, water-resistant material when used as a cover.
You have a wide range of options in terms of size. You can get a square cover with 54"L x 54"W as the smallest to 94"L x 94"W as the largest dimensions. They also have rectangular covers with 88"L x 62"W as the smallest to 136"L x 73"W as the largest size.
Source: Amazon
For those with large pieces of furniture, it may be difficult to look for winter covers for garden furniture that would fit your king-size furniture. Thus, we bring you this extra-large furniture cover! With dimensions of 137″L x 86″W x 27.5″H, it fits rectangular, round, or even oval tables with 12-14 chairs or 6 to 8-seater sofa sets.
HIRALIY outdoor furniture coverings are composed of a laminated fabric, which is constructed of a 300D oxford material). Additionally, there is a non-hydrophilic surface coating, which means that rain or water will flow off like water off a surface. You can even reuse these furniture covers for the summer!
Aside from the extremely durable material, this cover features a reinforced handle for convenient fitting and removal and a drawstring to allow a custom fit. Moreover, it has four adjustable click-close straps that tie around the legs of your furniture to help secure the cover. Talk about bang for the buck!
Conclusion:
Winter is coming so it's best to be prepared. That's about it for the list of the best winter covers for garden furniture. Check those out and I hope this helped you. Let me know your thoughts below.
Read More: