==================
A Caveat and Affiliates
First off, a little caveat: within my articles you will find affiliate links, meaning if you buy them, I get a small commission. Your cost is not affected. In addition, I am an Amazon Associate and I earn from qualifying purchases on Amazon.
And yes, if I say that I recommend a product here, it means I truly believe it is a good product. I refuse to recommend any product that I have not researched and believe to be a good value.
Even better, I provide you with a very clear picture of the product, it's use, and the probable value.
Earning your trust is important to me. I run this website myself and the commissions and donations help support the site.
Sound reasonable and fair enough? Let's continue to the article.
==================
What Type of Outdoor Furniture Lasts Longest?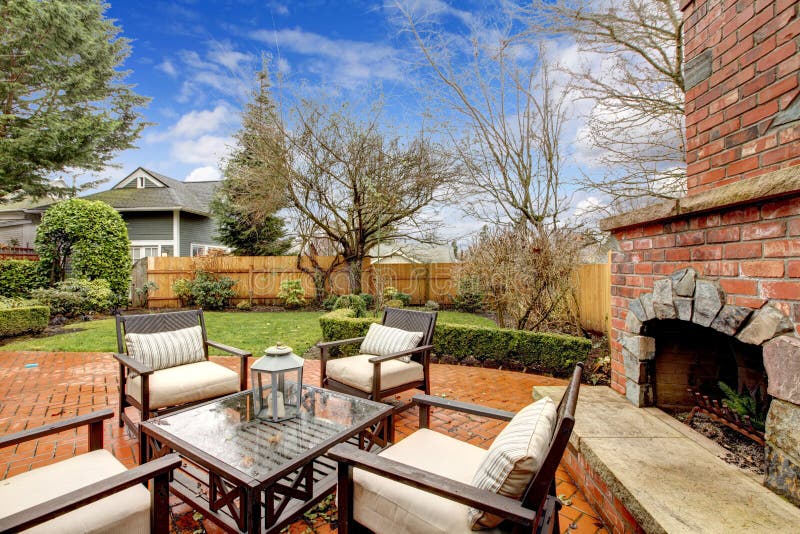 Whenever buying outdoor furniture, many of us don't consider its longevity. Instead, we just look for the furniture that suits our mood, style, and taste. However, it is wise to think about what patio furniture lasts the longest.
If you don't consider the quality of your patio furniture, you may have to invest again to buy new furniture most often. If you have a beautiful landscape, a tidy poolside, or a green backyard, you should consider purchasing outdoor furniture that will not rust.
So, what are the best outdoor furniture sets?
What Patio Furniture Lasts the Longest?
People often choose wrought iron as their favorite among the most preferred outdoor furniture that lasts the longest. However, it needs proper care to ensure its longevity. Regular maintenance, such as cleaning, is also required to keep the corrosion and rust.
Getting good value for our money remains essential to most people. Understanding what type of outdoor furniture lasts the longest helps us find that value component. With so many choices available, finding the perfect material seems challenging. Let's break down the choices and understand their differences.
People often choose wrought iron as their favorite among the most preferred outdoor furniture that lasts the longest. However, it needs proper care to ensure its longevity. Regular maintenance, such as cleaning, is also required to keep the corrosion and rust.
The outdoor areas of your home, like patios and backyards, requires you to furnish them with furniture that is just as durable and comfortable as your indoor furniture. Outdoor furniture that lasts the longest lets you enjoy outdoor gatherings for years to come. Keep reading the post to know what type of outdoor furniture lasts the longest!
Whether it is a balcony, patio, poolside, or any other outdoor setting, consider furniture as an integral part. Furnishing your outdoor space with the right kind of furniture improves its looks and feels. But also holds the promise of entertainment, enjoyment, and relaxation.
Buying outdoor furniture requires you to consider the same factors as you do when buying indoor furniture. However, there exist some other aspects as well that you have to keep in mind. Below, we will discuss how to choose the longest-lasting outdoor furniture and what type of outdoor furniture lasts the longest.
So, let's get started!
10 Types of Outdoor Furniture That Lasts Longest
Here are some of the best types of outdoor furniture that lasts the longest.
1. Wrought Iron
Do you want to add an elegant and classic look to your outdoor areas, such as backyards or patios? Then go for outdoor furniture made from wrought iron. This type of furniture brings the ultimate timeless option to add a subtle charm to your outdoors.
The outdoor metal furniture that lasts the longest is carved, moulded, and styled by heating. Since metal is weather-resistant, durable, and long-lasting, you should know that it is heavy too.  However, this type of furniture is easy to care for, maintain, and clean, which is excellent.
What's more, wrought iron furniture comes with a vast range of incredible styles, colours, and designs, so you can easily opt for the one according to your needs. Moreover, when it comes to appearance, the furniture is versatile and can perfectly adjust in almost all types of outdoor settings.
Thus, wrought iron furniture is the most popular option, not just because it is versatile and stylish, but because it is an excellent addition for the outdoors in every way.
Benefits of Wrought Iron Furniture
It is stylish, sturdy, and timeless-looking.
Wrought iron is an excellent option for high wind areas.
It provides a massive range of styles, colours, and designs.
2. Aluminium
Aluminum is also widely used in outdoor furniture. The material is inexpensive and lightweight. It means outdoor furniture that is made from aluminum is easily movable. Despite being lightweight, it is sturdy, strong, durable, and can be worked into various intricate shapes.
Another advantage of aluminum furniture is that it is easy to care for, requires low maintenance, and never rusts. Though the material itself is incredibly weather-resistant, you should still consider polyester powder coating. It is because this electrostatic process protects your furniture from scratches as well.
While painted aluminum is readily available on the market, powder coating adheres much better to the metal and is exceptionally resistant to fading. However, if you reside close to the sea or the wind in your area is salty, aluminum furniture is not a good option for you as it tends to eat away at the paint and untreated metal.
One more thing to consider is like any other metal, aluminum tends to heat up quickly, so it is best to have seat cushions to keep yourself comfortable.
Benefits of Aluminum Furniture
Incredibly resistant to rust.
It is lightweight, easy to clean, and durable.
Easily movable.
Low maintenance and inexpensive.
It is an excellent option for areas where it rains a lot.
3. Plastics
When talking about the outdoor furniture that lasts the longest, many of us wouldn't think of plastic. However, it can be a tough competitor nowadays. Plastics, such as polypropylene and polyethene, are known for making stylish, colourful, and eye-catching furniture. Furniture made from these plastics can be pretty durable and long-lasting.
Many outdoor furniture pieces that we see around are made of high-quality recyclable plastics, and one of the most popular among them is Polywood. This type of plastic is made from HDPE (recyclable plastic), which is high-density polyethene. Moreover, it also includes UV protection to act as a shield against harmful sun rays.
However, some furniture made from plastic is cheap and not as resistant as other options. Thus, make sure to avoid such outdoor furniture that can crack and fade quickly.
Benefits of Plastic Furniture
Colourful and attractive.
It is easily moulded to any décor style.
Fade-resistant and do not require sealants or paint.
Easy to clean and maintain.
4. Synthetic Resin
This Synthetic polyethene resin is virtually in use in almost all outdoor wicker furniture. Natural wicker uses a range of organic sources, including seagrass, banana leaves, rattan, bamboo, and willow. Although plant-based wickers are aesthetically pleasing and robust, they tend to damage humidity, moisture, and rainy weather, which means they cannot be used for outdoor pieces, such as chairs, sofas, tables, etc.
On the flip side, the high-quality resin is incredibly resistant to weather and eco-friendly because of its density. Moreover, good quality and high-density polyethene don't emit any chemicals, are puncture-resistant, and withstand UV rays for years to come without losing their initial quality.
Synthetic resin (all-weather wicker) is also light in weight, strong, fade-resistant, and requires minimal maintenance. However, make sure to avoid purchasing cheap quality furniture made from polyvinyl chloride, which can crack and become brittle over time. Most outdoor furniture that lasts the longest features aluminum frames to increase its weight and support. You can colour synthetic wicker to make it indistinguishable from natural wicker.
Benefits of the Synthetic Resin
It is lightweight, weather-resistant, eco-friendly, and very dense.
Highly puncture-resistant and doesn't emit any chemicals.
Easy to clean and 100% recyclable.
It can withstand UV rays for years without losing its initial quality.
It can be organically coloured to make it indistinguishable from natural wicker.
5. Stainless Steel
Consider stainless steel for another material used in outdoor furniture that lasts the longest. In fact, if you dislike having to clean your furniture now and then, stainless steel might top your list. It uses solid materials, which makes it weather resistant. The high-density Chromium content reduces atmospheric corrosion and dents providing an excellent choice for outdoor pieces, such as sofas, dining tables, and chairs.
Generally, stainless steel itself is corrosion-free and rust. However, adding a powder coating to makes it more resistant, especially if you live in coastal areas. Moreover, since it is pretty heavy, you need not worry about heavy winds blowing your furniture away.
This rust-resistant, strong furniture provides an excellent option for homes because of its sleek looks and metallic finish that makes it look appealing. However, the drawbacks of using stainless steel furniture are its cost and enduring heat during summer. But, many choose it for its eco-friendly qualities. And it recycles easily, too.
Benefits of the Stainless Steel Furniture
Solid materials.
It is an excellent option for those living in coastal areas.
Eco-friendly and corrosion-free.
Easy to clean and recyclable.
6. Teak Wood
The Teak wood is easily the most preferred option when it comes to outdoor furniture. The limited availability and high demand for this material pushed the cost of this hardwood incredibly high. Because of its unique characteristics, teak wood is ideal for outdoor pieces.
For instance, it is solid and sturdy and does not become brittle, wrap, or crack over time. This is because teak wood repels does not expand or in the drying process and repels most water. Teak wood containing high natural oil content is also incredibly resistant to insects, rot, and decay. Its durability and resistance against such elements make teak wood one of the best outdoor furniture pieces that last the longest.
The pleasing honey-brown appearance can be maintained easily using oiling or patina into attractive silver-grey when left untreated. Most outdoor furniture brands usually have some pieces available of this wood.
Benefits of Teak Wood Furniture
It is known for its quality and durability.
Ideal option for outdoor furniture.
Easy to maintain and preserve.
Naturally resistant to insect damage.
No cracking or wrapping.
7. Shorea Wood
An exciting thing about shorea wood furniture is that it is the best alternative for teak wood for those who are looking for long-lasting outdoor furniture but have a limited budget. It offers almost all the main advantages of teak while also being pocket-friendly.
However, it is not as popular as teak. It isn't because of its inferior quality or cost-friendliness that makes it less durable. The cheaper cost is just a matter of demand and supply. Shorea wood can be found more abundantly, which makes it affordable.
The shorea wood furniture is strong, high-quality, and more dense than teak. It offers various advantages when used for making outdoor furniture. For instance, it is a strong and very dense hardwood with incredibly tight grain. Moreover, it is incredibly resistant to ants, insects, and termites damage because of its density.
Furthermore, it is naturally protected from other damages, such as water decay, mould, and fungus. Brand new shorea wood looks a warm glow and reddish-tint, which slowly fade to silver over time. The superior quality of shorea makes it a popular choice for outdoor pieces, which come in various styles, sizes, and budgets.
Advantages of Shorea Wood Furniture
It is vital, dense, and has tight grains.
The wood is incredibly resistant to damages, such as termites, insects, and ants.
It is rot resistant and naturally protected from mold, fungus, and water decay.
The lovely warm glow with a reddish tint looks beautiful to the eyes.
It can last up to thirty years, even when left untreated.
8. Eucalyptus Wood
Unlike teak wood, eucalyptus offers a more readily available, fast-growing, and sustainable source. Therefore, it offers various benefits when it comes to outdoor furniture that lasts the longest. Many choose eucalyptus wood for outdoor furniture because it offers an incredible resistance to rot and decay. The wood, because of the high oil content it contains, resists the influence of moisture.
It withstands various outdoor elements without losing its initial quality for years. Moreover, you can get the same benefits that come with teak. When it comes to pests, the durability of the eucalyptus wood is exceptional. Comparing eucalyptus wood furniture with softwoods and plastics, it is more durable and affordable. You can maximize its longevity by using high-quality, water-based acrylic sealant once a year.
Besides its density and providing grain patterns to enjoy, the rich colour tones make eucalyptus furniture an excellent addition to any home. The natural reddish or reddish-brown hue needs minimal care to keep it looking beautiful. Providing occasional oiling or staining can maintain its looks for years. The appearance is also smooth, and the wood is soft to the touch.
Benefits of Eucalyptus Furniture
It is incredibly resistant to rot water decay.
Eucalyptus offers the same benefits that come with teak at an affordable cost.
The furniture can last up to twenty-five years or more.
Eucalyptus furniture is soft to touch and looks beautiful.
It is highly sustainable.
9. White Oak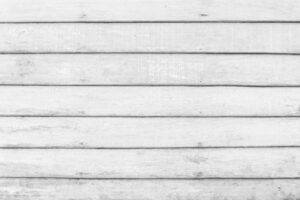 The White oak is among the most preferred options that are used to make high-quality furniture. The outstanding bendable qualities and ability to avoid moisture to prevent shrinkage are its main advantages. It is an abundant wood, which is more rigid and more robust than most. It lasts for decades and is popularly used to build boats because of its ability to repel water and rot resistance.
However, unlike teak or eucalyptus woods, it doesn't contain much natural oil. It means it requires sealant or paints to retain its durability. The coloring can vary from creamy to grey. The smooth and clear grain structure of the wood and rustic look are beautiful.
White oak is also famous for its solid and heavy properties, as it provides natural resistance to fungal damage. Moreover, the maintenance of oak furniture is also easy, but must be done correctly. You can hand wash the furniture or use the food-safe mineral oil to retain its best condition.
Since oak wood is among the common types of wood material, it is pretty inexpensive, making it a solid and economical option for outdoor furniture that lasts the longest.
Benefits of White Oak Furniture
It comes with excellent endurance, which makes it resistant to warping.
The stunning grain pattern gives it a unique look and naturally offers a smooth and precise finish.
It is readily available in a variety of sizes, shapes, and styles.
The wood offers extreme resistance against corrosion and moisture.
10.  Glass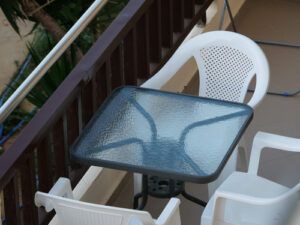 This Glass is usually used as a top for coffee tables. Consumers pick this option when they are more concerned about the appearance of the piece. It provides a natural touch of luxury and class and makes the place look more shiny and spacious. The density of the glass determines the weight of the furniture.
However, when buying glass furniture, ensure that other materials used in the furniture are also of high quality. Avoid using cheap material furniture with glass. Unlike wood or plastic furniture, outdoor glass furniture requires proper care and maintenance to last. Make sure to clean the glass to retain its best appearance properly. Moreover, glass furniture is an excellent option for people who are allergic because it is environment-oriented.
Benefits of the Glass Furniture
It makes space look more spacious and brighter.
Also, glass furniture makes people feel good and comfortable.
It adds creativity and looks elegant.
The material is environment-oriented.
How To Choose The Outdoor Furniture That Lasts Longest?
Outdoor furniture offers more styles and flexibility than indoor furniture, allowing you to tailor your outdoor environment according to your taste and requirements. However, since there are unlimited options to choose from and every outdoor setting has a different layout, you have to select your outdoor furniture sensibly. In this regard, consider the following:
· Consider where you live
Before choosing a particular outdoor furniture material, make sure to consider the location where you live as it plays a significant role.
Do you live in a region where there are frequent rainstorms?
Are the temperatures keep changing?
Does your place has high humidity levels?
Do you live near the ocean?
Considering factors like these when buying outdoor furniture will help you find the most suitable outdoor furniture that lasts the longest. Moreover, places with high humidity levels and frequent rainstorms may also want you to ensure that your outdoor furniture is water-resistant.
· Quality and Durability
Whenever buying outdoor furniture that lasts the longest, quality and durability should be your topmost requirement. It is because, unlike indoor pieces, your outdoor furniture is going to be exposed to different environmental conditions. Furniture made from solid material and has unique properties is likely to last longer while also maintaining its quality for years to come.
If the outdoor space in your home often suffers bad weather,  avoid compromising on quality and durability. You might want to get the top-quality outdoor furniture that is durable and has high resistance levels. However, it doesn't mean that the weather is the only culprit that forces you to use strong furniture. Note the other factors that you must consider. For example, you may have a family with kids and pets that occupy your house. Both kids and pets are not easy to control as they can be destructive.
· Maintenance
Consider another aspect that is quite crucial to consider when looking for outdoor furniture that lasts the longest – its maintenance. Knowing how easy it is to maintain the furniture depends on the material it is made from. Some materials such as aluminum and wrought iron are straightforward to maintain and take care of. It also means that furniture made from these materials is likely to last longer.
Moreover, another primary concern is to know that how frequent maintenance is required. So, the high resistant, strong, and low-maintenance furniture is what you should choose for your outdoor space. Also, make sure that the maintenance should be cost-efficient. Some materials can be cleaned and maintained if you have special tools and products only rather than using soapy water.
Sometimes, the tools required to maintain and clean your outdoor furniture can cost you a lot and might not help when you want long-term maintenance. On the flip side, in some cases, you may also hire professionals to clean your furniture. It would not be a problem if you could do it occasionally, but if not, it may cost you a lot.
· Think About Your Budget
When purchasing outdoor furniture that lasts the longest, it is crucial to be clear about your budget. In this regard, be clear that the furniture cost doesn't apply to purchase alone. It isn't just the one-time investment that counts, but also maintenance, as discussed above.
On the market, you will see a range of outdoor furniture of different materials. Some of these materials cost higher than others, but they are incredibly durable and require low maintenance. On the other hand, you will see the furniture that costs significantly less to buy. Because furniture is made out of cheap material, you may have to deal with frequent damage repairs and maintenance more often than you should.
Hence, it is essential to have enough insight to determine the most budget-friendly and practical option for your outdoors.
Wrapping Up: What Type of Outdoor Furniture Lasts the Longest
When considering what type of outdoor furniture lasts the longest, you look for various aspects discussed above. Before deciding what furniture to buy, consider your personal preferences. Make sure you invest in the best and match it to your specific needs. After reading this comprehensive article, I hope you will find the best outdoor furniture for your home.
FAQs
What outdoor furniture lasts the longest?
When buying the best quality outdoor furniture from metallic elements, wrought iron is the most durable outdoor furniture that will last the longest. However, if you want something from wood material, teak wood is an excellent option.
What patio furniture lasts the longest?
Generally, patio furniture should survive for at least 15 years. However, wrought iron as your patio furniture can last a lifespan.
What are the best outdoor furniture sets?
Some of the best outdoor furniture sets are stainless steel, wrought aluminum, and wrought iron.
What outdoor furniture does not rust?
Aluminum is the safest outdoor furniture that will not rust.
Read More
What is the Best Material for Outdoor Furniture?