==================
A Caveat and Affiliates
First off, a little caveat: within my articles you will find affiliate links, meaning if you buy them, I get a small commission. Your cost is not affected. In addition, I am an Amazon Associate and I earn from qualifying purchases on Amazon.
And yes, if I say that I recommend a product here, it means I truly believe it is a good product. I refuse to recommend any product that I have not researched and believe to be a good value.
Even better, I provide you with a very clear picture of the product, it's use, and the probable value.
Earning your trust is important to me. I run this website myself and the commissions and donations help support the site.
Sound reasonable and fair enough? Let's continue to the article.
==================
Patio Design Tips for Better Outdoor Living Space
Patios are one of the best places to spend time out of doors. By creating a patio design, you can increase your level of enjoyment and create a space that's great for entertaining friends and family. A patio is also versatile. You can use it as an extension of your living room or den, as well as for dining al fresco.
In this article, we will give you some tips and tricks and a full guide on building a patio so you can create the perfect outdoor space for your home.
Questions to Ask on How to Plan An Outdoor Living Space and Patio Design
The first step in designing an outdoor living space is choosing the right patio design for your needs. You will need to take into account both form and function when making this decision. Moreover, know how much time you plan on spending outside during various seasons. Here are some questions to help guide your thinking process:
1) How do I want to use my new patio?
When answering this question, consider both everyday uses (walking, lounging) and special occasions (like dinner parties or movie nights). There's no point in creating a spacious, open area that's only fit for walking. If what you really want is cozy dining, then you should make a comfortable setup.
2) How much time will I spend on my patio?
If you only plan to use your patio in the warmer months for grilling and other shorter activities, creating a detailed space is unnecessary.
3) Are stairs or ramps needed?
Be sure to take into account whether the materials used in your new outdoor living space will work with existing paths leading up to your entrance,. Also, consider how easily accessible it will need to be for anyone with physical limitations.
4) What are my local zoning requirements?
If you live in an area where landscaping must follow strict rules about plants they allow, be sure you think about how your patio design will accommodate these limitations.
5) How much does my budget allow?
When creating a new outdoor living space, it is often easy to get carried away and spend more than anticipated. Before beginning your project, it's important that you take time to create a realistic budget that considers all the factors that go into building a patio (like materials or surface area). You can then use this as a guideline for selecting the right patio design.
6) Which plants thrive in my area?
Different plants require different climates and levels of sunlight. So if you want to plant flowers or other greenery as part of your landscape design, do some research to make sure you select plants. It should do well in your new outdoor living space.
How to Plan an Outdoor Living Space
Take the following steps to make sure your design enhances both your yard and comfort:
1) Determine Your Needs
One of the first things you'll want to do is determine what type of patio would suit you best. Using online landscape design software enables you to create different designs onscreen. Moreover, it helps you figure out what style suits your home best.  You should also consider how much maintenance a project will require. If it's going to be too time-consuming, you may want to select a design that requires less upkeep.
2) Choose Your Patio Materials
Once you've determined the size and shape of your outdoor living space, it's important that you consider what sort of materials are best suited for your needs. For example, if you live in an area with lots of rain, opt for pavers or bricks rather than sandstone.  You should also think about the requirement to maintain each material. Some are more prone to weed growth or cracking after heavy use.
3) Incorporate Elements of Nature
The beauty of the landscaping is that by blending plants into your design. You can create an outdoor oasis without spending a lot of money or time on maintenance. Incorporating trees, vines, and other foliage is a great way to add privacy while still allowing light into your patio area.
4) Add Home Décor
If you're using your outdoor living space for entertaining guests, be sure to include comfortable seating with room for everyone to spread out. Don't forget pillows! You might also want to have a few grills or fire pits available depending on your needs. Adding lighting can also help make the space more inviting once it gets dark outside.
Steps on How to Build an Outdoor Living Space
Outdoor living spaces are among the most popular home additions, but that doesn't mean they're easy to create on your own. Before you begin any sort of construction project on your outdoor space, be sure to consider these steps.
1) Think About Drainage
Before adding any surface area to your outdoor living space, make sure there is an adequate drainage system in place. You want to avoid puddles of water forming after it rains or snows.
2) Build a Foundation
You should also think about how you plan to build up your patio area. A wooden frame with insulation before pouring concrete is one common approach for creating durable patios. These can easily handle inclement weather. This type of foundation lets excess moisture escape while creating a solid surface for your patio or porch.
3) Add Your Surface
Whether you choose pavers, bricks, grass, or sand, make sure to install it in layers. This way you can easily repair any cracks that form after heavy use without having to replace the entire surface area.
4) Install Any Necessary Utilities
You might also consider installing utilities like power outlets (especially if you plan on using the space during nighttime gatherings). If not already present, this is another good time to set up the electricity. With that, you don't have to worry about bringing extension cords out whenever it's time to barbecue.
5) Plant Decorative Greenery
Plants are some of the easiest ways to add color and variety to an outdoor living space while requiring minimum maintenance. Your landscaping can even double as a privacy screen, blocking off the view of any neighboring homes that may be close by.
Small Backyard Lounge Ideas to Try
Outdoor spaces are a great place to chill and hang out.  Adding a small patio, deck, or porch to your backyard is a wonderful way to add value and usability to the space.
Here are some small backyard lounge ideas you can try for your home:
1) Use a Small Patio
Outdoor patios are among the most common outdoor living spaces added to backyards. They're also very popular because of their relatively low cost and easy installation.  You can purchase patio stones or smaller pavers at your local home improvement store. Next, lay them out using mortar for a stronger bond with fewer gaps in between each stone.
2) Put Down Some Decorative Bricks
For even more durability than with paver options, consider adding decorative bricks to your small backyard lounge. Just like with patios, you should install these in layers so any cracks that form after heavy use won't destroy an entire section of paving. If you want something slightly less permanent, there are some attractive spray-on options available.
3) Light It Up with String Lights
When it's nighttime, you can make your backyard lounge even more inviting by adding string lights to the area. You don't have to limit yourself to overhead lighting above the patio either. Try using solar tubes to light up columns or display shelves for a dash of ambiance.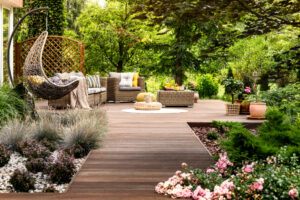 4) Make Room for Some Chairs
Comfortable seating is one key way to really give an outdoor space an extra level of comfort.  Be sure that any chairs or benches are made from durable materials so they won't splinter over time. 
5) Use an Outdoor Fountain
Looking for another way to add some extra flair?  Consider adding an outdoor fountain with a stone or concrete base. They're not just wonderful additions to any backyard lounge. But, it can also help keep small pests away during summer months when mosquitoes tend to be more prevalent.
6) Plant Some Perennial Flowers
Finally, consider including ornamentals like perennials in your landscaping. Plant them close enough together so you can easily sit amongst the flowers without damaging their roots. This is one great way to bring out fragrant aromas that are often only noticed once they've faded away throughout the spring and summer seasons.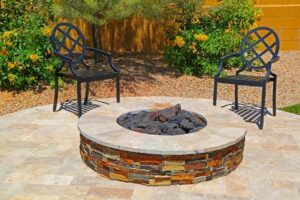 Outdoor Living Spaces with Fire Pit: Some Patio Design Tips
Fire pits are popular additions to backyard living spaces, particularly during the chilly months of the year. If you're looking for fire pit design ideas or want some tips on how to take care of your fire pit, read on for more information.
1) Plan Ahead Before You Buy
Just like with any other purchase, planning ahead is one key way to make sure you get a fire pit that's best suited for your needs. Take measurements so you know what size will fit in the space you have available and consider arranging it. So, it's not directly beside anything flammable (like dry plants). 
While you're at it, think about where your guests are most likely to stand while conversing. Then place the pit slightly off to one side or another so people are less likely to trip over the pit while they're mingling.
2) Install a Sill or Small Hearth
No matter how careful you are, it's highly likely that some ash will fall onto the ground surrounding your fire pit. This can create quite a bit of inconvenience if small children or pets accidentally step on it while running around. To prevent this from happening, consider installing a small sill around the outside of your pit or hearth. Give enough room for someone to stand on when they need to tend to the flames. You'll also still have plenty of space remaining for guests and there's no worrying about stepping in hot coals by accident!
3) Always Have a Bucket of Water Handy
Even when you're being extremely cautious, ash will probably fall into the ground surrounding your fire pit. Since these pieces are still hot enough to burn sensitive skin, it's crucial that you have a bucket of water or hose nearby at all times. This is in case someone gets burned. Expecting guests to leave for home with soot on their shoes is inconsiderate. Especially when it could take days before they notice any problems after arriving back at their own homes.
4) Consider Installing a Grill Over the Fire Pit
One great way to turn an outdoor fire pit into even more usable space during warm weather months is by adding a grill surface over the top of it. You'll get all of the same ambiances without having to worry about dealing with hot coals or ashes.
5) Add Some Flowers Potted Around the Edges
Want to bring some colors to your backyard living space? Consider planting annuals around the edges of your fire pit – they'll serve both purposes while adding a splash of color.
6) Utilize Decorative Stones Within Your Landscape Design
Adding decorative stones to your landscape design is another great way to add some unique flair. Whether you're looking for patio ideas or something else entirely.  Be sure that whatever stones you pick (and there are plenty out there!) are durable enough. That way, you won't need to worry about future replacements!​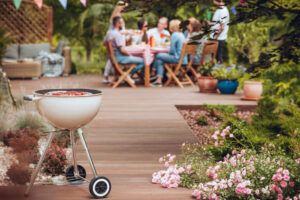 Conclusion on Patio Design Tips
Patios are often the most regularly used area of any outdoor living space. This is why it's important that you consider how to best design yours for maximum comfort and enjoyment. Utilizing patio design tips like those mentioned above will help you create a comfortable and aesthetically-pleasing outdoor living space that everyone can enjoy.
Read More: