==================
A Caveat and Affiliates
First off, a little caveat: within my articles you will find affiliate links, meaning if you buy them, I get a small commission. Your cost is not affected. In addition, I am an Amazon Associate and I earn from qualifying purchases on Amazon.
And yes, if I say that I recommend a product here, it means I truly believe it is a good product. I refuse to recommend any product that I have not researched and believe to be a good value.
Even better, I provide you with a very clear picture of the product, it's use, and the probable value.
Earning your trust is important to me. I run this website myself and the commissions and donations help support the site.
Sound reasonable and fair enough? Let's continue to the article.
==================
Small Backyard Design Ideas – Maximize Your Outdoor Space
Many homes have small yards that make outdoor living a challenge. Are you looking for small backyard design ideas to stretch your square footage into a lot of outdoor living space? The right landscaping, lighting, furniture, and accessories help you make the most of a limited outdoor area. With these tips, you will live large in your backyard will be a delightful retreat for your family and an entertaining hub, without breaking your budget.
Use our tips to help create small backyard design ideas that make your yard seem bigger and improve its function.

1. Small Backyard Seating
To relax in your yard, you want seating areas and possibly an outdoor dining area. For most backyards, but especially the smaller ones, consider planning the seating areas first. After all, designing your space around where you will be relaxing makes perfect sense.
For small areas, position your table and chairs against a fence or wall, angling the chairs outward. This configuration creates a feeling of more space. Additionally, it increases your privacy as the fence or another barrier provides a screen from outsiders. Place containers of your favorite greenery or blooming plants in this area to bring a sense of calm. You might include an outdoor rug to pull the seating area together.
2. Backyard Furniture Ideas
Limited space need not limit your usage. Look for multi-functional furniture to maximize your seating area. For example, a bench provides seating for multiple people or allows one person to stretch out for that afternoon siesta. Garden stools provide extra seating when they aren't needed as a side table. Even that footstool provides an extra seat when needed.
3. Cozy Small Backyard Ideas
Pull your seating area together with a patio canopy, pergola, or a gazebo. Visually, these structures give it an open-air, room-like feel embraced with some privacy. Just as important, they provide welcome shade on those hot summer days.
By the way, did you know that the temperature in the shade is not actually cooler than the actual temperature? Meteorologists consider the shade temperatures to be the actual reading. The temperature in the sun is often 10-15 degrees or hotter than that in the shade. But that temperature is raised by solar radiation. You can learn more by reading this article.
For more comforts, consider adding some pillows and decorative objects. With a few extra touches, your personal retreat becomes the oasis you've imagined.
4. Outdoor Room Views
As you plan where to position your outdoor room, consider the views available. You don't want to hide your favorite planting by backing the seating up to it. Nor do you want to be glaring into the neighbor's home.
Find your most favorable viewpoint and locate the seating areas to provide the best clear view of that. You should also try to create the largest viewpoint possible. Usually, this will be facing the longest-length side of your yard. This creates the impression that the yard is actually bigger than it is.
5. Small Backyard Landscaping
Most people want to relax in their backyard. They prefer to spend less time on weeding, watering, and lawn care and more time enjoying their space.
To accomplish that, choose low-maintenance plants and lightweight containers that can easily be moved when needed. Statues and other ornaments should also be easy to relocate unless you plan to keep them in place permanently.
With a few taller plants, you create added privacy and a sense of tranquility. Placed correctly, these plants can be used to obstruct the view of traffic, neighbors, and anything you would prefer to block from your landscape.
6. Outdoor Furniture for Small Backyards
Look for furniture pieces constructed with thin frame lines and narrow designs for your smaller backyard space. Keeping the properly-sized theme makes that small space feel roomier. A compact bistro set fits better in a garden corner or on a balcony or porch.
Avoid those big, bulky, oversized sets. They may be comfortable to sit in, but they gobble up space and seem quite out-of-place.
Benches, built-in or stand-alone, offer diversified seating options. Many include hide-away storage, too.
Think of your need for shade, too. A canopy, pergola, or gazebo provides great shade options. If you need to keep it scaled down for a smaller area, consider a sun umbrella or shade sail.
7. Small Backyard Decorating Ideas
Think simplified and streamlined with your outdoor colors and styles. That's true of any space, but even more important when considering small backyard design ideas. Using too many designs and colors makes the small space feel quite disorganized. Use your favorites and enjoy!
8. Outdoor Structures for Small Backyards
Often, using an interesting structure, such as a trellis, arbor, water feature, or statue draws the focus away from the size of the backyard.
Position your structure at one end of the property or at the entrance area. This creates a focal point that grabs and holds attention.
To further amplify the featured focal point, use outdoor lighting, colorful plants, or another attention draw.
9. Lighting for Small Backyards
Unless your backyard will only be used in full daylight, you should include lighting. Since most of us choose to use our backyards in the evening, too, proper lighting needs to be considered.
Outdoor lighting functions not only for helping visibility. In fact, we use ambient lighting to create the mood we want and add to our decor.
Before you spend a lot of money on professionally installed lighting, consider less expensive and more portable options. Using candles or torches makes the area feel quite comfortable and friendly without a high-cost factor. Recently, solar lights have become more practical.
Newer solar lighting options can be tucked into small spaces, hung from the lattice, installed on the roof area or deck sides, or even staked into the ground. These more recent models also provide better and longer lighting.
10. Small Backyard Design Ideas
Sometimes changing the elevation or adding a small platform creates an image of larger spacing. It's an ingenious way to create the illusion of multiple outdoor rooms or spaces in a tight space. You might also consider changing the flooring materials used between the seating areas.
11. Ambiance for Small Backyards
If you want a fire pit but just don't have the room, you have options. Some people make a tabletop fire bowl.
To make this bowl, simply place a 13-ounce can of clean-burning, gel-alcohol fuel in a 10-inch-diameter terra-cotta container. Use recycled glass to surround the can's bottom and sides.
A more moderately sized fire-pit option is the pre-constructed fire pit table. Built with safety features and available in several sizes, consider one of these for your small backyard design ideas.
12. Small-Yard Tricks
Cleaner lines create a more open look for a larger picture. Avoid having heavy coverings or large plants climbing or covering your pergola or gazebo structure.
Use smaller plants, especially low-to-the-ground plants or even small container plants, to add natural greenery.
13. Soothing Backyard Sounds
Small backyard design ideas rarely include a large koi pond. They just don't fit easily within the scope and size.
But lack of space for a fish pond should not deter you if you want a water feature. Your options include a small water fountain display, a tabletop fountain, or even a small birdbath. Look for solar-powered models to make them easy to install and inexpensive to operate.
Outdoor sound systems offer another way to bring enjoyable sounds to your backyard paradise. Consider using a portable player and wireless speakers to keep the install and design simple.
14. More Small Backyard Design Ideas and Tips
In much of life, money is our limiting factor for what we wish to do. Creating your backyard oasis is no different.
But you don't have to invest a fortune in money and time. Instead, spend considerable time planning your design. Then set up the stages you will build in. By focusing on one stage at a time, you will be able to stay within your budget. And you won't be spending months building.
So, consider starting with the deck or patio. Or, maybe you need to install the fence first. Decide which is most important and begin there.
Add on the other pieces, one at a time. It might take you several months. Some spread the work over two or more years.
Not only do you stretch your time and budget, but building in stages also gives you the ability to try each stage and decide if you need to make modifications or even change your focus. That can be a real-time and money saver, too.
But don't think of this as a means to buy low-quality items. You will enjoy higher-quality furnishings longer. Consider adding fewer at a time but purchase only high-quality items. That gives you the best value and most enjoyment.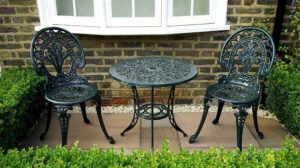 Start Planning Using our Small Backyard Design Ideas
To plan your Small Backyard Design Ideas, grab a notepad and measuring tape. You need to measure your yard. Sketch out the yard space and add in any permanent features such as trees you plan to keep, your home, your garage, a fence, etc.
Don't be dismayed if you have a small yard. Use our tips to build a very usable and relaxing outdoor living space. With the right planning, you will make the most of a limited outdoor area. Live large in your backyard oasis retreat without breaking your budget.
Read More