==================
A Caveat and Affiliates
First off, a little caveat: within my articles you will find affiliate links, meaning if you buy them, I get a small commission. Your cost is not affected. In addition, I am an Amazon Associate and I earn from qualifying purchases on Amazon.
And yes, if I say that I recommend a product here, it means I truly believe it is a good product. I refuse to recommend any product that I have not researched and believe to be a good value.
Even better, I provide you with a very clear picture of the product, it's use, and the probable value.
Earning your trust is important to me. I run this website myself and the commissions and donations help support the site.
Sound reasonable and fair enough? Let's continue to the article.
==================
Repainting Outdoor Metal Furniture
Metal patio furniture may rust if it is exposed to rain, sun, and other external elements for an extended length of time. This natural occurrence is almost inescapable given enough time, but a little rust doesn't mean you have to discard your outdoor table and chairs or pass on an old patio set you got on the cheap. Repainting outdoor metal furniture is a simple DIY project that may rapidly restore the appearance of tables and chairs.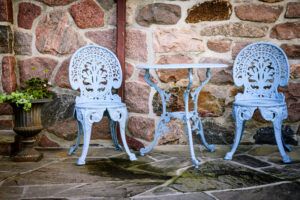 Paint will not adhere to filthy, rusted surfaces; therefore, you'll need to remove the rust first before applying your desired paint color.
Ensure the rust hasn't compromised the item's structural integrity before starting this outside job. Small rust patches are likely to be treatable, while huge corroded regions may not be. Use the procedures below to paint rusted metal furniture, including aluminum, iron, and steel items, if the structure is still robust.
Things to Do Before Repainting Your Outdoor Metal Furniture
You may need to paint the external metal surfaces if you are wary of the rusty areas on your fences and railings, as well as the chipping on your garage doors and window frames. All you need to know are a few simple things to do before repainting your outdoor metal furniture, beginning with prep work and ending with painting.
Getting the Metal Prepped.

Any DIY project requires you to get your hands dirty with the preliminary work. When painting outside metal, the same rule applies. You must first determine the kind and substance of the metal surface. Depending on its state, you may need to sand it, scrape it, or clean it with scrubbing, pressure washer, brushing, or even a chemical formula.

Priming.

You don't want to go through the process of painting the outer metal many times over a few years, do you? As a result, priming the surface is essential if you don't want your paint to peel or fade. It improves the adhesion of the paint to the metal. Choose a primer that matches the metal kind; otherwise, it will not work.
Finish With Paint.

Once you've chosen your favorite metal color, use it to paint your patio furniture, railings, garage doors, and other items. Remember to pay additional attention to grooves and corners when painting. Spray paints perform well and are simple to use. On the other hand, a detailed brush may be pretty helpful for painting in tight spots.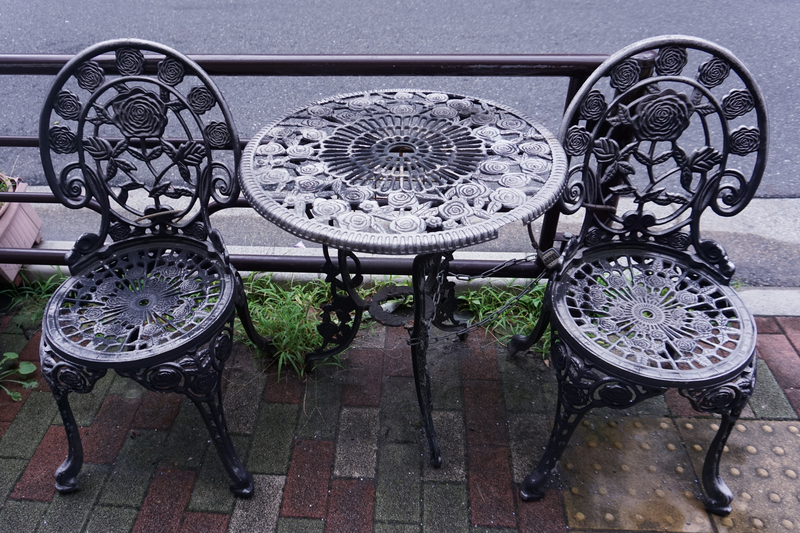 The Best Paint for Metal Furniture
Painting metal furniture on the outside is not the same as painting furniture inside. You must work with a smooth, slippery surface that is occasionally deeply corroded. However, keep in mind that not all paints will meet your requirements. As a result, a sensible man's decision would be simply the best paint for metal furniture. We realize that list is difficult to come by, so we've compiled it for you. Take a look.
Montage Signature Eco-Friendly Paint
The Montage Signature paint is what you should get your hands on if you want a professional touch of paint on your outdoor metal surfaces. What makes the paint so unique? The paint for outdoor applications must be eco-friendly so as not to hurt your small garden. Regrettably, standard paints lack this functionality. Thankfully, the Montage is a non-polluting, environmentally friendly paint.
The paint is thick and smooth, and it covers well without obliterating the grain. You won't have to worry about leaks owing to the unique sealing technology. It is not only suitable for use on outdoor surfaces, but it is also suitable for use indoors. In addition, you will receive a premium 10-year warranty.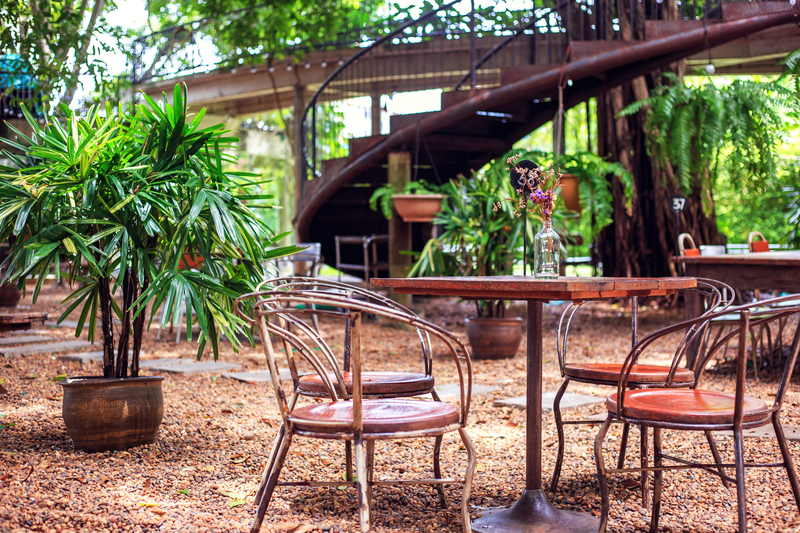 FIXALL Slip Paint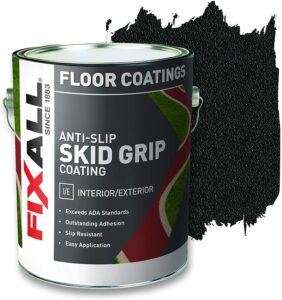 Yes, your outdoor paint should be elegant, but there's also a safety issue. That's why Fixall appears to be an excellent fit for your requirements. Your metal patio furniture desperately needs a coat of paint that will protect it from peeling and abrasion. That is exactly what Fixall provides. The best feature is that it also assesses the level of durability.
Even if you paint it on high-traffic areas like driveways, basketball courts, patios, and so on, the paint lasts longer than you imagine. If you're concerned that rain may make it slippery, the high-grip compound will also alleviate that fear. Although it has a rough finish, cleaning it does not necessitate any special tools. Water and soap are all that are required to restore the shine. There are so many possibilities to select from that finding the perfect color for all of your outdoor furniture, flooring, fences, and railings will be a breeze.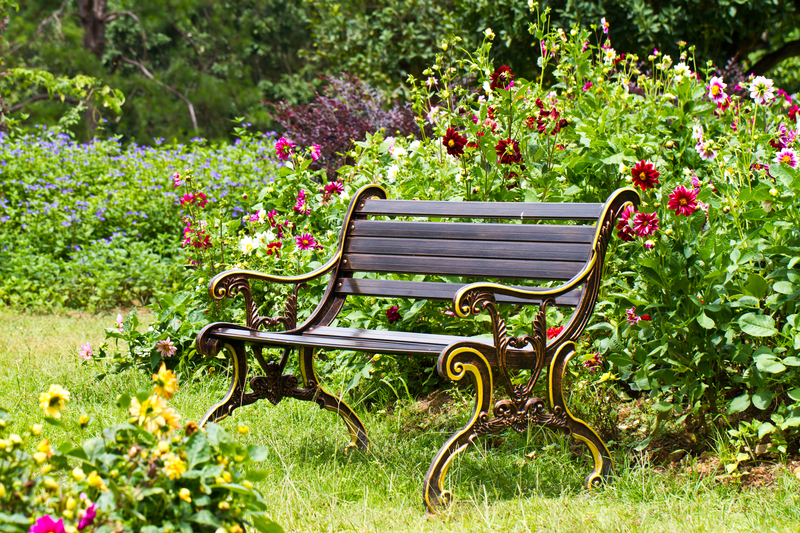 SUNGUARD UV Protectant Spray for Outdoor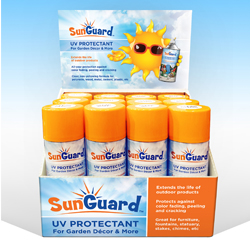 When selecting outdoor paints, consider the deadliest enemy: UV rays. Now that you have Sunguard spray, you know how to rescue those dingy metal pieces of furniture. The spray saves metal artifacts and works on plastic, cement, brick, ceramic, stone, and other materials. It's the perfect choice if you're looking for a single paint that can be used to adorn the entire backyard or patio.
In addition, the paint has fantastic coverage, with one tiny can covering 25 square feet. Spray paint for outdoor metal furniture sometimes develops a yellowish tint when exposed to the sun. However, this one is an exception since it shows no signs of yellowing. The spray paint's finest feature is that it dries in less than an hour and does not chip, crack, or peel. It's not too late if you want a sophisticated semi-gloss finish.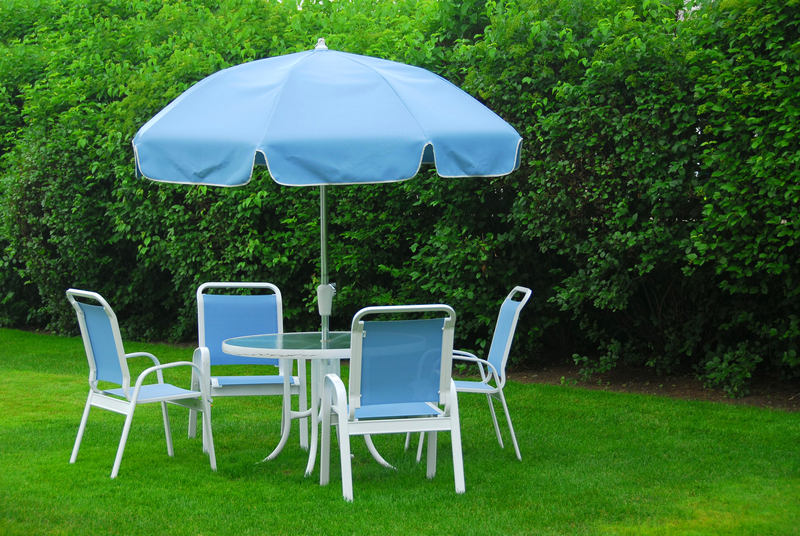 Rust-Oleum Hammered Outdoor Metal Finish
Before painting, all of the preparation work takes a lot of time and effort. So there's no more of it. The hammered paint from Rust-Oleum has an all-in-one action. Are you perplexed as to why it doesn't require any preparation? Rust-Oleum has a unique formula that eliminates the need for priming. Please don't worry about the durability because it provides far more than you could expect—the oil-based composition guards against the elements as well as rust and corrosion.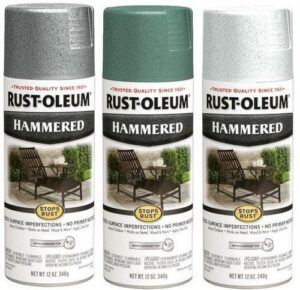 It's a terrific option because it adheres well and remains put for long. It may be difficult to find problems in your metal patio furniture, but not with this. The hammered finish hides pits, scratches, and rust stains while adding a fresh sheen to the surface. The paint has won many hearts because of its high coverage, UV protection, excellent gloss, and metallic shine. It won't take much more than a brushstroke for you to win.
Majic Paints Exterior Satin Paint
Finding an all-purpose paint that works for both your outdoor and interior needs isn't easy. We looked everywhere, and here it is: Majic paints satin paint for all of your needs. We don't only imply the standard wood, brick, cement, and metal surfaces by all-purpose. It's great on glass, tile, plastic, brick, stone, and just about any other surface, you can think of.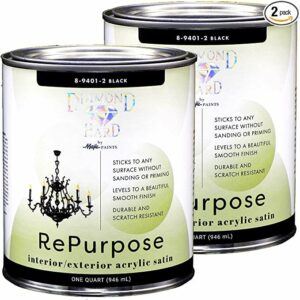 The finest thing is that it doesn't require sanding or priming for adherence, regardless of the surface type. Dip your brush in the color and paint the beauty. It seems like a dream to have the finesse smoothed out. It does not fade and continues to glow for a long time. When certain paints dry, they take on a distinct hue. However, this paint's color retention and quality are excellent. What makes it even more intriguing is that this paint comes in 10 different colors.
Buying Guide: How to Choose the Best Paint for Metal Furniture
Your one-of-a-kind DIY metal project requires extra attention and thought. However, it's tough to comprehend the criteria that will guide you to the best paint for metal furniture as a novice. That's when our countless hours of study will come in handy. Take a look.
Type.

Tin paint and spray paint are the two most common forms of outdoor metal paints. So, how do you decide between these two options? It depends on the state of the surface. If you're painting a flat metal surface, for example, can-paint is a preferable choice. If the surface is big, you may use a brush or even a roller to apply it. Because paints come in larger volumes, a single can will cover a vast area. Spray paint is the only option when your DIY project has grooves, tiny sections, or uneven surfaces.

Durability.

Don't forget about the extremes that outdoor metal surfaces will encounter daily. That is to say, frequent weather fluctuations, UV radiation, rain, and so on. Because metal exterior surfaces will be exposed to a lot of heat, only heat-resistant paint should be used. If it can't handle the heat, it won't protect the metal surfaces. Metal coatings that protect against UV rays are available, and some are even water-resistant. As a result, be cautious in selecting the one that meets all of your requirements.

Easy Application.

You have a lot of work to accomplish, and you need to paint your garage doors today because of the nice weather. As a result, it would be great to choose a paint that is both easy to apply and quick to dry. Spray paints generally dry rapidly and are very simple to use. Furthermore, they leave a smoother finish. When used for a long time, spray paints can cause finger tiredness. But don't worry; there are newer versions available that have angular, easy-to-spray bottles to make your job easier.

Smooth Finish.

Metal paint comes in various finishes, including gloss, low-sheen, satin, and matte. Because everyone has different tastes, you must select the finish that best suits your requirements. Don't forget about the kind and condition of the metal surface.

Rust Protection.

Metal exposed to the elements will be exposed to moisture, rain, and humidity. It will lead to rust. As a result, choosing a paint that provides optimum rust protection is essential. Primers may be a pain to work with when preventing corrosion. Rust-Oleum oil-based paints are a lifesaver when it comes to rust.
The Best Paint Colors for Metal Outdoor Furniture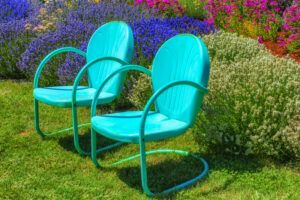 Your outdoor furniture serves a far larger purpose than simply providing a place to relax after a hard day. Outside furniture, like your living room's modern leather couch or sleek bar cart, is the home decor workhorse that helps set the tone for your patio, porch, balcony, a patch of grass, or whatever outdoor space you have.
What's the best part? Existing outdoor furniture can frequently be spruced up with a fresh coat of paint, which is especially useful if you're planning to sell your property. It's simple to upgrade outdoor furniture to reflect changes in your taste or make your outdoor living space more appealing to potential purchasers. Of all, when it comes to outdoor furniture, there is no such thing as a one-size-fits-all solution. If you need some ideas, look at these popular paint colors for metal outdoor furniture.
Black.

This sleek and sophisticated reliable hue that works with everything, can never go wrong. You've instantly enhanced your outdoor living room by pairing black metal outdoor furniture with taupe cushions, and your visitors will be impressed regardless of their particular taste.

Bronze.

When it comes to outdoor furniture, go ahead and select a contemporary paint color – after all, there's a reason these colors are so popular. This rich, dark hue would look great on vintage Adirondack chairs or new outside coffee and end tables. It's a dark, neutral, yet striking color. Garden greens, stonework, and wood finishes all look great with it. It works nicely with neutral beige furniture cushions and bolder, brighter accessories.

Neutral.

If you like bright colors, but don't want to go crazy with them on your deck or patio, stick to neutrals with a few bursts of color here and there. If you're confused about what hue to choose, start with one within your house and extend it to your outdoor living space.
Conclusion
Repainting your outdoor metal furniture like gutters, metal doors, window frames, handrails, metal fences, and metal patio furniture that are exposed to the elements all require special attention. And only the best paint for metal furniture can provide that. It's crucial to know what paint to use on metal furniture and how to paint metal to maintain and beautify these unique surfaces. It all begins with adequately prepping the metal surface and selecting the appropriate paint.
These paints will not only make your surfaces seem elegant and wow your guests, but they will also protect metal furniture from the elements. Furthermore, there are no alternatives to such coatings if you want your outdoor metal furniture surfaces to remain robust.
Read More: