==================
A Caveat and Affiliates
First off, a little caveat: within my articles you will find affiliate links, meaning if you buy them, I get a small commission. Your cost is not affected. In addition, I am an Amazon Associate and I earn from qualifying purchases on Amazon.
And yes, if I say that I recommend a product here, it means I truly believe it is a good product. I refuse to recommend any product that I have not researched and believe to be a good value.
Even better, I provide you with a very clear picture of the product, it's use, and the probable value.
Earning your trust is important to me. I run this website myself and the commissions and donations help support the site.
Sound reasonable and fair enough? Let's continue to the article.
==================
The outdoors is a fun place to hang out and chill. If you're at home, the best place to relax is on your outdoor furniture materials. Let's check out the best and worst outdoor furniture materials for patios!
For smaller spaces, however, you may have to go with less standard materials. Despite being durable and long-lasting, some types of patio material are better than others. 
Best Outdoor Furniture Materials
Outdoor wood furniture can be a very luxurious option. It varies by type of wood, but it generally lasts longer than most other options. Cedar is one of the more popular types of wood used in outdoor furniture. It does not easily rot or corrode, even when exposed to rain, snow, sun, temperature changes, etcetera over time. Cypress, redwood, teak, mahogany, ipe, and Brazilian walnut are also used for outdoor furniture.
Worst Outdoor Furniture Materials
Plastic outdoor furniture materials is not recommended due to their low durability. When exposed to the elements over time, plastic furniture will start cracking and losing shape. It is also very uncomfortable, so it won't be able to provide you with a relaxing experience when hanging out on your patio or backyard. You should avoid other materials on patios. Such things include wicker chairs (will also rot if exposed to water), metal (rusts easily), cast aluminum (also rusts easily), resin (dents and scratches easily).
What to Consider When Getting Outdoor Patio Furniture
If you're planning on getting outdoor patio furniture, you may want to consider a number of things. You can get wood, plastic, or metal furniture since they are perfect for the outdoors.
In addition, if you're going with wooden furniture, make sure it's cedar, redwood, teak, mahogany, ipe, Brazilian walnut, or something similar. Additionally, check out the warranty before getting any outdoor patio furniture.
Tips in Choosing Best Weather Resistant Patio Furniture
When it comes to choosing the best weather-resistant patio furniture, we recommend that you go with wood or resin. Wood tends to be more durable. But they may need staining and refinishing every once in a while to maintain their quality look. Resin outdoor furniture materials are modern and stylish. It won't corrode, even when made contact with water or rain for an extended period of time.
Here are some tips to follow when choosing weather-resistant patio furniture:
1) Avoid wicker chairs
Wicker chairs are not durable and will rot if exposed to water. If you want a weather-resistant patio chair, you should go with resin or metal chairs instead.
2) Avoid plastic furniture
Plastic furniture may look like a cheap and affordable option but it does not last for a long time. When exposed to the elements, even small cracks can cause your furniture to start losing shape. Plastic is also very uncomfortable compared to other types of patio furniture like metal or wood.
This usually sits lower on the ground and doesn't provide enough support. To add insult to injury, plastic can get easily scratched by patio accessories. This includes planters, wind chimes, etcetera so you'll have to replace them more often than you think too.
3) Avoid metal furniture
Metal is very rust-prone so it will get rusty over time when exposed to the elements. Some types of metal may be more durable but they still won't last long enough compared to high-quality wood or resin outdoor patio furniture.
4) Avoid cast aluminum
Cast aluminum can also corrode easily, especially if you live in a coastal area where marine air is strong and corrosive. It also has low durability because it tends to dent and scratch easily too. If you want an inexpensive option that looks similar to aluminum, then go with stainless steel instead.
5) Consider resin patio furniture
Resin patio furniture is modern and stylish while being weather resistant at the same time. Resin wicker chairs and resin patio tables also won't corrode easily and they're very durable. 
When exposed to rain, water will not damage or erode them so you can enjoy your patio furniture worry-free for a long time. Resin chairs tend to be more comfortable than plastic chairs too because they sit higher up on the ground and provide better support overall.
What are the most durable outdoor furniture materials?
Outdoor furniture materials made from cedar, ipe, and Brazilian walnut is the most durable materials. They can withstand adverse weather conditions such as rain, snow, sun damage, temperature changes, and more. Cedar is very lightweight and strong at the same time. On the other hand, teak and mahogany do not need refinishing or staining. They're naturally resistant to water, sun damage, insects and pests, etc.
Is synthetic resin wicker patio furniture a great piece to get?
Synthetic resin wicker furniture is a great choice to use as your patio furniture. It's weather-resistant and does not corrode even when exposed to rain or water. Resin chair and table sets are very durable, do not rust easily, and can last for many years without needing any replacement parts.
Resin chairs also provide better support than plastic chairs so you won't have to worry about them getting uncomfortable to sit on too. If you're looking for comfortable and stylish patio seating that will last for a long time then consider using resin wicker furniture.
What should you avoid in outdoor furniture materials?
You should avoid metal, plastic, cast aluminum, and wicker chairs. This is because they do not have a long lifespan and replacement is necessary after many years. If you want durable patio furniture, then go with high-quality wood or resin instead. They can withstand adverse weather conditions for many years without needing replacement parts.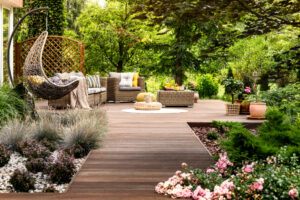 Is composite decking the best material for an outdoor deck?
Composite decking is one of the most popular materials to use as an outdoor deck. It looks great, is easy to install, and does not require much maintenance over time. Composite decks also last for decades without needing any refinishing or staining. This is unlike other types of decks such as cedarwood or pressure-treated lumber. To add insult to injury, composite decks do not absorb too much moisture so they don't get moldy or rot.
Where to find the best outdoor furniture materials?
The best place to buy patio furniture is Restoration Hardware. They have a wide range of styles and options available at affordable prices. Their resin wicker chairs and tables look great in any backyard, deck, porch, or patio. It also provides better support than plastic or metal chairs and tables. You can opt for teak and cedarwood tables and chairs if you want something more luxurious and stylish for your outdoor seating space.
Is steel one of the ideal outdoor furniture materials?
Steel is not an ideal material to use as outdoor furniture materials. It corrodes when exposed to rain or water even though some types of steel may be rust-resistant. You may check their chemical composition to know. You will need to replace steel chairs and tables after a few years if you want more durable options for your outdoor garden or patio.
What makes the best outdoor furniture materials?
The best outdoor furniture materials is made from high-quality aluminum, ipe, teak, Brazilian walnut, cedar, resin wicker, and stainless steel. They are all more resilient than other types of materials such as plastic or cast aluminum corrode when exposed to rain or water. High-quality wood or resin wicker chairs and tables are also a great choice to consider. This is if you want stylish seating options without any hassle over time.
Conclusion
To sum it up, here are the best outdoor furniture materials to use as patio seating:
– Cedarwood
– Ipe
– Teak
– Brazilian walnut
– High-quality aluminum, steel, teak, or resin wicker.
For more information about these materials, read the full article above! The next time you go shopping for outdoor furniture materials, make sure to pick something from the list above. Or, you can always get a custom-made patio set from your local hardware.
Read More: