==================
A Caveat and Affiliates
First off, a little caveat: within my articles you will find affiliate links, meaning if you buy them, I get a small commission. Your cost is not affected. In addition, I am an Amazon Associate and I earn from qualifying purchases on Amazon.
And yes, if I say that I recommend a product here, it means I truly believe it is a good product. I refuse to recommend any product that I have not researched and believe to be a good value.
Even better, I provide you with a very clear picture of the product, it's use, and the probable value.
Earning your trust is important to me. I run this website myself and the commissions and donations help support the site.
Sound reasonable and fair enough? Let's continue to the article.
==================
What is the best type of hammock for your backyard?
Hammocks are a great way to relax, take it easy, and enjoy the outdoors. But what type of hammock is best for your backyard? This article will explore some different types of hammocks and help you determine which one is right for you!
If you've never stretched out in a hammock, you're missing out on the ideal way to rest and unwind. Relaxing in a sturdy and comfortable hammock is the perfect way to spend a lazy summer afternoon or evening. Getting some quality "hammock time" is good for the soul.
A hammock is perfect for relaxing in your garden with a good book, enjoying an evening on the patio with your spouse, or warming up by the campfire. Hammocks are a great way to relax on your own time, without having to head out of the house.  In this blog post, learn what type of hammock is best for your backyard!
What is a Hammock?
A hammock is a basic frame with a solid piece of material strung between two trees. Moreover, it can tie to a metal stand by ropes or straps. One of the most relaxing and practical items of furniture is a hammock.
It comes in a range of appealing colors and styles to brighten up your unique "chill-out" room. Since it is very compact, you can set it up almost anywhere, even at home, at the beach, or the campsite.
What Is The Best Type Of Hammock?
Here we have mentioned some of the best types of hammock and their benefits. Let's begin!
Canvas Hammocks
The hammock's most popular form is a canvas hammock, makes of 100 percent plain-woven cotton or a cotton/polyester hybrid cloth. Cotton is a durable natural fiber and by far the softest of fabrics. Thus, a hammock made of it is very relaxing and feels great against your skin.
This hammock-style will come with two durable ropes to secure the hammock between two trees or poles. Moreover, it allows you to spend more time relaxing rather than setting it up.
This hammock has a high-quality stain-resistant cotton thread, which has the highest degree of softness and longevity. Moreover, it provides outstanding warmth.
Benefits
The canvas material is popular because it is very robust, long-lasting, and soft.
This specific hammock fabric is very secure in your skin. It is also sleek and stylish since it's a canvas.
This material also uses to prepare tents and sails, making it very strong and durable with daily use.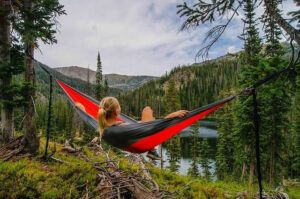 Camping Hammocks
If you want a camping hammock for the next outing, you should get a hammock made for camping. A camping hammock has a high degree of endurance, but it is ideal for rough weather outside. A camping hammock consists of parachute nylon that is solid, mildew resistant, and easy to dry. Moreover, it is also respiratory and very light, making a good hammock pick.
Although a heavy-duty fiber, high tenacity nylon is very lightweight, making it easy to fit into a backpack or carry sack. Since camping hammocks have strong straps, you won't have to strain to untangle knots, and your setup and pack times can reduce.
Benefits
They're thin, quick to pack, and ideal for catnaps and overnight naps.
It has pockets for storage and a built-in or compatible bug net to keep you from swatting all night.
Rope Hammocks
Rope hammocks resemble quilted hammocks in appearance, but they have rope stitching between the spreader bars. These are the traditional hammocks that most people equate with castaways lounging under palm trees on tropical islands. Rope stitching provides convenience and flexibility to the lounge bed, which is held open by spreader bars for easier entry.
Rope hammocks usually builts of soft cotton or woven polyester rope known for their exceptional strength, softness, and longevity. The rope spin and is attached to wooden spreader bars that could coat in Marine Spar Varnish for added durability.
Therefore, yielding a luxuriously soft, sturdy, and comfortable bed. Hammocks of this kind can come in various colors. While they can withstand a lot of pressure, the individual strands can deteriorate over time.
 Benefits
They're a great place to unwind, read a book, or sleep.
Cotton usually use to make rope hammocks, which is one of the reasons they are so cozy.
Spreader bars use to support rope hammocks.
Stand Hammocks
A hammock with its stand removes the need to locate two suitable trees or poles to set up the hammock. A stand will either builts of durable weather-resistant steel or powder-coated steel. Moreover, it will provide you with more protection and stability when you lay in the hammock.
Benefits
The stand is so simple to assemble that you can hang your hammock wherever you choose.
The fabric provides a cozy cocoon for hours.
Quilted Hammocks
Quilted hammocks get their name from the filler material that sits between the cloth layers and provides quilted softness, support, and warmth. Quilted hammocks are great for colder weather. Moreover, easy to get into because they have spreader bars that provide support while keeping the bed area open and visible.
They also have the additional benefit of being interchangeable, which means you get two hammocks in one – usually one with a pattern on one side and one with a solid color on the other. Hang your quilted hammock between two trees, or invest in a simple stand. There are no rope loops or sewing gaps in these hammocks since they make of sturdy cloth. It makes them an excellent choice for families with small children.
Benefits
A quilted hammock is even more supportive of the head and back.
Quilted Hammock has two layers and is double in dimension. With spreader bars and a long cushion, they make it spacious and durable enough for two people.
Poolside Hammocks
Since their fabrics design to be fade-resistant and water-tolerant, these hammocks are suitable for relaxing near the water. They are ideal for a day at the beach or a nap by the pool. Poolside hammocks builts with spreader bars for convenient access from the water. However, a can also suspend from stands or between trees.
Poolside hammocks are most common in warm climates and by the sea because they can withstand both wet and dry environments. Their fade- and water-resistant fabric makes them less convenient than most stylish.
Poolside hammocks are not only very sturdy, but they are also simple to clean: all you need is liquid soap and warm water. A dunk in a diluted bleach solution now and then will keep your poolside hammock mildew-free.
Benefits
You won't have to think about splashing pool water because the fabrics are fast drying and water-resistant.
Poolside Hammocks are both fashionable and long-lasting, making them an excellent choice for adorning your backyard pool.
Hiking Hammock
Hiking hammocks allow you to commune with nature. You will feel like a part of the scenery. Hiking hammocks are ideal for both family camping and backpacking. The hammock's architecture perfectly suits all purposes.
The hiking hammock folds up into a softball-sized bag. Moreover, the attached bag transforms into a convenient pocket for headphones, a lighter, or a late-night snack.
The weight of the hiking hammock is less than two pounds. It does away with the weight and bulk of a sleeping bag. It is perfect for a backpacker to comfortably fit the hammock into their purse or for a family whose whole sleeping kit can fit into a small pillowcase. It may also use as a camp chair, which eliminates the need for additional furniture.
Benefits
. Lightweight, packable, and easy to use.
It may also use as a camp chair, which eliminates the need for additional furniture.
Mayan Hammocks
Mayan hammocks consider as some of the most luxurious in the world. Mayan Indians from the Yucatan peninsula hand weave them using ancient techniques handed down from generation to generation. The key to Mayan hammocks' iconic comfort is the diamond weave pattern, which wraps around the body to create a "cocoon" effect. The Hamaca Maya, known in Spanish, is lightweight and can easily extend to fit one or more people.
Benefits
They are very cozy to sleep in because they design to wrap around you.
They are ideal for use in Canada's hot summers because they are reasonably fast-drying, made of nylon, mildew- and mold-resistant.
Lightweight and portable for camping.
Venezuela Hammock
The hammock in the Venezuelan or Brazilian style is a work of art. When you're in the woods, you need to think about your protection and relaxation and the Venezuelan hammock builts to help you do just that. Not only are you lifted above the creepy crawlies of the jungle floor, but you are also covered and made cozy. You don't have to think about a scorpion slipping its stinger into your arm while you're in a hammock.
Benefits
To keep insects away from the sleeper, a thin netting builts in this hammock.
It has a neoprene bottom layer that keeps mosquitoes at bay while still shielding the sleeper from excessive humidity.
Conclusion
It's nice to have a hammock or a swing in your backyard. You, your spouse, and your kids can hang out in the family hammock because there's plenty of space, or you can choose to chill alone. However, before buying any hammock, learn about the types of hammocks as discussed above to help choose the best style for you.
Read More
Low Maintenance Backyard Plants
Hammock History and Information (Wikipedia)