==================
A Caveat and Affiliates
First off, a little caveat: within my articles you will find affiliate links, meaning if you buy them, I get a small commission. Your cost is not affected. In addition, I am an Amazon Associate and I earn from qualifying purchases on Amazon.
And yes, if I say that I recommend a product here, it means I truly believe it is a good product. I refuse to recommend any product that I have not researched and believe to be a good value.
Even better, I provide you with a very clear picture of the product, it's use, and the probable value.
Earning your trust is important to me. I run this website myself and the commissions and donations help support the site.
Sound reasonable and fair enough? Let's continue to the article.
==================
Find The Best Hammock For Backyard Use
Getting the best hammock for backyard to unwind and de-stress is one of the best things you can do for yourself and your family. With a good one, you have a suspended sling for swinging, resting, or sleeping. Besides, a patio is a great place to indulge in such restful yet energizing pursuit. It's where you can breathe in fresh air, get some sunlight or afternoon warmth, relax or take a nap. So, besides pottering around in your garden, you could also indulge yourself and throw yourself on a hammock, relax, nap if you must, and gaze at the sky, and everything nice to look at in your yard. Wouldn't you agree it's a compelling reason to have an outdoor hammock in your backyard?
In this post, we'll show you a few hammocks or swinging couches to spend those lazy days lounging outside. Also included here are some tips when choosing from the options available. Thus, keep reading to discover what fits your preferences and is a worthy addition to your outdoor space.
Why the Best Hammock for Backyard Matters
It's not enough to settle for the best hammock for big guys or even a small kind. Different hanging beds have unique features. That's because the demands for them are also distinctive and varied. Framed, unframed, camping, and free-standing, hanging beds are a few that are available. These often come as single, double, or family hammocks with a canvas, rope, or net. Still, they come in many colors, sizes, and styles. They cater to folks who are looking for budget, simple, pricey, and stylish hammocks. Hence, when purchasing one, it matters a lot to check the various kinds. That would be to pick one that suits your needs.
Having the right one makes relaxation comfortable and worthwhile while outside. You must work on having the kind where you could be cozy lying down and staying there for minutes or even hours. Plus, find the type that complements the design of your patio or garden. So, you would own what is functional and appealing altogether. And doing research and spending time to get the perfect hammock matters a whole lot.
Examples of the Best Hammock for Backyard
A swinging bed outdoors is only worth buying if it's got the right features. In a nutshell, it is an excellent choice if it has things that make it convenient, dependable, cozy, and affordable. Thus, it pays to check the various hammocks reviewed and for sale to zero in on what is worth getting. Included in this article are the best hammock for big guys and other types of patio owners. You can read about them to find something that may appeal to you. They are as follows.
You can enhance your yard for relaxation with this free-standing furniture.  This hammock adjusts to the shape and weight of a person's body while cutting a nice sculptural silhouette against your home's backyard garden and patio. Two persons can take a restful nap in this 87-inch bed that comes in 44 color schemes. It uses a durable, polyester fabric that lasts long and is hypoallergenic. The material repels dust mites and needs low maintenance. Hence, having it around can come in handy (in) basking in the outdoors while staying cozy at all times.
Speaking of durability, it's sturdy and strong and comes with its heavy-duty steel stand. There are even hooks for height adjustments. The advantage is that trees don't have to be around for a hammock to be elevated from the ground too. Still, it can carry 450 pounds of weight while weighing less than 30 pounds. So, its many features alone make it worth the buy.
This two-person swinging couch is excellent for relaxation alone or with a friend. With cotton for its material and the fabric having knotted ends, the whole thing is reliable. It provides comfort and confidence at all times. That is to say, people could sleep in it and have peace of mind knowing that it is cozy and stable. Another thing that improves its stability is its steel stand. It makes the unit stay in place while people are sitting or lying down. Also, with its 400-pound weight capacity, it may be the best hammock for big guys. So, it's quite understandable why people pick this to be a part of their patio.
Assembling it is a breeze with no tools needed. In 30 minutes or less, this can be set and ready to use. Plus, it is available in 7 patterns which makes it not only fit for houses but also other places. It even comes with a nylon bag to carry it and lean back anywhere. Its portability and design provide convenience and aesthetic beauty. So, it does well as a home decoration and furniture plus to add appeal to any place.
Gold Armour Rainfly Tarp Hammock
Take it easy with this best hammock for backyard relaxation. This outdoor companion is quite excellent due to its many features. It isn't only suitable to use as a swinging couch. People can use it as a ground sheet, tent, blanket, shade, and more. Together with it are sacks that have the hammock's main parts and accessories. It does come with stakes, tensioned cables, and a polyester sheet. Plus, it's available in varying sizes. So, whether it's chilling at home or outdoor adventures that you want, this is a product that can help a lot.
Everyone may not agree with it being the best hammock for big guys but it is a versatile product anyway. While acting as a swinging couch, it also gives immediate shelter. Not only is it lightweight but it's also a compact item. So traveling with it is easy and possible to set up almost anywhere. It's no wonder why many approve of it for patio use too.
Strong enough to carry 400 pounds or 200 kilograms of weight, it's a great hammock to de-stress. Its dimensions are 200 by 150 centimeters wide and 320 to 325 centimeters long. Thus it allows for a lot of space to rest one's back, read a book, doze off, and even have a friend over to sit with you. It won't flip even if you're a heavy person or you have someone sitting beside you. This makes it also the best hammock for big guys. So, it wouldn't be strange to see large-framed folks going for this one.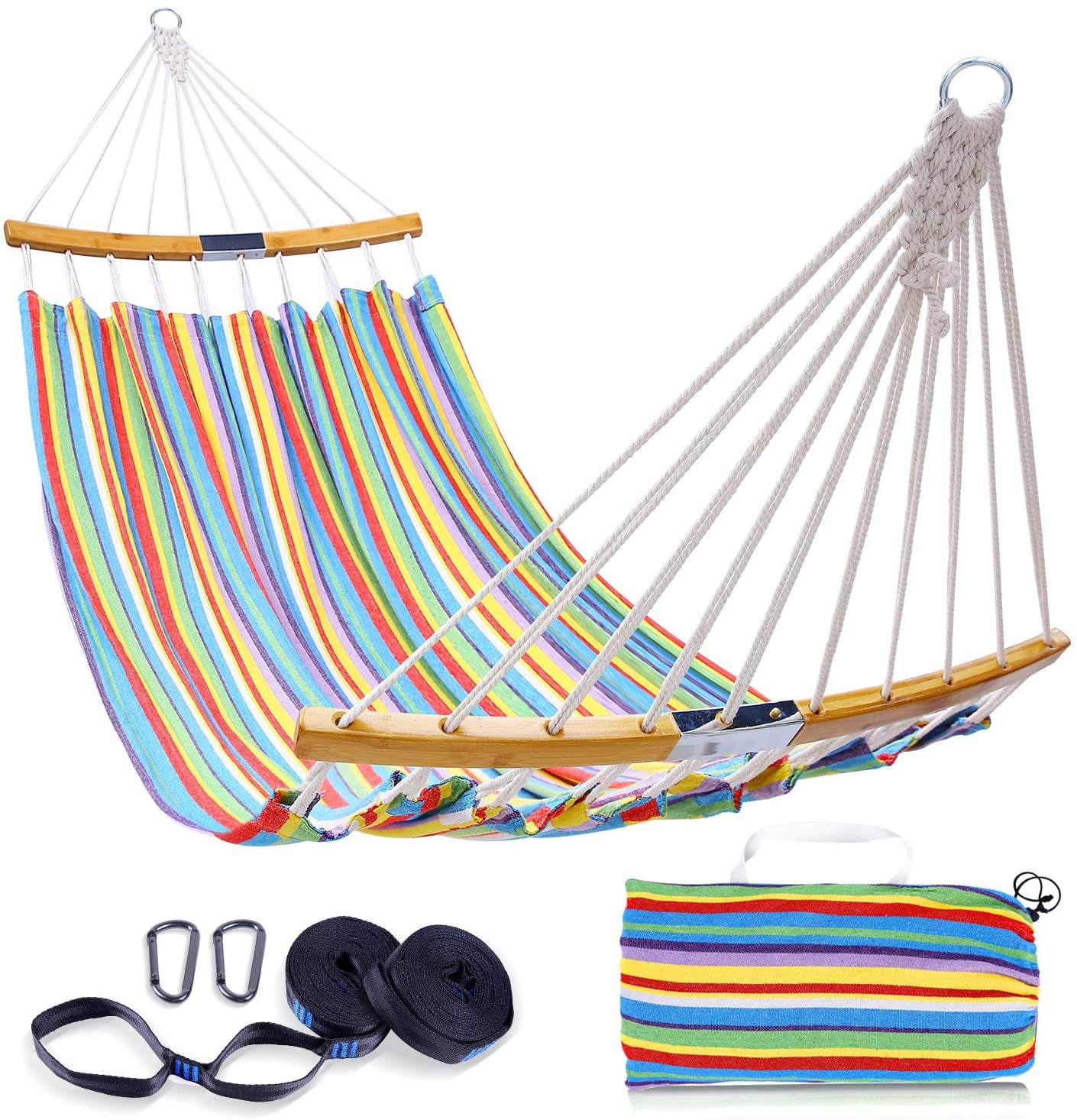 Setting it up is very easy, too. Once you get the straps and hooks done right, you're good to go. After that, you only need to find where to have your hammock suspended. You won't even have to worry about carrying something since it doesn't weigh much. At only 8 pounds or so, this product is very portable.
Guide to Find the Best Hammock for Backyard
It would be smart to have a set of beneficial features in mind for your desired suspended sling. That's so it would be easy to choose from the different types of hanging beds that are for sale. Here are some of what you may want to take into account when comparing various hammocks.
Tips For Comparing Suspended and Swinging Beds
Check their materials, size, color, water resistance, and UV protection. These things determine a hammock's durability, comfort, weight capacity, and style. Buying online allows for convenient shopping since these attributes are usually outlined.

Consider assembly. It would be convenient to go for the best hammock for backyard use that is easy to build. Some come with hooks that are easy to attach and later use to suspend. Even so, it would be nice to go for the kind that is convenient to deconstruct. In some cases, foldable or portable models are quite beneficial. That's especially for individuals who camp or change their surroundings often.

Value for money. On average, these cost $10 to $2,000. Thus, if you're on a tight budget, you may want to check what you can afford. But never settle for that which doesn't have your needed features. After all, having one means owning something that you're either going to keep using or end up ignoring. Hence, you might as well look for the best hammock for backyard use.
Experiences When Using the Best Hammock for Backyard
So what do folks usually say about the best hammock for big guys? What are people's experiences with using a hanging bed? Like any other product, swinging couches also have their advantages and disadvantages. Many say good things about them while others tell about the drawbacks. To find out what people's opinions are about them, listed below are the pros and cons.
Pros
They are lighter and easier to set up than tents.

As long as there are strong and parallel trees or posts, terrains aren't an issue.

They provide comfort while on the go.
Cons
You may need trees or sturdy posts that are near each other to use them.

Pets may not feel comfortable sitting in or lying on them.
In Conclusion
Whether you're looking for the best hammock for backyard use or anywhere else, we hope this post helps. After all, these swinging couches are excellent for taking it easy on patios and other areas. Yet there are many kinds to choose from that make selecting complicated somehow. So it pays to know how to get the right type based on your needs for convenience. That is even if at the end of the day it all comes down to your preference.
There is a uniqueness in the way suspension in the air encourages relaxation. Thus, a lot of people buy and use a hammock in their yard and for travel. Do you have one? What are your experiences with it? Please share your thoughts with us in the comments section. Happy swinging!
Read More
What Is The Best Type Of Hammock? Our 2021 Guide
Patio Swing On Stand For Ultimate Comfort In 2021
How To Create A Outdoor Oasis On A Budget
Best Portable Lawn Chair For 2022
Best Outdoor Furniture For Pets