==================
A Caveat and Affiliates
First off, a little caveat: within my articles you will find affiliate links, meaning if you buy them, I get a small commission. Your cost is not affected. In addition, I am an Amazon Associate and I earn from qualifying purchases on Amazon.
And yes, if I say that I recommend a product here, it means I truly believe it is a good product. I refuse to recommend any product that I have not researched and believe to be a good value.
Even better, I provide you with a very clear picture of the product, it's use, and the probable value.
Earning your trust is important to me. I run this website myself and the commissions and donations help support the site.
Sound reasonable and fair enough? Let's continue to the article.
==================
Pets are fun to have at home. It is a great addition to the family and can give you unconditional love. They are proof that family is more than just blood relations. If you have pets at home, be sure to get them the best outdoor furniture for pets for them to enjoy.
However, taking care of pets also requires lots of sacrifices from the pet owner. From a daily diet to a few hours spent for veterinary checkups and vaccinations. You need to give their needs as they are a member of the family. Having a pet is an addition to your household. With that, you should be responsible for them no matter what.
In addition to the need to provide high-quality food and treats, there is one problem that often arises with families who have pets. That is finding good furniture that will not get ruined.
Being a pet owner means that your precious furniture is also part of the package. You basically need durable and sturdy furniture that your pets cannot break or tear, even if they are as adorable as a kitten napping on it.
How to determine the best outdoor furniture for pets?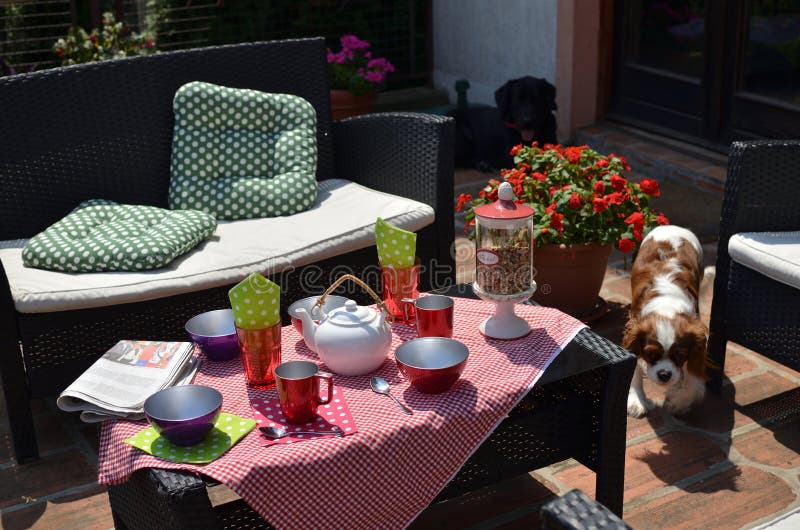 The best outdoor furniture for families with pets should have high resistance to dirt and water, be easy to clean, and have a design that won't attract attention from your neighbors or visitors at home. Looking after more than one life definitely takes time and dedication.
That's why the best option would be a furniture set made out of synthetic materials rather than natural wood. This way, you can spend lesser time cleaning it up. It's not just an advantage for stay-at-home moms. But, it is also perfect if you want some alone time, or you are the working type who needs space to relax.
Just because you have pets does not mean that your furniture should become an eyesore in your home or backyard.
You will find that if synthetic is the material of choice for outdoor furniture then most modern-designed pieces should be aluminum, steel, and even recycled plastic pieces. This means they are lightweight but very durable compared to their wooden counterparts.
For instance, resin furniture is also perfect. This is because you get them from stabilized crushed recycled glass. With that, it will make them feel like wood but lasts ten times longer than natural wood.
Best Furniture for Pets and Dog Owners
Dogs are very playful and active. You can't help it if your pets jump over newly bought furniture. They might also scratch them until the colors fade away, or chew anything within their reach. These problems are not just limited to dogs, but also apply to cats and other domestic pets.
Faux Fur
This furniture for pets is highly recommendable. If you have a dog at home, then it would be best if you choose furniture made out of materials that are more pet-friendly. This way, they won't get hurt when they start their usual antics.
For instance, there are some designs of chairs and tables with thick legs. With this, your pet's nails won't actually tear the material apart on impact. There are even pieces designed specifically for pets like faux fur cushions and scratching posts for your kitty cat.
Wicker Furniture for Pets
Of course, if you want something simpler and with a sleeker style then you can also opt for furniture made out of wicker. This has been proven to withstand even the most stubborn and destructive pets. You may also want to choose furniture that looks like natural wood but is actually made from plastic. These materials won't splinter even if your pet chews on them, and they come in stylish designs as well.
Benches
If you prefer furniture for pets that are more tailored to your outdoor space such as benches or tables, you can go for modern-inspired pieces with straight lines and sharp edges. Just make sure that their design doesn't scream "cheap". This is because people will immediately know this is not an investment piece. Moreover, it could also mean that it's just temporary since you don't need to replace the furniture in a few years.
Where to Buy Dog Proof Outdoor Furniture for Pets
If you are on the lookout for modern outdoor furniture sets, but will not be able to afford expensive branded brands, you can shop online and cross-shop between different retailers. Most of them sell sets at discounted prices.
This is because they get their inventories from manufacturers directly. It's really easy to find trendy styles at lower price points this way. So, there is no need to break the bank just to get that perfect look for your home or backyard.
Just make sure that you spend your money wisely when there are so many options nowadays in terms of designs, the material used, and pricing. So, you won't have regrets in the end when all your pets have completely destroyed it. They will want to sleep inside the bed or sofa.
Outdoor furniture for pets is a place where you gather with friends and family, throw a party, or just sit there to enjoy the fresh air when you want some quiet time for yourself. And eventually, it will become part of your house that will let you relax in your free time.
Tips in Choosing Pet-Friendly Outdoor Furniture for Pets
No matter what kind of pet you have at home, it is important to consider the company you keep. If you have kids and pets in your home, it would be best if you choose furniture that can withstand both manners of wear and tear. That way, there will always be a place for everyone to sit or lay down.
Here are some tips and tricks you can do when choosing dog-friendly furniture for pets:
1) Find pieces that can withstand sudden movements and heavyweights.
When choosing furniture that is safe for pets, it would be best if you choose sturdy materials that won't just tip over when your pet jumps on top of it. They need to have wide legs so even when you play with them and run around the house, they will not break anything or cause accidents.
2) Look for pieces with simple designs.
Boring furniture will be boring forever since it can never give interiors a fresh look even after years of use. Instead, choose sets with sleek, modern designs in bright colors like red, blue, yellow, or green which can make your outdoor space pop! You can also go for more traditional styles. But, make sure there are clean lines and solid construction to set off the rustic vibe.
3) Always go for the quality.
Instead of getting cheaper, lower-quality items that will not last for two years in your outdoor space, it is better to invest in furniture with good finishes so it could at least look presentable. But when choosing pet-friendly furniture for outdoors, sturdy materials are the most important factor to consider.
So even if your dog chews on it or scratches it against a tree, you can still have peace of mind that there won't be any fabric or stuffing flying off after every one of their mischievous moves. This could mean trouble when they get sick from ingesting these toxic particles.
4) Get pieces with removable covers.
If the furniture you choose has detachable covers for easy cleaning and maintenance, then this is better. You get to play around with the look of your space and it can be easy to manage especially if you have dogs or other pets at home. They will also love a comfortable place to sit when they want to spend time outside.
When you don't allow them in your bed, furniture is their next best option. Since outdoor spaces are usually where we bond with our furry companions. Make sure that this is going to be a great addition to your house.
5) Proof all upholstery types before you buy.
Just like human skin, a pet's fur type can vary from one dog breed to another. Some breeds have thicker hair while others have long coats that tend to shed more often compared to the short-haired ones. And if you choose fabric upholstery for pet furniture, it is important to know that not all of them are suitable for dogs.
This is because the material could cause the pets pain when they chew on it or rip it off. You can ask your best friend at Petco for their recommendations based on what kind of fur type your dog has so you won't end up disappointed at the end of the day.
6) When choosing beds, try to look for orthopedic ones.
There are so many different kinds of pet furniture you can choose from. So, it would be best if you know what your pets need first before deciding on which one to buy. If they have joint or back problems, then it is always best to invest in quality bedding that will help ease their pain. This is best rather than just buying anything with the cheapest price out there.
When old dogs start to feel aches and pains because of arthritis, this could cause them trouble when sleeping through the night. This is due to their body aches will keep them up most of the time. So by investing in a high-quality bed with an orthopedic mattress inside, it would be easier for them to adjust themselves to a more comfortable position. It can also reduce the risk of injury if ever they decide to jump off the bed and land on a hard surface.
7) If you're going for storage, use round bins.
Wooden boxes with square or rectangular designs may look stylish. But they won't be as functional as using round containers that would be easy to use even when your dog jumps around them. You can go for wooden or wicker versions of this piece. They are sturdy and will never break apart after your pet's paw gets caught in the cracks, which could cause accidents all over your house.
8) Make sure there is an open bottom so it will be easy to clean up and maintain.
When choosing furniture for pets, it is best to choose pieces that have removable parts. If ever your pets decided to destroy the entire thing and reduce it to bits and pieces, it won't get broken. This way you won't have a hard time putting it back together or putting on new covers whenever they get dirty. Even when you wipe them down with water, at least the stains will come out faster than having to clean up fur stuck in between crevices of wooden furniture.
9) If possible, choose designs that are resistant to the elements.
A lot of pet lovers think that getting furniture for their pets means sacrificing style and fashion. But by investing in these pieces, you should also consider choosing designs that are both safe and functional. This is because outdoor furniture has great exposure to dirt or even water when it rains.
Wooden furniture might not look as appealing. But, the fact that they don't get stained easily means you can wipe them down with soap and water whenever necessary. Plastic versions are light enough not to have any problems you move them around. Just remember to clean these pieces at least once a month, so your pets wouldn't catch skin infections from spending time in dirty places.
10) If you're using fabrics make sure they are stain-resistant too.
When it comes to pet beds, most people prefer cotton fabric. This is because of its softness which is great for dogs who are still babies without sharp teeth yet. But even when you choose this version, you still have to make sure that it's stain-resistant. This is because your dog will probably end up snacking on their bed with whatever food is leftover from last night.
Blue and red velvet-like fabrics might look pretty. But they can cause skin problems if not cleaned properly. So, it would be best to stick with plain white or solid colored options which are easier to maintain. This way you won't have a hard time putting them back together whenever they get torn apart after an energetic playtime session.
11) If possible, find pieces that can be easily fixed by yourself.
Sometimes accidents happen and buying furniture that you can fix without too many tools means saving money over the long run. If you're going for metal chairs, look for ones that come with a set of screws and bolts. It would be easier to put things back together when your pet decides to chew on them or kick them off the table during a fit of anger.
You can also choose wooden pieces like benches and stools. These might not exactly match your outdoor theme, but can be easily fixed whenever they get worn out by exposure to weather conditions. Plus, if you buy these items in bulk then you won't have to worry about matching colors later when expanding your collection. They will all compliment each other without too much effort.
12) Look for items that are able to blend in with your current patio set.
Since there are so many designs and themes to choose from, make sure that your new piece will blend with the rest of your furniture without looking too out of place. This way you won't have problems when having company over or just when sitting down for tea in the afternoon.
Even if you're an avid pet lover, there are still people who might not appreciate them as much as you do. So, finding one that can be easily accepted is important to maintain a good image in front of guests.
Conclusion
At least with this knowledge, buying pieces for pets won't be hard. This is especially when it comes to maintenance so they would also last longer than expected. But before finally deciding on pieces for pets, you should first check if they would match well with your current outdoor theme and design. Even the most beautiful pieces can look too out of place on a patio that's filled with rocks and nothing else.
Having pets is a blessing. But, finding the right furniture for them doesn't mean compromising style and fashion for functionality. Using this guide to help you choose one will make everyone happy when they see your collection in the backyard.
Plus, once you have these items around, it would be hard to say no when someone asks if they can borrow them for parties or other outdoor activities. It might even serve as great conversation starters whenever the company comes over.
Read More: