==================
A Caveat and Affiliates
First off, a little caveat: within my articles you will find affiliate links, meaning if you buy them, I get a small commission. Your cost is not affected. In addition, I am an Amazon Associate and I earn from qualifying purchases on Amazon.
And yes, if I say that I recommend a product here, it means I truly believe it is a good product. I refuse to recommend any product that I have not researched and believe to be a good value.
Even better, I provide you with a very clear picture of the product, it's use, and the probable value.
Earning your trust is important to me. I run this website myself and the commissions and donations help support the site.
Sound reasonable and fair enough? Let's continue to the article.
==================
Composting Bin Reviews
If you are looking for the best outdoor compost bins, then you are at the right place! Composting is one of the best ways to keep your plants and soil healthy and in its best condition. Aside from the fact that it's environmentally friendly, composting is a cheap alternative to chemical fertilizers. All you need are scraps, and you'll get an organic fertilizer that's ten times more effective than the ones you get from the market.
However, to start with your composting journey, you need to invest in an excellent composting bin. This is where all your wastes will go and spend their time decomposing to give you the results you need. Your composting bin is just as significant as the items you put in it, so make sure to get a good quality one.
But how do you look for a good quality composting bin? What factors should you consider? Say no more because we know of, just the correct composting bins that will suit your needs!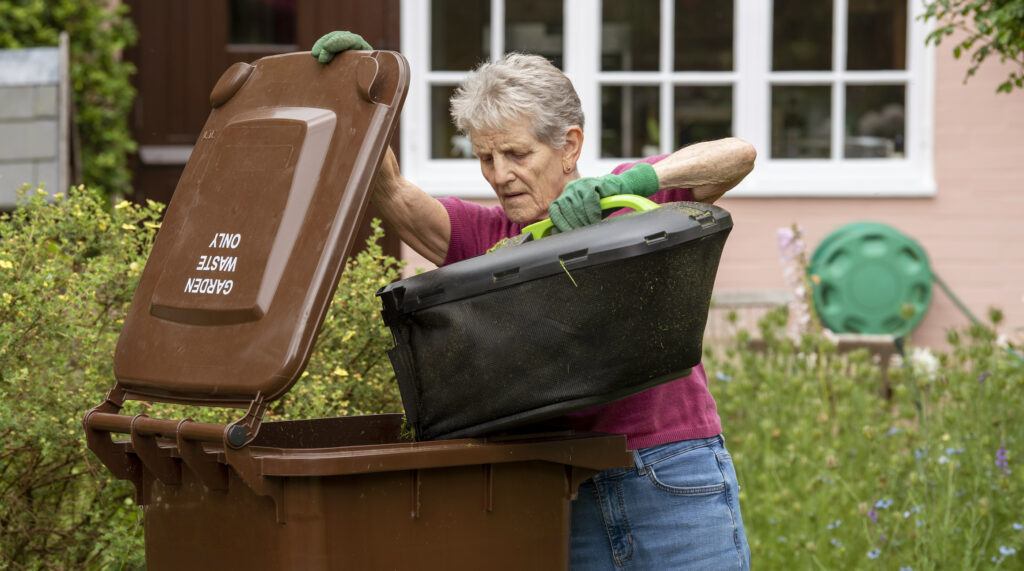 How to Choose the Best Outdoor Compost Bin for You
First, let's start with knowing how to choose the best composting bin for you. Of course, you can always build your composting bin. But if you lack the time, energy, or skills, you can always purchase it online and have it shipped right to your doorstep.
In finding a suitable container for your waste, it's vital to consider your lifestyle. Do you live in an apartment building, or do you have a backyard? This will tell you what kind of composting bin will work for you based on the amount of space and freedom.
You can set a budget for your bin, but remember that price is not always the best determinant of quality. Hence, some other things to consider include capacity, sturdiness, and the bin's quality of aeration. That way, you can narrow down your choices among the hundreds, maybe thousands, of composting bins listed in the market.
Luckily, we have a few recommendations that will make your composting bin hunting so much easier!
Best Budget Composter Bin
For those of you who are on a tight budget, but are looking for good quality composting bins, nonetheless, this one's for you. This IM4000 Dual Chamber Tumbling Composter from the brand, FCMP Outdoor, is one of the cheapest among the composting bins that we will feature in this article. It costs only $81.19 and has excellent features for its price.
In terms of capacity, it can store up to 37 gallons of waste and is relatively small, so it's perfect for people with not much space at home. It's also great for first-time gardeners who are only looking to learn how to make compost gradually. You can always upgrade to a bigger, larger-capacity composting bin when you finally need to.
A great thing about this is its tumbling feature, which allows you to simply turn the bin a few times every day. Hence, you don't have to manually mix your compost for aeration, making it fantastic for busy gardeners. The composter has two chambers that let you finish your compost in one compartment and add fresh wastes in another.
You should look out for its sturdiness as this dual-chamber composting bin stands only on a pair of steel frames. There is a risk of falling when the chambers get too heavy, but you can prevent that by placing it somewhere steady. You can get this composting bin here.
Best Extra Large Composter
Do you have an enormous garden and need a good amount of compost? This Garden Composter Bin from D.F. Omer can store up to 110 gallons of compost. If that's not enough, you can also purchase its 60-gallon bin extension.
It features two doors, one at the top to dump your wastes and another one below. The latter is an extra door where you can withdraw any finished compost that sits below that pile. This unique design is excellent because you don't have to wait for the entire stack to decompose before using the finished compost.
This composter has adequate aeration, thanks to its rows of windows tiny enough to let air in and prevent rodents from entering. Garden Composter Bin is extra environmentally friendly because its material is made out of recycled plastic. The composter bin is only $76.99, the cheapest one out of the featured containers here.
This compost bin is suitable for people who have an outdoor garden as the container sits directly on the ground. The composter doesn't spin, so you'd have to toss your wastes with a tool manually. It is also not the easiest to assemble, but if you need a large capacity, a cheap bin, Garden Composter Bin is for you.
Best Portable Composter
This one is a particular recommendation from us as this is the composting tumbler that's been sitting in our garden for a while. If you're constantly moving around and need a composter that can roll around with you, consider this 50-Gallon Wheeled Compost Tumbler from Kotulas. This composter has wheels on the back of its frame, which allows for portability.
This wheeled composter is designed to be rotated, which is excellent for easy mixing and tossing of composts. Its design allows for good air circulation inside the barrel, so aeration is not a problem. Moreover, this 50-Gallon Wheeled Compost Tumbler has built-in mixing fins inside its body, which help split up clumps of wastes.
It is best used outdoors, where you can maximize its unique features. The body of the composter is made out of steel, and its frames are guaranteed to be sturdy. Hundreds of positive customer reviews vouch for this products' reliability, quality, sturdiness, and value.
Best Small Composter
One of the most beginner-friendly composters in the market is this FCMP Outdoor Rolling Composter. It is small, compact, and very easy to use. This composter can only hold up to 19 gallons of compost, making it suitable for people with little compost needs.
Its ease of use might be the best thing about this product. For one, it doesn't have to be assembled as it was made to be ready-for-use once it arrives at your door. The container resembles a wheel, so you can roll it around whenever it needs to be transferred to another location.
Furthermore, this Outdoor Rolling Composter has a tumbling design, so you can just shake it around to mix your compost inside. It has holes all over its body to allow aeration. The composter also has fins inside to separate wastes that clump up inside.
Priced at only $62.99, you can get this rolling composter if you are a beginner or on a budget. Be mindful of where you place this bin, though. It may not be an excellent indoor composter because waste liquid may spill from the holes of its body and create odor.
Best Rolling Composter Bin
Here we have another rolling composter, which is similar to the one above. This one is called the FCMO Outdoor HOTFROG Rolling Composter, an upgrade to the previous bin. Priced at $114.99, this rolling composter can house up to 37 gallons of compost. This is double the capacity of its smaller version, so expect that this composter is much larger.
It has about the same features as the FCMP Outdoor Rolling Composter, except it has a larger capacity (as mentioned) and a thicker body. This allows the composter to be much sturdier and easier to roll around than the former. In case you need to upgrade your rolling composter, consider getting this one.
Best Indoor Composter Bin
Some of us, plant parents, either live indoors or cannot be bothered to throw our food wastes in our outdoor compost bin in the middle of cold winter. Lucky for us, this All Seasons Indoor Composter is here to save our lives. This small indoor compost bin from SCD Probiotics can hold only up to 5 gallons of food wastes.
The package comes with a bin and a Bokashi compost starter. This ingredient is added to your food wastes, and it accelerates the decomposition process of your compost. Bokashi can help process your wastes twice as fast as conventional composting methods, and it does that without the odor.
Its unique features also include a filter and a spigot. The purpose of these two is to allow drainage of the moisture from the wastes, called the compost 'tea.' You can extract your compost tea every two to three days and immediately use them on your plants.
It is sturdy and small, hence its capacity. The All Seasons Indoor Composter is designed to be placed on your kitchen floor or top of your kitchen counter. You can get this indoor compost bin for only $56.95, which is astounding considering that it comes with a Bokashi compost starter.
Best Worm Composter
The last compost bin for you is this Worm Factory 360 worm composting bin from The Squirm Firm. This bin has four trays, which is expandable up to eight trays if added capacity is needed.
This is used for the worm composting method, wherein worms are added to the compost to aid the decomposition process. This bin works by filling up the bottom tray with food scraps and worms first. Eventually, you can add more trays above, to which the worms will climb up, so you can immediately use the finished composts below.
Worm Factory 360 is listed at $144.95, and it comes with stacking trays, accessory kits, quick tips lid, and an instruction manual and DVD. Moreover, the composting bin has a worm ladder and bedding materials. The composting bin also has a stopper so that you can drain compost tea every two to three days.
Conclusion:
Have you found the composting bin of your dreams? Your composting bin should suit your needs and lifestyle, so be sure to make wise decisions using these composting bin reviews. Hurry and get your composting bins while supplies last if you need a large capacity so you can finally start your composting journey.
Read More: