==================
A Caveat and Affiliates
First off, a little caveat: within my articles you will find affiliate links, meaning if you buy them, I get a small commission. Your cost is not affected. In addition, I am an Amazon Associate and I earn from qualifying purchases on Amazon.
And yes, if I say that I recommend a product here, it means I truly believe it is a good product. I refuse to recommend any product that I have not researched and believe to be a good value.
Even better, I provide you with a very clear picture of the product, it's use, and the probable value.
Earning your trust is important to me. I run this website myself and the commissions and donations help support the site.
Sound reasonable and fair enough? Let's continue to the article.
==================
Love watching birds in your yard and want to know about different species of colorful birds? Get the Netvue smart bird feeder camera that can auto-detect thousands of bird species.
Smart AI bird feeder cameras are a hot new trend. After all, we love getting close and seeing our feathered friends. That said, there are numerous brands that have introduced bird feeder cameras for backyard owners and birdwatchers to enjoy these colorful visitors.
I have been a backyard birdwatcher for almost 15 years, and about five years ago, I learned about smart AI bird feeder cameras. Since these bird feeder cameras can auto-detect and recognize, they are excellent for knowing about different bird species and their feeding behaviors. Today, I have installed these cameras throughout my backyard to enjoy watching them at the feeder, birdhouses, etc.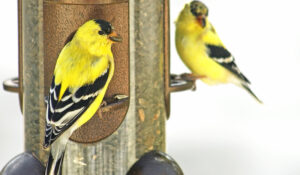 As a birdwatcher, I got a Netvue smart feeder with a camera and thought of writing a comprehensive review about it. Since I'm very affectionate with these devices, I'm more than happy to do so. However, before starting my review, keep in mind that this will be an independent, unbiased, and fair review, and I haven't received any compensation for reviewing this device.
So, let's get started!
About the Brand
Established in 2010, Netvue is a renowned smart home and solution company. The company's primary goal is to focus on AI technology and design products that assist people in all aspects of home life. Netvue, in particular, is known for providing mobile internet-connected innovative hardware.
Moreover, Netvue strives to create high-quality, smart devices that should be user-friendly and make peoples' lives easier and more convenient. The company began designing security cameras in 2008. Since then, they have perfected their craft while extending their passion to other smart devices, such as doorbell cameras, baby monitors, and smart bird feeder cameras. Today, the company serves globally and has more than 500,000 satisfied users worldwide.
Designed and launched by Netvue, this smart bird feeder with the camera is touted as "the first bird camera." In addition to a bird feeding station, it is a fascinating innovation armed with an auto-detect and recognizes AI smart camera.
Moreover, Netvue smart bird feeder camera can auto-detect and identify over 6,000 species of birds. Its built-in wireless camera lets you get up close and personal with feathered friends that visit your backyard. Furthermore, this bird feeder camera can detect the types of birds in your yard.
Specs and Dimensions of Netvue Smart Bird Feeder Camera
| | |
| --- | --- |
| Brand:                   Netvue | Colors:                  Birdfy + Solar + Bond |
| Weight:                                5.19 pounds | Target Species: Birds |
| Rating:                  4.4/5 | Dimensions (LxWxH)): 10.23 x 9.64 x 11.22 inches |
| Resolution:         1920x1080p | Live Video: Smartphone, Tablet, Desktop |
| Motion Detection: Real-time                           Alerts,   Detection, Zone/ Time Setting | 2-Way Audio: Hand Free |
| Night Vision Distance: 20m | Alexa: No |
| Bird Detection: Lifetime Free | Micro SD Card: Not included |
What's In the Box?
| | |
| --- | --- |
| Netvue Birdfy Feeder Cam | Charging Cable |
| Drilling Template | Solar Panel |
| Quick Guide | Power Adapter |
| Mounting Bracket | Screws and Anchors |
Design and Features
Here are the top features of the Netvue smart bird feeder camera:
·         Innovative Design
As the first Ai auto-recognition bird feeder camera, Netvue is an excellent device to enjoy birdwatching in your yard. The birdfy camera comes fully assembled, and all you need to do is to snap on the cover and attach the stand to the seed tray.
Netvue smart bird feeder camera is made of white plastic and features a clear plastic window around its 1080p wireless camera. This clear plastic window is basically the front of the seed container. On the other hand, the back of the bird feeder is equipped with a wireless camera's Wi-Fi antenna as well as a USB-C charging port. While you can use this port to charge the camera, it can also be used to attach a solar panel for recharging the camera.
·         AI Auto-Recognition
Whether you are a backyard birdwatcher or an ornithologist, Netvue smart bird feeder camera is something birdwatchers will love to have in their yard. If birdwatching and knowing about different species of birds is one of your hobbies, the smart Ai bird feeder camera is equipped with a state-of-the-art AI algorithm that can recognize more than 6,000 species of birds.
Whenever your feeder detects a bird, it will instantly auto-detect and show you the type and name of the bird. Moreover, you can look for an introduction and get further details through the Netvue app. In addition to birds, one of the best things that I really loved about this bird feeder camera is that it will detect squirrels and let you know.
·         1080p Color Night Vision
The high-resolution 1080p camera is one of the most significant features that make the Netvue smart bird feeder camera popular among birdwatchers. With its 1080p high-resolution camera results, you will be able to get the best shots of video and images even during the night.
Since it also has night vision capabilities, you will not only be able to see night birds in colors in a selfie-like mode, but you can also get close-up details of birds through its 8x magnifier. In addition to its 1080p night vision camera mode, Netvue birdfy feeder also features a 5dBi antenna, allowing the camera to connect to a 2.4gHz Wi-Fi network. It means you don't have to worry about losing Wi-Fi signals and missing
a pleasurable moment when your favorite birds visit the feeder.
·         Patent, Bird-Friendly Design
Another thing that I really loved about Netvue smart bird feeder camera is its simple and innovative design. The bird feeder camera is bird-friendly and designed as a lovely home for your backyard feathered friends. Moreover, it also features an IP65 weatherproof and solid stand that keeps the feeder stable.
Furthermore, Netvue smart bird feeder camera also comes equipped with a spacious 1.5L capacity food container to store enough food and seeds for starving birds. Having a large and spacious food container also means you don't have to refill it more frequently.
·         Store and Share Bird Photos and Videos
Since you can operate the Netvue smart bird feeder camera on your laptop, tablet, and smartphone, it is easy to instantly share photos and videos of birds with your friends and family. All thanks to its AI algorithm and auto-recognition feature, the camera will auto-detect the bird's movement, capture a photo or video, and then store it in the Netvue Cloud for up to 7 days.
Moreover, you can either use an SD card for storage or buy the Netvue Cloud subscription if you want to extend the limit. Since Netvue smart bird feeder camera support tablets, smartphones, and computers, you can create a fascinating album of different bird species that visits your yard and gift it to your family or friends.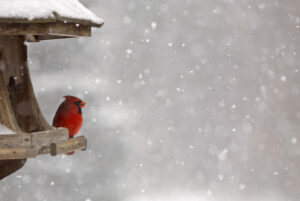 ·         Weatherproof Bird Feeder Camera
Netvue smart bird feeder camera features IP65 weatherproof design. It means the camera can work efficiently regardless of weather conditions and wherever you want it to install. It will always be there for you to enjoy your birdwatching time, whether it's summer or winter, sunshine or snow.
·         Squirrel-Proof Netvue Bird Feeder Camera
In addition to auto-detecting birds and getting instant notifications through its app, the Netvue feeder camera AI algorithm can detect squirrels and let you know. This feature is an excellent addition as it will be easy for you to keep squirrels away from your feeder.
Moreover, aside from getting notifications, the 2-way audio feature is captivating as you can yell "go away" siren or use the white light to scare squirrels away.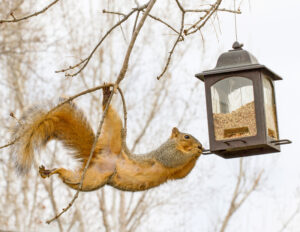 ·         Ultra Strong Battery
Last but not least, an ultra-strong Netvue smart feeder camera battery is another notable point that will keep you connected with nature and feathered friends all year. The camera is armed with a strong battery that runs twice as compared to the existing market.
All you need is to install it and gain peace of mind. Moreover, you can also connect your Netvue feeder camera with a solar lite solar panel and get non-stop battery power. However, keep in mind that a solar lite solar panel is not included in the package, so you will have to purchase it separately.
Pros and Cons
So, these were some significant features of the Netvue smart bird camera. Aside from having an innovative, bird-friendly design and plenty of smart features, Netvue smart bird feeder camera still needs some improvement.
Pros
It features a bird-friendly design.
The bird feeder camera features a spacious food container that is easy to fill.
It is an all-weather camera.
Flashlights and sirens are an excellent addition to protecting your feeder from squirrels.
It has a Netvue mobile app and supports tablets, mobiles, and laptops.
2-way audio lets you hear what your feathered friends are singing.
It also features night vision 1080p color mode.
Cons
AI algorithm for auto-detection needs serious improvement.
The bird feeder is relatively expensive.
Squirrel-proof siren and light also need some improvement.
Should You Invest in the Netvue Camera?
As a birdfy smart camera, Netvue is a birdfy camera and a digicam. In addition to its beautiful design, the bird camera also boasts the most significant battery life of any bird feeder or security camera I have reviewed. As a backyard birdwatcher, it allows you to get up close and personal with different species of birds that visit your yards. However, I still think that the AI recognition of the Netvue smart bird feeder camera needs a lot of improvement. Except that it is a great smart device that birdwatchers will love to have in their backyards.
You Might Also Like: