==================
A Caveat and Affiliates
First off, a little caveat: within my articles you will find affiliate links, meaning if you buy them, I get a small commission. Your cost is not affected. In addition, I am an Amazon Associate and I earn from qualifying purchases on Amazon.
And yes, if I say that I recommend a product here, it means I truly believe it is a good product. I refuse to recommend any product that I have not researched and believe to be a good value.
Even better, I provide you with a very clear picture of the product, it's use, and the probable value.
Earning your trust is important to me. I run this website myself and the commissions and donations help support the site.
Sound reasonable and fair enough? Let's continue to the article.
==================
Check Before You Buy Patio Conversation Sets
To spend time lounging and relaxing outside, people get patio conversation sets. Furnishing a lanai with these essential pieces of furniture allows for more time to see and appreciate nature. After all, they can make homeowners and their guests cozy while gazing at the sky and garden foliage. We can say that having some outdoor furniture pieces makes chatting possible in the open air. Usually, these furniture pieces are weather-resistant, rust-proof, treated, durable, and more. But the manufacturers create their frames from various materials. It's why unique designs are available. So, before putting a few movable pieces of furniture in the open, consider having a look at your options first.
In this guide, we'll show you choices on what furniture to get based on your space and requirements. To pick the right outdoor furniture set, we'll check the distinctive styles and sizes too. Included are some tips on how to take good care of or maintain these items. So, whether you wish to renovate or revamp, or are about to buy a collection, read on for some information and advice.
Common Outdoor Furniture Materials

For outdoor furniture, several ideas come to mind. Modest and luxe terraces have sofas or loveseats, designer chairs, side and bar tables, and more. Their purpose is to have the furniture pieces indoors moved out in the open. Such items make transporting furniture pieces from one place to another unnecessary. Hence, they are quite useful in that sense.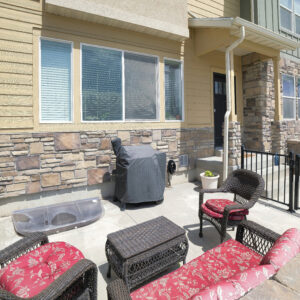 One thing a homeowner or buyer can be sure of is that they are often more expensive. Yet this is understandable for a few reasons. Making them requires high-quality materials to have long-lasting products. Their construction involves artistic, gorgeous, and solid craftsmanship too. That said, it's clear why sophisticated homeowners and businesspeople invest in them.
Stuff Patio Conversation Sets Have
One of the things used to make outdoor furniture is the all-weather material called resin wicker. It's a tough plus fade-resistant kind of synthetic material that resembles organic wicker. Other materials to make outdoor furniture are aluminum, steel, and wrought iron. Aluminum doesn't rust yet corrodes after a while. Steel and wrought iron are way stronger and more long-lasting than resin wicker too. Yet aluminum is the choice of many since it's lightweight. Steel is more durable than wrought iron since it's an alloy that has carbon that makes it stronger. But, because it has more than iron, it's pricier too. Those looking for ecological products can try the ones that use recycled plastic too. After all, that which uses Polywood or high-density polyethylene is lasting. So it's evident that, in general, outdoor furniture pieces are very reliable.
As for outdoor cushions, buyers may want to go for polyester or acrylic fabric. Remember that upholstery covers polyurethane foam and gives it furniture pieces style. With these combined, you get cushions that are durable, waterproof, and fade-resistant. Hence, it matters to pick the right materials for your patio furniture.
Patio Conversation Sets Accommodation and Style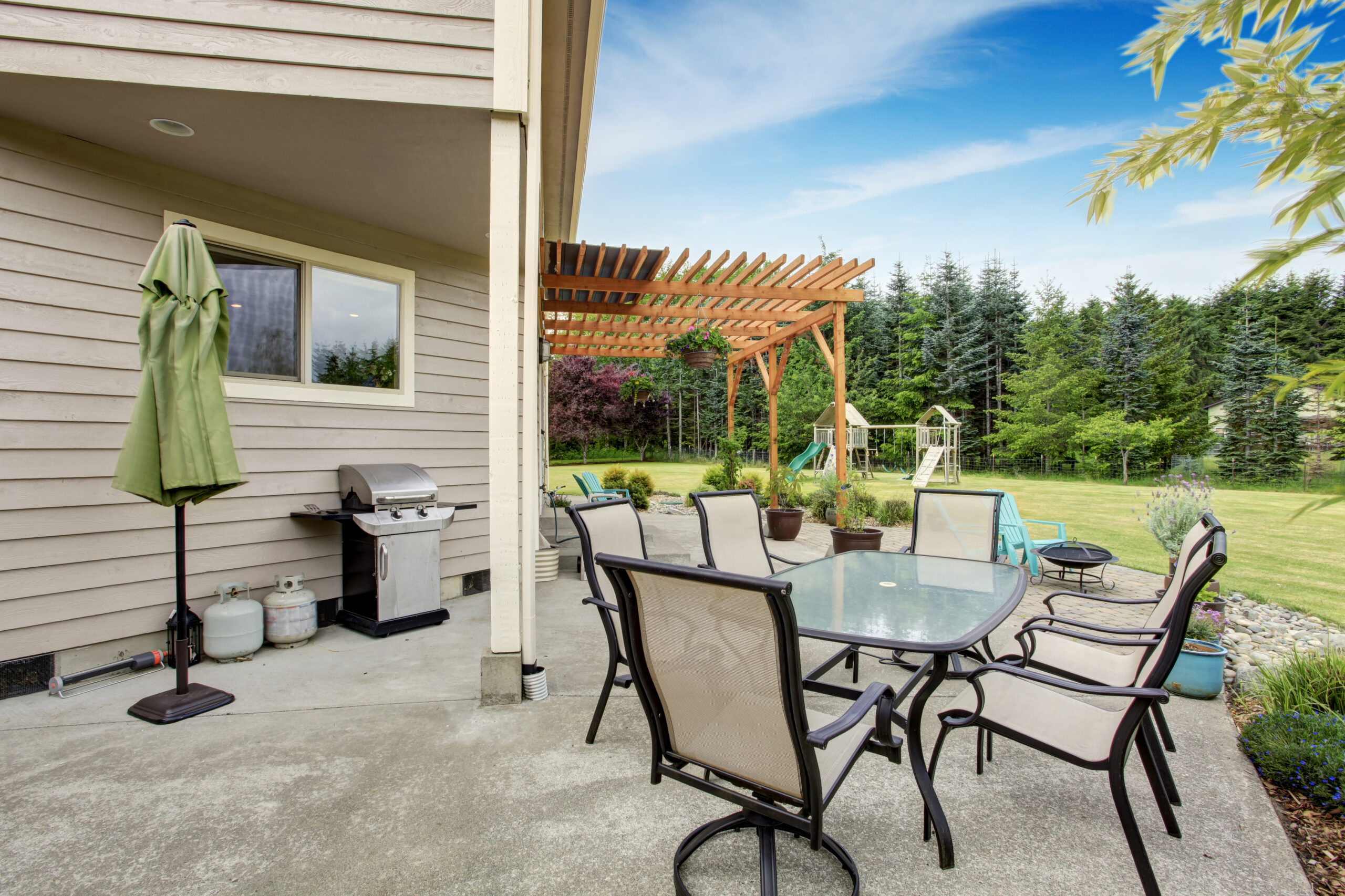 Buying outdoor furniture requires planning which usually takes time and effort. Consider that one lanai may be different from another. Your style requirements may be unique compared to others. Hence, you must know where to set the furniture pieces that you'd buy. While you're at it, take into account factors like weather conditions too. After all, they may affect the quality of your furniture in the long run. So select the set that would complement your home and also be practical to have around.
With the points stated, think of patio furniture colors, comfort, quality, and the like too. It's to make sure you have movables that are worth keeping. Below are further suggestions to address seat varieties and layout concerns.
Seating Kinds And Arrangements
Decide how many armchairs, couches, chairs, tables, and loveseats to get. This is often a primary concern when choosing among different patio conversation sets. To do that, you need to know whether your space can accommodate a two-person set or a larger one. Take note that some homes can have three to four-person sets or greater, based on the size of their patio. Hence, folks can have different kinds of outdoor furniture collections.

For a small area that can accommodate two persons, having two armchairs or benches with a table is enough. Giving space to more individuals means adding a loveseat, side table, or extra chair. To make room for a large group, a large and long table or several tables with more chairs may be necessary. Aside from allowing more people to stay, there's the matter of aesthetics too. Thus, when buying patio conversation sets, foresee how many you'll cater to. Also, think of your preferred look.
Patio conversation sets have distinctive features. So it makes sense to think about design too. In this regard, you might like to be kind of different, creative, and even unique. Like you can try going for a Bohemian look. That is to say, you can have patterned textiles to establish a freaky or hippy vibe. Using items with inconsistent hues and vintage styles is artistic and works well too.

In contrast, industrial and minimalistic patterns or aesthetics can be perfect for some terraces. That is, the former uses building materials like iron and wood to establish a certain feel. Depending on one's preference, seats don't always have to be upholstered, nor have contrasting bright or dark hues. 

There are usually only a few furniture pieces and neutral colors there. That would be to show simplicity. In some cases, folks even combine styles. So you can be as creative as you please when buying your outdoor furniture.

 
Since outdoor furniture needs to stay attractive and presentable, they require periodic maintenance. Also, because they are often pricey, it would be ideal to keep them looking close to brand new. To do that, several strategies may work. One that could help involves cleaning the furniture pieces. As long as it's fine to get them wet and put solutions on their surface, washing them with soap and warm water may help. This should get rid of grime or any buildup. Yet, to address corrosion and rust buildup, special chemicals may be necessary. So, if you want your outdoor furniture to last long, be ready to do some cleaning. It's that or you cover them when not used.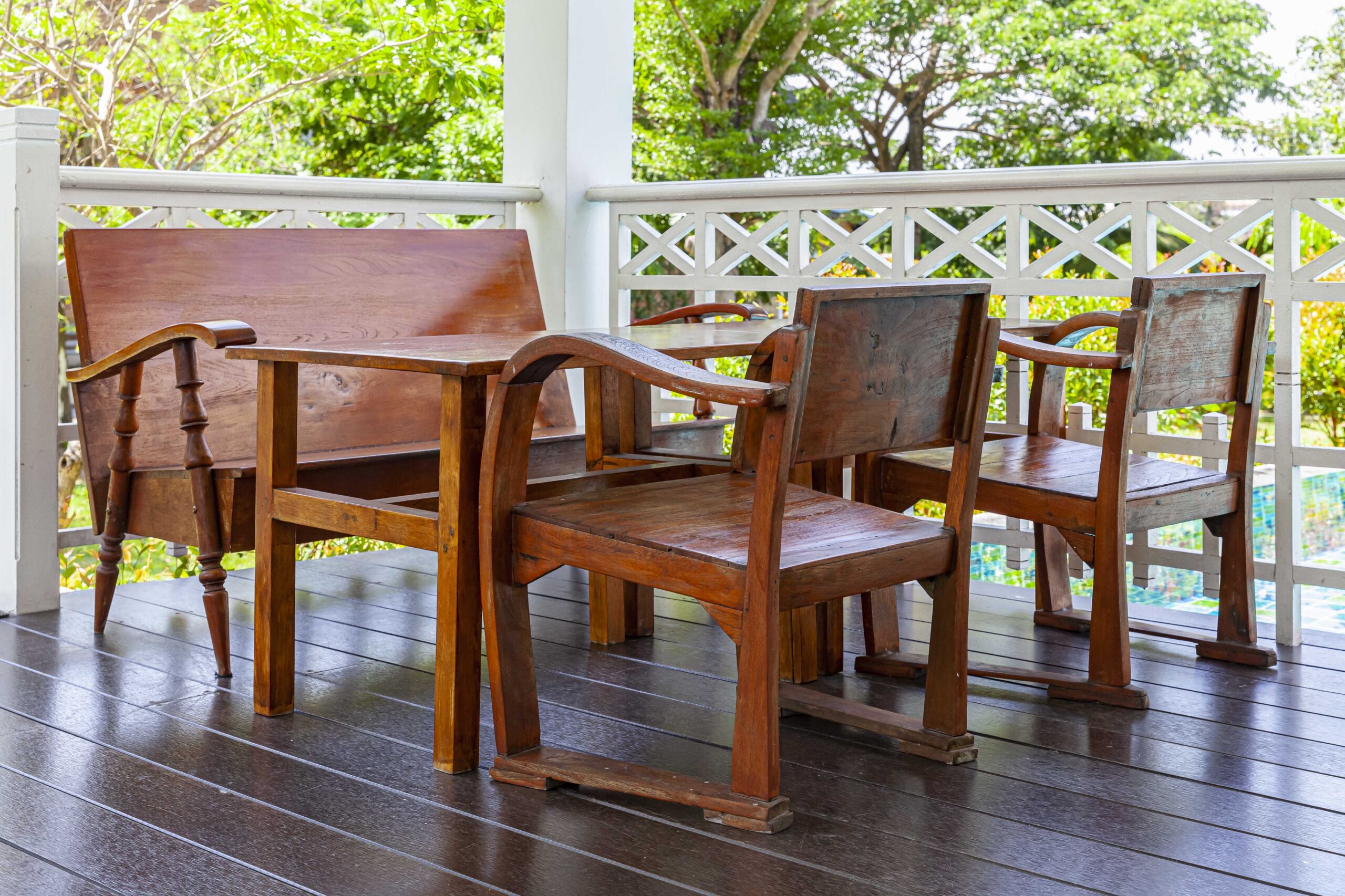 Putting a polyester or vinyl cover over your patio conversation sets may help a lot too. After all, an awning can only do so much and may not be enough to protect things from harsh weather conditions. When furniture pieces are protectively covered, they have top and side protection. Through such, they can stay dry and safe from intense high and low temperatures. But providing shelter can only do so much. Some materials like wood need treatment. For instance, the varnish application helps to protect the wood and make it look glossy and fresh. Reupholstering and spray painting may give the same benefits too. So it can be quite challenging to have this outdoor furniture since it needs maintenance from time to time. But, at least, they are worth keeping due to the advantages they provide.

 
Why Outdoor Furniture Matters

For comfort and function, these patio conversation sets are quite useful. For instance, a terrace dining set allows people to do al fresco dining. It becomes possible and convenient to sit back and relax or even lie down or sprawl on a conversation set. Such provides a welcoming and friendly atmosphere to entertain guests in your garden. Their presence also promotes feelings of ease and stress relief. That is while letting folks immerse in nature. So there is little wonder why many verandas have them.
Tips When Buying A Conversation Set

To avoid making mistakes, plan things when buying patio conversation sets. As much as possible, get those that you know you're not going to replace. So that you would get the most out of your hard-earned money. Making the right choices could let you convert your patio into one of your favorite spots too. To make your space outdoors great, find ways to make it relaxing and entertaining. Do that by making a list of your furniture needs. Also, you may want to try the pieces of a set before you buy. Still, consider what matches your patio, what would be easy for you to clean, and what you can store. Hence, be smart and take time to check your options before making investments.
In Closing

There are many ideas to consider when selecting patio conversation sets. It would be smart to think about what material to use plus seating types and arrangements. Furniture maintenance and preservation are important to consider too. Still, it matters to get items that are not only functional and cozy but also attractive. After all, these outdoor furniture pieces also are decorative pieces for a patio. So don't rush things when buying since getting the right ones is crucial. After all, a perfect conversation furniture set is worth it. With one, you may transform a patio into an area worth frequenting.

We hope that this article will help you find an excellent set of outdoor furniture to keep. At least, when you'd shop, you'd already have some tips to use to discover what suits your home. If you have some ideas about backyard furniture pieces, please share them with us. Thanks for reading and we wish to see you in our next blog post. For now, good luck finding your outdoor furniture set.