==================
A Caveat and Affiliates
First off, a little caveat: within my articles you will find affiliate links, meaning if you buy them, I get a small commission. Your cost is not affected. In addition, I am an Amazon Associate and I earn from qualifying purchases on Amazon.
And yes, if I say that I recommend a product here, it means I truly believe it is a good product. I refuse to recommend any product that I have not researched and believe to be a good value.
Even better, I provide you with a very clear picture of the product, it's use, and the probable value.
Earning your trust is important to me. I run this website myself and the commissions and donations help support the site.
Sound reasonable and fair enough? Let's continue to the article.
==================
Best Small Outdoor Entertainment Area Ideas
No need to leave town to enjoy a wonderful day in the sun. Instead, imagine interesting things you can do right at home, like in your backyard. That would make your day or entire weekend memorable. Maybe you want to potter around in your garden to reinvigorate. And so, you need to generate small outdoor entertainment area ideas. Or do something to lift your spirit. Take some moments to delight in the wonders of your backyard. Admire the flowers, plants, trees, and outdoor amenities that make the time spent worthwhile.
If you're stumped on new garden ideas, chill out for a while. Then take some time and look around. You'd be surprised at how many amazing ideas will just bubble up. The yard surrounding your home will always be an important and useful part of your property. Therefore, it should never be neglected. Don't forget, it's an outdoor extension of your house. And it can be set up for any kind of outdoor use, depending on what you and your family needs.
For instance, a certain area can be spruced up for bonding with family and friends. So, whether you want a nook for a summer barbecue, a dine-out/eat-out area, or a cozy lounge with a fire pit, it's your choice. These exciting, cozy outdoor entertainment ideas will inspire you, whether you're planning to build an outside entertainment space or level up the one you already have.

Make It Comfy with a Hammock
You'll adore the comfort of a hammock if you enjoy reclining outdoors. These stunning, cozy, and unique lounging areas give your garden a one-of-a-kind laid-back appeal. Find one that is comfy and compatible with the trees in your yard.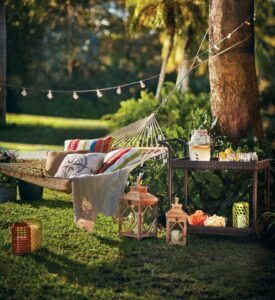 But if you don't have enough trees, get a hammock stand and deck out your yard with cozy blankets, candles, tables, and other accessories to make it welcoming and relaxing.
Allocate Garden Space for Outdoor Games
This backyard fun for adults is also enjoyable for singles and couples without children. Plus, if you have kids, they'll grow up to love these same absorbing games. Your outdoor space doesn't always have to be solemn or for grown-ups only. Instead, add some fun but safe activities to the mix. Preferably add some exciting and enjoyable activities for both the young and the adults.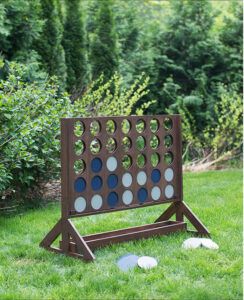 Update Your Privacy Fence into a Wall Garden
If you want your outdoor party or recreation space private and safe, go for a privacy fence. There is a certain height that provides security and safety and the kind of fence material. As to the materials, there are several choices and some have certain advantages and disadvantages that you have to fully understand to make an informed choice. It may be enhanced with an electronic security fence for less than durable fence material choice to go with your fancied aesthetics.
On the other hand, besides providing privacy and security needed, it has to look good and go well with the garden and landscape aesthetics and design of your entire yard, ideally. But it should not upstage the more important elements of your garden but should blend well and provide a pleasing backdrop instead. Its main purpose is for security and privacy. The second is as a backdrop that enhances the more important garden features.
Also, a garden wall can be achieved without compromising the strength and the purpose of a privacy fence turned into a garden wall. The various hardscape and softscape in your yard or garden, and the fence, should all go well together. The worst thing one could do is to make the whole yard look chaotic and over-decorated. So, if you think you can't pull it off yourself, hire a landscape architect or landscape designer to help you.
Include a Space for Conversation
If an ornate look is what you don't want for an outdoor space, then put up a simple small conversation nook that fits your aesthetics. Hang a couple of swinging chairs or tuck a tiny, comfy sofa in, and you've got yourself a modest, simple, and pleasant space to enjoy in no time.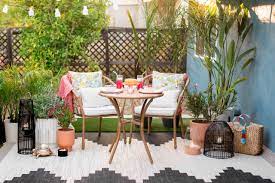 Or place a small outdoor sofa and pair it with 2 matching or different-style comfy garden or terrace seats. Add some medium-sized potted plants. Install an outdoor screen perhaps and you've got yourself a personalized conversation nook right in your garden or outdoor living space. Don't over-decorate or include too many small pieces or knickknacks as it could easily become cluttered or over-decorated. Don't get yourself carried away. It's an outdoor space and you want to make it as simple, spacious, and nice to look at as you already have nature and your garden as the backdrop.
Create Your Own Art Studio and Gallery
This tiny spot is ideal for the artistic spirit who wants to "run wild" in their garden. You can turn a shed like this into an art studio and then line the walls with display mounts to conduct your gallery shows anytime you like.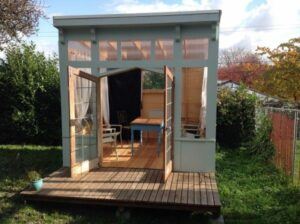 But don't forget to include some comfortable furniture to turn the room into a genuine home-away-from-home where you can unwind, create, and sip a bottle of wine whenever the whim strikes.
Make the Outdoor Space Cozy with Seats and a Firepit
The design of your outdoor entertainment area does not have to be complex or large. If all you want is a campfire at night and a comfy sofa to snuggle up on, don't go out of your way to add unnecessary items that would only add clutter. Let that area be an outdoor haven and not an outdoor version of an indoor cluttered space.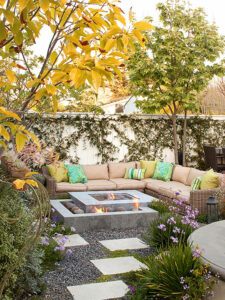 It's your home and your family's place, so do what feels right. As you can see, this simple combo works perfectly.
Build a Charming Mixed Materials Outdoor Kitchen Space
This is a residential upper-floor outdoor kitchen that leans on the rustic side with wood as its main material. It is set off with neutral-colored floor tiles, and stone pavers for part of the kitchen work area accented with stainless steel kitchen appliances. The lush trees of shades of green make a pleasant contrasting backdrop for this outdoor kitchen.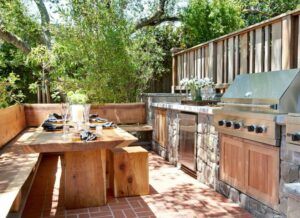 You may create a simple bar eating area like this, or you can add a full table and chairs or anything else. You may cook using a smoker and grill, or you can add a pizza oven, outdoor stove, refrigerator, or just about anything else your heart desires.
Make an Intimate Outdoor Living Room with Some Curtains
If you like the notion of an outdoor living room but don't have the necessary structure (or permission) to build a privacy wall around it, you can still make an intimate, lovely outdoor living space with a wooden frame.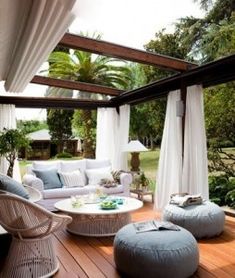 Make curtains out of weatherproof fabric and hang them on the wooden frame. Then, add your comfortable outdoor chairs, lovely lanterns, or whatever else you wish to make you feel at ease.
Hang a Sheet for Outdoor Movie Nights
Have you ever watched a movie outdoors, outside your house? It's a terrific experience for both children and adults. Bring out many blankets, beverages, and snacks to transform it into an evening picnic, or put in some folding chairs if you're not feeling the picnic blanket vibe.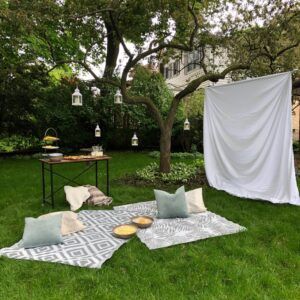 Perhaps you could start holding a regular neighborhood movie night, which is a terrific opportunity to spend time with your neighbors. Put the sheet on the wall, make a simple frame out of branches or 2x4s, and you've got yourself a decent entertainment area.
Channel a Resort Experience with a Poolside Bar
Most likely you'll be spending a lot of time outdoors, especially in the summer months. So, it's reasonable that you'll want to go all out with your backyard entertainment setup. This image depicts the concept perfectly, a bar within the swimming pool. It's been around for some time, but it still doesn't fail to make a swimming pool extra fun and nice to look at from any angle.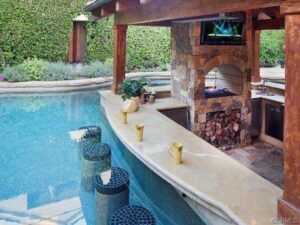 When you're swimming, you need not get out of the pool and enjoy some refreshments. The bar is within the swimming pool. You can get that resort atmosphere with a TV or some couches and soft cushions in just a few steps.
Add a Free-Standing Television Set and Snack Bar
The emphasis of this outdoor entertainment area is on relaxation and television viewing rather than cooking and dining. You'll want to make sure your gadgets are protected from the weather in that kind of setting, so pay attention to the roof and furniture arrangement – or acquire a movable unit like this one that allows you to move the party around.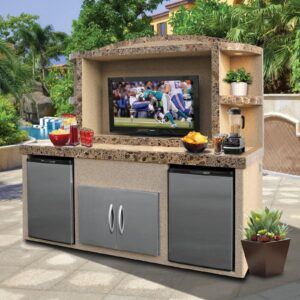 Finally, with an excellent fresh breeze coming through, it's a location you could spend all day lazing around and taking it easy by yourself or with loved ones.
Get Quirky with a Lit-Up Plant Wall
There are a lot of backyard entertainment ideas that use plants, but one of our favorites is this stunning wall composed of shrubs that are strung with glittering lights. The eye is drawn to the dazzling lights, while the plants provide a privacy barrier.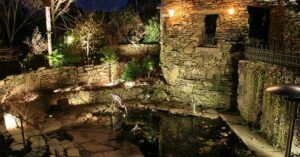 Alternatively, if you prefer to divide spaces, you may use plant walls like these to create multiple "rooms" in your yard with areas for lounging, playing games, or just about anything else you can think of.
Put Up a Basketball Hoop
Even if you don't have children, some terrific entertaining backyard ideas include installing some sports facilities. They're a terrific way to spend time outside and unwind after a long day at the office.
It also doesn't have to be a basketball hoop, though that is a simple addition to a yard. You may also build up a hockey rink, a soccer rink, or even a volleyball court if the space is enough. All you need now is an opponent.
Hang Outdoor String Lights Across the Garden
Lanterns light up a garden space with an aura of charm, intimacy, and magic. It works effectively in smaller backyards. You may string many lights over the space. When you turn them on at night, they add sparkle and enchantment to your garden.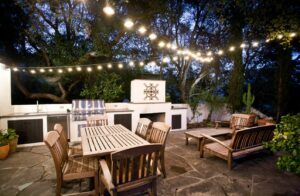 For a backyard entertainment design, lighting is quite essential—you must strike the proper balance between too much and not enough illumination. In most cases, the lighting must not be overpowering or too bright.
Create a Clean, Fresh Ambiance with Plants
In an entertaining backyard area, the minor details also matter a lot. Too much plant life might make you feel overwhelmed and as if a jungle is engulfing your backyard. If there isn't enough, it might appear desolate and lifeless. Getting some fascinating and well-kept plants, such as these, and keeping them nice and tidy is an excellent option.
Look for vibrant, eye-catching flowers, as well as colorful plants. If you have limited space outdoors, you may place just two sculptural garden chairs, define the space with a platform that contrasts with the terrace floor material, and that's it. The garden depicted above has enough texture going on with the wall alone, and a profusion of plants.
Make It Comfy with Blankets and Pillows
If you want your visitors to feel at ease and relaxed while they're outside, make sure your seating includes plenty of cushions. You might add some baskets or boxes with blankets if it gets cold at night.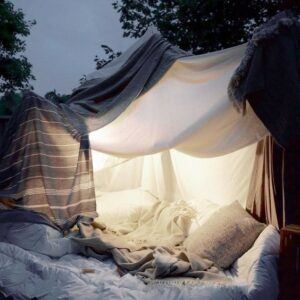 Some individuals prefer to grab a blanket rather than ask a host for one, so make sure they have everything they require. If you like, use your cushions to give a splash of color to your outdoor party space. Or just let welcome them welcome and let them relax.
Yard and Lawn, What's the Difference?
A house is surrounded by the front yard, the side yards, and the backyard. Collectively it is the land or outdoor area surrounding the house. For privacy and security, it is usually enclosed by a fence or wall with the garage or carport and entrance gates.
The lawn is a portion of the yard that's covered with grass and becomes a garden when planted and enhanced with different kinds of plants and garden decor. The yard can also have a deck, patio, or terrace. Depending on the space available, it can also have a swimming pool for a large backyard or a small water feature for a smaller one. The flooring can be any outdoor floor material, such as treated wood, stone, tiles, pavers, and many others.  An ideal garden spot can have a roof or a pergola. Don't forget that trees also provide shade during the day.
Ways to Make Entertaining Outdoors a Year-Round Affair
In the summer, nothing beats inviting ten of your closest friends for an afternoon of grilled meat, beers, laughter, and bonding. The good news is that you can do so many times in a year with a few little changes to your outdoor space.
Here are five outdoor entertainment ideas to help you update your backyard entertainment spaces so you can host year-round get-togethers.
Invest in high-quality outdoor furniture.
Even if your outdoor location is sheltered, your furniture must be able to withstand anything from direct sunlight to wind, rain, and even hail. If you host parties quite frequently outside, invest in a collection of high-quality furnishings in a matched or harmonious color scheme.
Maybe you'd like to make a subtle connection between some indoor areas and outdoor spaces using colors. Coordinate their color palettes by consulting an interior designer or architect for that. Various color combinations are available such as complementary colors or analogous colors. And they're just two of about six color schemes.
Install a grilling area outside.
If you're keen on entertaining and have the resources, it might be time to add an outdoor kitchen. It's nothing new and has been around for hundreds of years. The present wave of outdoor kitchens has features such as built-in sinks, cooktops, barbecues, and bar fridges. By hiring a licensed plumber to install natural gas in your outside space, you can enjoy the benefits of a gas-fueled BBQ or pizza oven. There are various benefits to utilizing a natural gas grill, like not having to run out to get a new gas tank or container.
Consider outdoor heating powered by natural gas.
An outdoor fireplace is a game-changer on chilly evenings. You can host an event like a party outside with a natural gas outdoor fire pit or wall-mounted heating. They're not only convenient and reliable, but they're also smokeless and clean-burning, which means no more shifting seats as the wind blows. Is there anything more romantic than sitting outside in front of a warm, crackling bonfire?
Make certain that your table setting is locked.
Table weights that clip on are a low-cost but effective solution to protect your collection from the elements. If you're going all out and have a beautiful table setting prepared, make sure you utilize clip-on table weights to keep it in place.
Mood lighting can help you create the right atmosphere.
As the sun sets over the horizon, create a stunning nighttime scene with gentle illumination. In addition to the traditional fairy lights, there are many other outdoor lightings available. Hurricane lanterns, which use kerosene, are ideal outdoors. Glass-encased candles, outdoor wall sconces, and an outdoor chandelier at the entrance canopy, together provide illumination, interesting highlights, and shadows.
There are many outdoor lighting options out there. Also, tea lights in glass votives can be used to keep your party area lit even when it's windy. If you have the right lighting options under your sleeve, you'll be ready to entertain regardless of the weather or season.
Awesome Outdoor Entertainment Spaces to Inspire You! 
We know that most of these outdoor spaces can hardly qualify as small ones. But we want them to inspire and provide you with some great ideas that you can implement on a small scale. Yes, that's possible! So, read on and enjoy!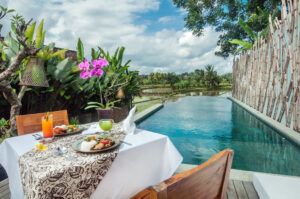 1 | Special lunch set on the table outdoor with Indonesian traditional food, pool area, overlooking the rice fields
Lunch is set for two on the table near the infinity pool lined with lush plants and trees by the left property wall. On the right side is a concrete privacy wall that separates this area from the more social or public zones of the main living and social areas of this impressive house. Lined with trees to reinforce the tropical feel, the quite narrow width of the pool and terrace area is relieved by the expansive view of the sky, the rice fields, and the horizon.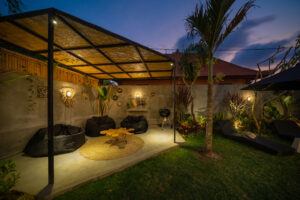 2 | Backyard Outdoor Pavilion, Bali, Indonesia
It's an outdoor pavilion in the backyard with just the right evening illumination. The controlled number of furnishings and décor and strategic lighting do not compete with the interesting lit grouped plants in the landscaped Bermuda grass mounds along the walls. The ceiling lights and wall lamps provide just enough lighting that provides interesting highlights and shadows.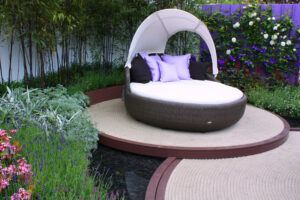 3 | Round Cane Seat with Cushion and Pillows
The controlled number of furnishings and décor and strategic lighting do not compete with the interesting grouped plants in the tiered landscape and trees along the property wall.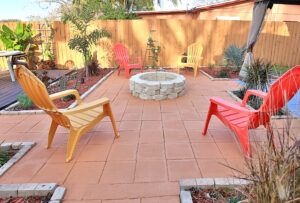 4 | Backyard Lounging Area with Fire Pit
A foursome of candy-colored garden chairs defines the lounging area and surrounds a white, stone circular fire pit. Partly shown on the left is an outdoor table with chairs.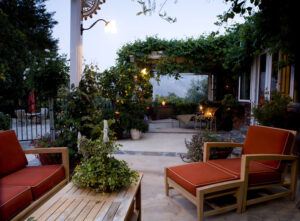 5 | Backyard Patio for Lounging and Entertainment
It's a perfect patio where lounging is protected by pergolas grown with plants. The red upholstered sofa and the lounging chair provide contrast to the greens in this setup. And the evening becomes special because the different types of outdoor lighting render a magical and romantic vibe.
6 | Secluded, private terrace surrounded by trees
A private, secluded yard with trees and shrubs provides enough space for a white, rattan garden set. The garden parasol and tiled floor lend a restful and easy-to-maintain outdoor nook.

7 | Modern Swim-Up Pool Bar 
Having a swim-up pool bar in a swimming pool somehow strengthens the presence of a swimming pool. It serves as a focal point somehow. Besides, it gives swimmers an option to just swim up to the bar pool, or take the drink with them to the lounging deck.
Conclusion
The backyard is an awesome place outdoors to breathe and feel the fresh air. So, spending time there with family and friends will be enjoyable and relaxing, no matter the time of day. Backyard cookouts and entertaining are some gratifying endeavors for many folks, especially during the summer months. For building the ideal backyard refuge to delight your guests, many small outdoor entertainment area ideas have been shared to make it more attractive and useful.
From suitable outdoor seats to BBQ grills, fire pits, tables, and even fully equipped outdoor kitchen modules and appliances, your ultimate design should be determined by your priorities and budget. A lovely outdoor entertainment space that is both functional and attractive would make a small outdoor recreation area even more efficient, rewarding, good to look at, and successful.
Read More: