==================
A Caveat and Affiliates
First off, a little caveat: within my articles you will find affiliate links, meaning if you buy them, I get a small commission. Your cost is not affected. In addition, I am an Amazon Associate and I earn from qualifying purchases on Amazon.
And yes, if I say that I recommend a product here, it means I truly believe it is a good product. I refuse to recommend any product that I have not researched and believe to be a good value.
Even better, I provide you with a very clear picture of the product, it's use, and the probable value.
Earning your trust is important to me. I run this website myself and the commissions and donations help support the site.
Sound reasonable and fair enough? Let's continue to the article.
==================
Backyard Movie Night
One of the most fun activities is watching a movie outdoors. Use this handy guide for affordable tips on organizing a backyard movie night!
There's nothing quite like getting comfy, enjoying popcorns and jazzy drinks, and watching a popular movie with your friends and family outdoor. All thanks to modern technology, you don't have to compromise on quality when organizing a backyard movie night.
Whether you like to watch movies in the comfort of your home or feel nostalgic for retro drive-ins, you will love a backyard movie night party as the temperature gets warmer. Today, arranging a DIY family movie night is more accessible than ever.
Moreover, with the right equipment, it will take only an hour or less to prepare your backyard for a memorable backyard movie night.
Learn how to make the most of your backyard movie night party with outdoor projector setup tips.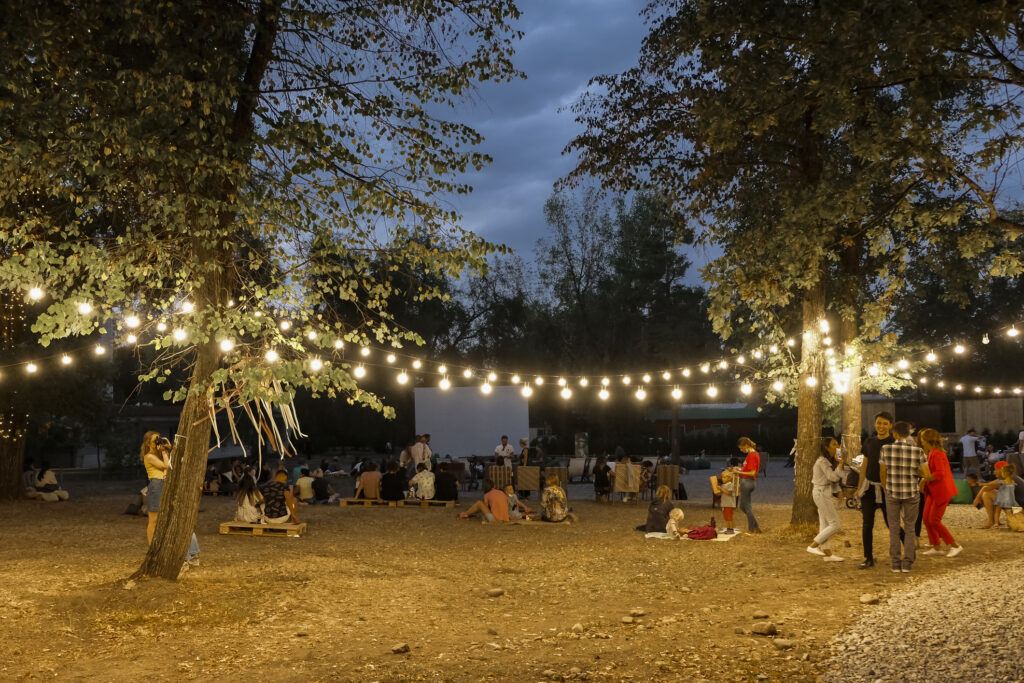 Backyard Movie Night Checklist
A backyard movie night is a fun and relaxed way to get together with friends and family. It also helps you enjoy warm summer nights under the stars. Additionally, you can throw an event in wintertime with just a few modifications. In this regard, here is what you will need for a successful outdoor movie night party.
1.      Plan a Movie Night
Before you host an outdoor movie night party, you will need to think about where to have it, when to have it, and how to decorate it. It is essential to keep your movie night planning simple but creative. After all, making memories with your dear ones is more important than having everything in order.
2.      Choose an Appropriate Location
Figure out where you want to host your backyard movie night. When finding an appropriate location for the event, ask yourself the following:
Is the place easily accessible?
Is there enough parking?
Do you have restrooms available throughout the party?
Do you need to hire staff to serve food to your guests?
The type of event you go with will also help you find an appropriate location. Outdoor movies are always fun in apartment communities for guests of all ages.
3.      Backyard Movie Night Screen
There are two common outdoor screen styles: fix and retractable. You can choose the one that suits your needs better based on your backyard size and setting. Moreover, while the fixed screens are cost-efficient, retractable screens can cost more, which you should keep in mind.
Fixed Screens for Movie Night
Fixed screens are better for larger backyards. They feature an aluminum or wooden frame, holding the screen paper tightly. This setup offers a smooth and even projection surface at a budget-friendly cost. Additionally, these screens are also easy to integrate. If you know how to hang a picture on a wall, you already know how to install a fixed screen.
The only downside of fixed screens is their size. A 120″ diagonal screen is about 2.6 meters wide, and an expansive outdoor screen would look out of place in most backyard settings.
Retractable Screens for Movie Night
A retractable outdoor screen gives you the flexibility you need. You can roll down to watch your favorite movie and then roll up when you are done. These screens are great as you can place them in front of any wall.
Moreover, retractable screens come in two categories that are pull-up and pull-down. You can place a pull-up screen on the floor behind your media center or integrate it into custom-made furniture. Pull-down screens, on the flip, can be mounted to a wall or ceiling, enabling you to keep the screen away from view.
Regardless of what type of retractable movie screen you choose for a backyard movie night, there are a couple of other aspects that you should keep in mind.
Firstly, you should look for tab-tensioned screens to get the best out of your screen. These screens feature a system ensuring the surface is tight and flat. These screens tend to wrinkle without tab-tensioning, creating distortions and providing a bad video experience.
Secondly, retractable screens come in a motorized and manual variety. The former ones are light, less expensive, and don't use electricity to work. While motorized screens offer a stylish look, they are costly. You can roll out these screens with a remote or a wall switch.
·         Screen Size
Note that an outdoor movie screen is not one-size-fits-all. There are a few factors that you should consider before purchasing one. While a big screen is better, it also presents challenges not usually found when using a regular TV that rarely exceeds 75″ diagonally.
However, the price difference between 100″ and 120″ screens is minimal, so you can for the bigger one that you can fit on your wall. A few other factors that you should consider when buying a projector screen include:
Note that the bigger the projector screen is, the longer the distance you need to sit away. So, if you have a small yard, it is best to go for a small screen.
Outdoor movie screens come in different aspect ratios. For getting a theater-like experience, the anamorphic aspect ratio of 2.35:1 is a good option. Additionally, to choose the proper aspect ratio, you must consider what kind of content you like to watch and the formats your projector supports.
While the classic projection screen is white, you can get a variety of other colors too. However, a white surface is excellent since we focus on projection for a backyard movie night.
4.      Projector
A good projector is vital for a memorable outdoor movie night. You can purchase a screen and projector as a pair for optimal pixel quality. However, it is only for a permanent installation and more serious viewing.
For occasional outdoor movie night parties, you just need a reliable and budget-friendly projector that you can use indoors too. While most projectors aren't exclusively marketed for outdoors, various options suit rooftops, backyards, and porches.
When buying a projector, you should keep the below factors in mind:
Projector brightness is measured in lumens. A typical 75W incandescent bulb emits about 1,100 lumens. Movie theaters use projectors that perform best in total darkness. So, when buying an outdoor projector, you should consider where you want to use it and how much ambient light is available.
Unlike indoors, you may have no control over ambient light outdoors. It means you will need a projector with high brightness if you are using a project in your backyard with a neighbor's porch light shining over the fence.
Projectors with high brightness help you overcome any ambient light while also making colors look vibrant.
Next, think about the content you want to watch outdoors. Projectors come with different connection options to show the content you like to watch. A projector with many ports is ideal because you can connect your phone, load USB files, or connect your laptop using an HDMI cable.
The best outdoor projects are lightweight and have a beefy battery. While running a power cord out to your backyard is not an issue, you will need a projector with longer battery life. It will help you enjoy an outdoor projector in the middle of the woods even when you have no source of power.
Unless you love watching silent films or doing a PowerPoint presentation, the sound is half of the experience. The bigger your backyard is, the more volume you will need. Unfortunately, most projectors have small built-in speakers that cannot fill your outdoor space with enjoyable and compelling audio.
So, when buying an outdoor projector, consider the built-in speakers' quality to determine whether you need additional equipment to playback the audio.
5.      Lighting
For a backyard movie night party, you will need ambient lighting that should be bright enough for guests to see where they are walking and dark enough not to distract the screen. In this regard, one outdoor movie night party idea is to use candle lanterns to add a cozy touch.
Moreover, it is also possible to use fairy string lights to create an intimate atmosphere. Additionally, stake garden lights are another excellent alternative for adding a festive touch.
6.      Comfortable Seating
You want your outdoor movie-watching space to be cozy and relaxing. You can use your lawn chairs or create a DIY space for the audience. If you don't want to use the outdoor furniture, bring dining chairs inside your house. Another family movie night party idea is to use sleeping pads, pillows, and beanbags for a cozy setting.
7.      Choose a Popular Movie
Without a feature film, no backyard movie night is complete. You can use a projector to play trending and classic movies from apps like Amazon Prime Video, Disney+, Hulu, or Netflix. However, for these options, ensure you have a reliable Wi-Fi connection to ensure the movie plays without interruption.
When playing a movie, think about the audience. If there are kids, play a film appropriate for their age. Similarly, for adults, choose a movie that suits their interests and humor.
8.      Food and Snacks
One of the best parts of backyard movie nights is loading up on treats. Throwing an outdoor backyard party means your snacks won't cost you an arm and a leg like at the cinema. You can up a snacks and popcorn bar for the audience to enjoy.
Moreover, stock up on different popcorns, including salty and sweet flavors and candies. Additionally, offer your audience beverages to pair with snacks, including water, lemonade, and juices.
Outdoor Movie Night Party Ideas
Take your family movie night to the next level with these outdoor movie night party ideas:
·         Invite Guests with Stylish Invitations
Using stunning digital invites is one of the best outdoor movie night party ideas to invite your guests. However, with online invites, you don't need to head to a stationary store or the post office. Just find a festive invitation and email it to your family and friends for online invites.
·         Twinkling Lights
Twinkling lights are great for offering an extra enchanted feel. Use outdoor lighting, such as lanterns, fairy lights, and candles, to hand. Excellent outdoor party lighting is vital for setting the tone, so keep them low and glowy for a relaxing ambiance.
Moreover, festoon lights are also great for outdoor events. Swag them overhead or string them along nearby fences.
·         Layer up Cushion and Blankets
In order to make your backyard feel extra luxe, you can layer up the best outdoor rugs. Scattering plenty of cushions and blankets around the viewing area will help your guests lounge comfortably. For this, make sure to choose complementary colors and patterns. Dot LED and outdoor candles around the scene can also bring an extra dose of coziness.
·         Shelter Your Outdoor Cinema
If your region is prone to unexpected showers, hosting a backyard movie night party under a shelter would be great. This will help you continue your amazing outdoor party uninterrupted, whatever the weather.
In this regard, there are a lot of fantastic patio cover ideas, including gazebos and pergolas. Moreover, it is also possible to form a shed into a relaxing cinema for the night. In addition, you should note down any incoming street lights and keep your screen away from them. That way, your guests can enjoy the optimum viewing experience.
·         Serve up Home-Made Pizza
The best pizza oven is an excellent addition to any get-together, and a backyard movie night party is not an exception. Serving up delicious food alongside a fantastic movie will help elevate the experience. Serve up large pieces of your home-cooked pizza with a mix of toppings.
Wrapping Up
Skip the movie theater and throw a successful backyard movie night party. These events are fun to celebrate bachelor parties, bachelorette celebrations, and really any occasion to spend quality time with the people you care about. Moreover, outdoor movie nights are easy to host as they don't require much effort.
Read More: