==================
A Caveat and Affiliates
First off, a little caveat: within my articles you will find affiliate links, meaning if you buy them, I get a small commission. Your cost is not affected. In addition, I am an Amazon Associate and I earn from qualifying purchases on Amazon.
And yes, if I say that I recommend a product here, it means I truly believe it is a good product. I refuse to recommend any product that I have not researched and believe to be a good value.
Even better, I provide you with a very clear picture of the product, it's use, and the probable value.
Earning your trust is important to me. I run this website myself and the commissions and donations help support the site.
Sound reasonable and fair enough? Let's continue to the article.
==================
TOP 12 FUN OUTDOOR PARTY IDEAS FOR FAMILIES
Parties and get-togethers are a great way to recharge your spirits. When it comes to entertaining, you need to think outside the box if you want your guests to have a good time.
You may set the tone for a party in your garden by decorating it. But you don't know how to plan the perfect outdoor party. Don't worry; we've come up with a clever solution. We've put together a list of the top classy backyard party ideas for decorating your backyard. Let us have a look at them.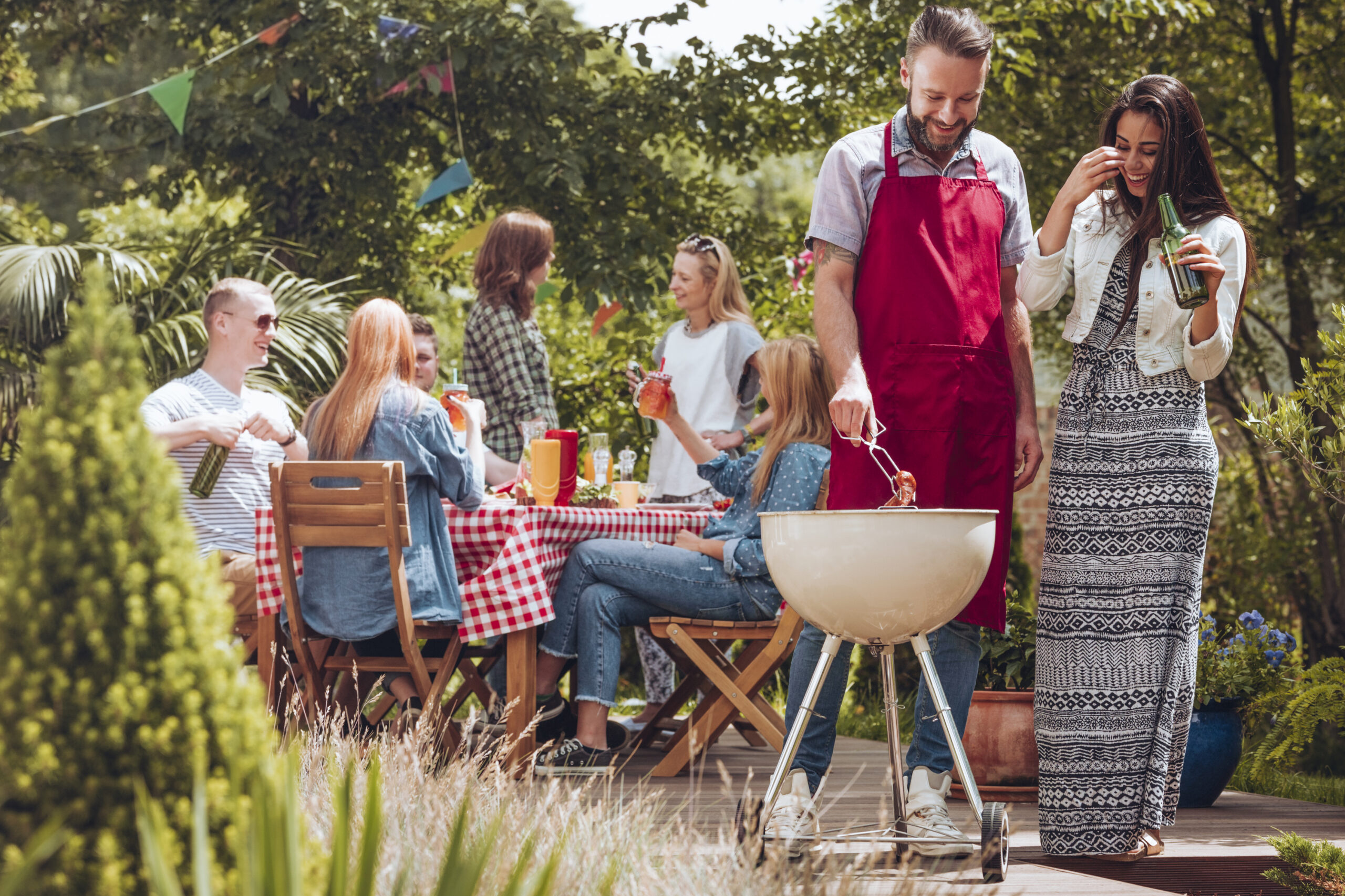 How to Plan the Perfect Outdoor Party?
Most people who regularly organize parties know that it takes more than simply sending out invites and putting up seats to pull off a successful event.
Organizing an event takes time and work, but it doesn't have to take over your life to succeed. Party-planning tips are all that is required to get you started.
Top 12 Classy Backyard Party Ideas
1. Decide a Theme
Party preparation becomes much simpler if you choose a theme for your outdoor party. As you figure out the fine elements of the celebration, having a theme in mind may help you crystalline your vision for the occasion.
2. Party Seating
Summer parties don't need an elaborate seating design. You can bring your indoor furniture out if you anticipate a big gathering and don't have enough outside patio chairs.
If you don't have a place to set up a food table outside, you may decorate your dining table with a tablecloth and some fresh flowers. Directly place appetizers, main courses, and simple party treats on the table.
3. Use Fresh Flowers To Decorate.
One of the simplest ways to decorate an outdoor event is with flowers in season, mainly if you can pick them yourself. Summer flowers, such as lilies and daisies, all have the power to create an impression. Make a trip to the farmers market if you don't have any in your garden.
4. Bring Light
String lights wrapped around your trees are an easy way to spruce up your backyard for a party. Just a few minutes, and they'll be lighting all night brightly long. Butterfly lights look astonishing at night parties.
In addition to being aesthetically pleasing, these butterfly lights provide a warm glow. To create an eye-catching background, place them in the windows or along a fence and hang them.
5. Games/Activities
The first step to organizing a successful party is figuring out who is coming and what they want to do. Know your visitor's preferences before hosting them.
Everyone has their desired method of entertaining themselves at a social gathering. Different sections for different types of interests might be helpful.
A fire pit comes in helpful in roasting marshmallows, as well as keeping everyone warm on a chilly evening. All of the guests will enjoy participating in this.
6. Heating For an Outdoor Event
Outdoor heating is necessary if you don't live in a hot country and the nights might grow cold. If you have the money, consider capitalizing on some space heaters. Consider using a fireplace or a fire pit as an attractive heating option.
Practical patio heaters are a terrific way to keep your outside area comfortably warm. You may choose standalone heaters or ceiling heaters, depending on your outdoor space.
7. Hanging Candles
I'm in love with this concept. And think of how beautiful it would look all lit up at night. You could build this structure out of beams, or for a more rustic appearance, you could use found wood. Moreover, arrange vases at varying heights to make a lovely dining table setting.
8. Movie Night
After a successful party, nothing beats a late-night movie showing. Technically, all you need for an outdoor theatre is a white wall or sheet and an outdoor projector. Make your outdoor furniture as comfortable as possible by adding additional cushions and rolling out an outdoor rug.
9. Make Your Party Areas Multi-Purpose.
Many people like to eat their food while walking and talking. Please make sure there are plenty of little tables or stools available for them to use. Hard benches are a great alternative to individual chairs for large gatherings.
However, try not to overcrowd any indoor or outdoor area with chairs – some people may want to stand up and converse, so provide some room for that as well.
10. Recruit A Caterer.
Be careful to go through the practicalities of catering an outdoor event with your caterer. Moreover, verify that they have prior expertise executing events in the outdoors. They may need to carry their heat sources, shade tents, and safety equipment, depending on the location.
If you don't have a refrigerator, stick to essential items that quickly spoil. Making basic meals ahead of time or choosing room-temperature options may be the best strategy.
11. Arranged A Drink Bar.
As your guests mingle, provide a variety of drinks on your patio or in your yard. Arrange your bars in inventive ways. Offer your guests a variety of flavored ice water to keep them hydrated during the celebration.
12. Never Miss The Music.
Incorporating music into the backdrop of your event is an excellent method to do so. Even if you don't have an elaborate outdoor sound system, a modest speaker with your favorite music playing will suffice.
Consider your visitors and the ambiance you want to create when deciding on music for your event. Make a playlist that shifts from upbeat to peaceful and tranquil as the night goes on. Moreover, choose music that suits the tone of your party.
Conclusion
Outdoor parties are a great way of amusement and relaxation for the family. It is vital to have a moment of peace after hectic workdays. Moreover, parties also bring together a whole family. However, before organizing an outdoor party, you should make proper arrangements to avoid confusion. I hope the classy backyard party ideas I have mentioned above will greatly benefit you.
Read More: