==================
A Caveat and Affiliates
First off, a little caveat: within my articles you will find affiliate links, meaning if you buy them, I get a small commission. Your cost is not affected. In addition, I am an Amazon Associate and I earn from qualifying purchases on Amazon.
And yes, if I say that I recommend a product here, it means I truly believe it is a good product. I refuse to recommend any product that I have not researched and believe to be a good value.
Even better, I provide you with a very clear picture of the product, it's use, and the probable value.
Earning your trust is important to me. I run this website myself and the commissions and donations help support the site.
Sound reasonable and fair enough? Let's continue to the article.
==================
Outdoor Inflatable Movie Screen
A perfect projector is nothing without an outdoor inflatable movie screen – So here is what you will need to choose the right one.
Having an outdoor inflatable movie screen on warm summer evenings is excellent for planning BBQ parties, sports events, and a perfect movie night. With a vast image larger than your indoor TV, an outdoor movie screen let you enjoy your favorite shows with your dear ones.
While it is possible to use a white sheet or a garage wall, the picture quality will be below average. Moreover, a garage wall is rarely white enough, and white sheets may have creases that can distract you while enjoying a movie.
Fortunately, various types of outdoor movie screens suit every budget. However, there are a few factors to consider before making a purchase.
Some outdoor inflatable movie screens come with a stand, while others need to be mounted to a wall. Additionally, unlike indoors, an outdoor screen should be portable, easy to set up, wide-resistant, and suitable size.

Benefits of Outdoor Movie Screens
·         Outdoor Movie Night for All
Whether you run a business that needs community events or just a person who likes to organize get-together parties, an outdoor inflatable movie screen is perfect to plan those events.
It is hard for some of us to afford a movie theater. However, almost all of us have access to some outdoor space that we can share. Pick your favorite movie, bring out lawn chairs and blankets, and enjoy your outdoor time.
·         Portability
One of the biggest benefits of having an outdoor inflatable movie screen is that an open-air cinema is incredibly portable. You can fold it into a compact mass, making it easier to take it anywhere you want. While with a regular TV or pull-down screen, breaking them down and moving them to different locations is impossible. So, different types of outdoor movie screens are incredibly easy to move around.
·         Easy to set up
The best part of an outdoor inflatable movie screen is that you don't need special equipment to pull off a great night under the stars. All you need is comfortable clothing, a big blanket, and a portable projector. You can also bring chairs or blankets, but if you're uncomfortable sitting around, you should probably buy food and drinks instead.
·         Can be Used Indoors and Outdoors
While it is possible to use indoor screens outdoors, they are often unstable and cannot withstand wind gusts. On the flip, an open-air screen is usable indoors and outdoors to get the best of both worlds. If you have enough space for the footprints and the height, you can set it up anywhere you want.
·         Cost-Efficient
There are various types of outdoor movie screens made of expensive materials, making them hard to buy or even rent. However, an outdoor inflatable movie screen is cost-effective, and you can easily afford it. If you want to organize a movie night for fundraising purposes, these screens can help you save on event costs.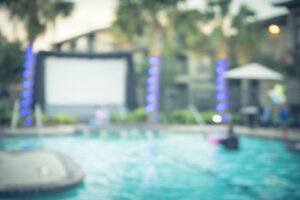 How to Choose the Best Outdoor Movie Screen?
When buying an outdoor movies screen, keep these tips in mind:
·         Material and Color
Note that outdoor inflatable movie screens come in different colors and finishes. Material aside, a screen with a white finish is perfect for getting the most out of it. This brings the most of viewing angles, light reflection, and color accuracy. You can use water and soap to wash them, while for smoothening, use a low-temperature iron.
In addition, when buying an outdoor movie screen, pay close attention to the material it's made from. You want something durable, long-lasting, and won't break easily.
There are various types of outdoor movie screens made from different materials. However, the most durable materials are vinyl and fabric. Vinyl screens are an excellent option if you're looking for something that can withstand wear and tear.
However, if you have kids around your house, the fabric may be better suited for you. While they are softer than vinyl, fabric screens also provide extra comfort for those watching movies outdoors.
·         Screen Size
Size matters, and having a larger outdoor inflatable movie screen means a wider projection surface area. This will help you project your image in a larger space without moving around. On top of that, large screens are usually easier to handle and maintain too.
The most popular sizes for an outdoor screen are between 100" and 120" diagonally (top left to the bottom right corner). In addition, make sure that your screen outputs the correct image size and don't go for the biggest size you find. If your screen is large, but the projector can output up to 80″, you will get a poor-quality picture when trying to fill the entire screen.
Moreover, you should also keep your physical space in mind apart from specs. If you have a massive outdoor space, 120″ is perfect. However, if you have limited outdoor space, find a smaller model that fits easily and still has room for guests.
·         Aspect Ratio
Aspect ratio is one of the most important factors when buying an outdoor inflatable movie screen. It means the ratio of an image's width to its height. While it may seem tricky, in reality, you will likely want an aspect ratio of 16:9. This aspect ratio is standard for HD content.
However, if you intend to buy a projector solely for high-resolution movie-watching, a widescreen screen with an aspect ratio of 2.35:1 can be a good option. This is standard for the majority of blu-rays.
·         Stability
Stability is crucial since the weather is unpredictable, and wind could be a problem if you use an outdoor inflatable movie screen. That's why it's important to consider what materials are good for an outdoor screen. Moreover, also make sure to consider stand materials and wall-mounted hooks. In this regard, an outdoor movie screen with a considerable weight may be a plus.
·         Portability
Undoubtedly, an outdoor movie screen's portability is a significant factor to consider for outdoor movie nights or camping trips. Various types of outdoor movie screens come with a carry case. Moreover, they are easy to disassemble, making it easier for you to transport them around or store them away during bad weather.
Types of Outdoor Movie Screens
The best inflatable movie screens for your home are available online. These types of projectors are excellent for indoor use. Their size makes them great for any room and easy to set up. They come with two mounting straps that make them easier to attach to a wall. The material used is PVC (Polyvinyl Chloride) which is recyclable. These screens have strong water-resistant construction and are resistant to UV rays.
·         Retractable Outdoor Movie Screens
If you are a person who loves big outdoor get-togethers or outdoor family movie nights, then a retractable outdoor movie screen can be a good option. With either a motorized projection screen or an exterior manual, you can easily roll it down to watch your favorite shows and quickly roll it up when done.
These types of outdoor movie screens are perfect for all weather conditions because of their weather-resistant housing. Moreover, these retractable screens are tensioned with weighted dowels and cable guides, providing incredible stability even in pretty windy situations.
Additionally, they come in a vast range of sizes, allowing you to choose the best option for alfresco media entertainment on a pool deck or other outdoor venues.
Pros
You can store them away when not in use.
They are great for large outdoor gatherings.
Weather-resistant.
Cons
Some are heavy and take up more space.
·         Outdoor inflatable movie screens
One of the most popular types of outdoor movie screens is an outdoor inflatable movie screen. You can blow up these screens to a large size. These screens offer immense support, size, and convenience for outdoor movie nights.
At a reasonable cost, you can have a large blow-up screen that will be ready to project on in no time. These air-filled outdoor movie screens are made of a material that could easily withstand outdoor elements. In addition, you will also get outstanding picture quality.
Don't worry about how you would blow up these screens because they use air pumps to fill the frame. Moreover, while these screens also come with their own means of support, you can use extra grounding depending on the wind. In addition, for smaller backyards, you should go with an outdoor inflatable screen that you can blow before the movie starts.
For a larger and more fun outdoor experience, I recommend having a blown-up screen with a continuous air source to prevent deflating the screen.
Pros
They are easy to transport.
You can easily assemble them.
They can be stored away when not in use.
Cons
It cannot be left out for longer periods.
·         Foldable Outdoor Movie Screens
Foldable screens are another common type of outdoor movie screen and a perfect option for small backyard theater setups. You need to unfold its frame, attach the surface material and legs, and then project. You can set these screens anywhere you want in your backyard.
Moreover, a foldable screen is usually lightweight aluminum for easy portability. They either come with a carrying case or a bag, making them easier to store away when not in use. These screens are a great low-budget option if you don't want to make outdoor movie nights a regular thing but still want good visuals for movie watching outside.
Pros
Great for small backyards.
Lightweight and easy portability.
A nice low-budget option.
Cons
Prone to divots, bumps, and creases.
·         Tripod Outdoor Movie Screens
Just like foldable outdoor screens, tripod screens are also a budget-friendly option for planning occasional outdoor movie nights. With these types of outdoor movie screens, you just need to set up the tripod and pull down the screen. It's as simple as that.
Moreover, these screens are also an excellent option for watching your favorite shows outdoors as they are portable and easy to carry around on camping trips. However, remember that these screens are limited in size compared to other outdoor projector screens. So, if you have a small backyard or a limited outdoor space, tripod outdoor movie screens are for you.
Pros
They are cost-efficient.
A good option for small backyards.
They are portable.
Cons
They have a limited size.
·         Projector Screen Paint
Last but certainly not least, projector screen paints are used to make a permanent display surface. While you might think painting a wall white is what you need t, an exterior projector paint helps prepare an ideal surface for the projector screen. These paints have titanium oxide and other components that help produce high-resolution pictures.
In this regard, you can either build a freestanding wall or use one of the walls of your home. It is also possible to use a garage with outdoor projector screen paint.
However, remember that it is hard to make a wall smooth; an outdoor wall painted with screen paint won't render a 4k resolution image. So, in order to get the most out of your UHD projector, you will have to pair it with a 4k projector screen.
Pros
It is an inexpensive option.
The screen painting takes up virtually no space at all.
Projector paint is easy to use.
Cons
They are not portable.
Holes and bumps in walls can create a terrible viewing experience.
5 Best Outdoor Inflatable Movie Screens
The VIVOHOME Mega Projector Screen is our first choice. Not only does it offer a huge screen size (available in 14ft to 24ft sizes) but it deflates to a very portable size weighing about 37 pounds. It sets up easily and inflates with the included quiet fan pump in just minutes.
This screen comes with stakes and tethers to make it quite stable when in use. Deflate it and it travels in the included oxford bag. We find this one has one of the best screens (no seams!) and can be used with front or rear projection.
The entire kit includes:
Huge Mega Screen (we like the 24ft option)
tethers
yard stakes
330W air blower
420D oxford carry bag
Our choice for a mini projector to use with the 24ft screen is the Fudoni:
2.     KHOMO GEAR Jumbo 20 Feet Inflatable Projector Screen
Khomo Gear's Portable outdoor inflatable movie screen offers another jumbo screen with options of a 16ft or 20ft version. Like our previous choice, this screen supports front and rear projection (many inflatables do not) and sports a classic black frame giving the picture image.
This sets up in about 5 minutes and easily deflates just as quickly. You'll find it easy to clean, when needed, too.
The kit includes:
inflatable screen
12-foot tether ropes
plastic stakes
powerful electric blower for easy inflation
carry bag for travel and storage
Elite Outdoor Movies' outdoor inflatable movie screen lets you bring the big screen home and entertain a large gathering of your friends and family in your backyard. These screens have a washable and removable surface, ensuring you always have a great picture.
Moreover, these screens offer professional-grade clarity. You can pair these screens with 4k UHD and active 3D. The screen features a great viewing angle with a black-backed front-projection screen material.
The XHYCPY screen, shown here as a 15′ also comes in a 17′ version. Not as big as the previous Mega Screens, this one might be a better fit for the slightly smaller backyard.
We like the more compact version for smaller gatherings and perhaps just family movie night on the patio or by the pool.
This kit includes:
The 210D inflatable frame
110v 180w blower
removable PVC screen
8 base stakes
4- 13′ tie down ropes
storage bag
5.    

GZKYYLEGS 16 Feet Inflatable Movie Screen
GZKYYLEGS is another budget-friendly option. While it is not as large as the 24ft mega screen, it provides ample size for most families and small gatherings. Like our other choices, this screen comes with all the necessities to set it up, including the blower. And it sets up quickly, usually in less than 3 minutes.
We are impressed by the quality of this screen, given the lower price. While not quite as inexpensive as the non-inflatables, it does offer a good quality product that should last through many uses over the years at a reasonable price.
Ready to plan your next backyard movie event?
Outdoor Inflatable movie screens offer a great way to enjoy the outdoors. Watching movies outdoors lets you enjoy your time with your loved ones and create lasting memories. I hope our post will help you find the right outdoor screen so you can watch your favorite shows with your loved ones. Want more ideas for your backyard and patio? Check out our other family favorites below.
Read More: