==================
A Caveat and Affiliates
First off, a little caveat: within my articles you will find affiliate links, meaning if you buy them, I get a small commission. Your cost is not affected. In addition, I am an Amazon Associate and I earn from qualifying purchases on Amazon.
And yes, if I say that I recommend a product here, it means I truly believe it is a good product. I refuse to recommend any product that I have not researched and believe to be a good value.
Even better, I provide you with a very clear picture of the product, it's use, and the probable value.
Earning your trust is important to me. I run this website myself and the commissions and donations help support the site.
Sound reasonable and fair enough? Let's continue to the article.
==================
Protect your outdoor furniture during all seasons! Why?
Outdoor furniture keeps us comfortable when we want to enjoy the outdoor space. This can be on many occasions, such as family BBQs or reading books. This is also clear in the amount US homeowners spend decorating their homes with outdoor furniture. According to statistics, we spent around $15 billion in 2020 and will spend more by 2027. 
Considering all these, how can you protect your outdoor furniture each season and throughout the whole year of seasons? 
To protect your outdoor furniture now and during all seasons, you'll have to anchor, cover, seal, shade, and maintain them. 
How to Protect Outdoor Furniture
Protecting your furniture is necessary since they are susceptible to various weather conditions. Here are tips and ideas experts gave on how to protect outdoor furniture against seasonal weather. 
Anchor in Place
Anchor outdoor furniture, especially if your place is prone to strong winds. Winds can rearrange your furniture arrangement or fly them away. For this reason, securing your furniture and holding them in place is necessary. Fasten, stack, or tie chairs, tables, and cushions. Closed or keep umbrellas inside when they are not in use.
Alternatively, consider storing your outdoor furniture in your garage or other out building. For tropical storm and hurricane areas, this proves to be the safest for the furniture and anything it might hit, too.
Use Furniture and Fabric Sunscreen and Water Repellent
Outdoor furniture is like our skin: damaged when exposed long to UV rays. Metal, plastic, and even wood furniture will show fading and discoloration in extreme heat. Rainfall and moisture will increase the chance of rust buildup. 
Although a good deal of furniture has sun-and-heat-water-resistant, some don't. Applying a spray that acts like sunscreen and a water shield will help prevent rust and discoloration. Washing with mild soap and warm water is advisable before spraying.
Cover Outdoor Funiture
Covers protect your furniture and its fabric from all sorts of precipitation. When choosing covers, take the right size so that they'll fit perfectly. Also, avoid covers that completely close the furniture to give way to air out and prevent molds. 
Apply Polyurethane to Wooden Furniture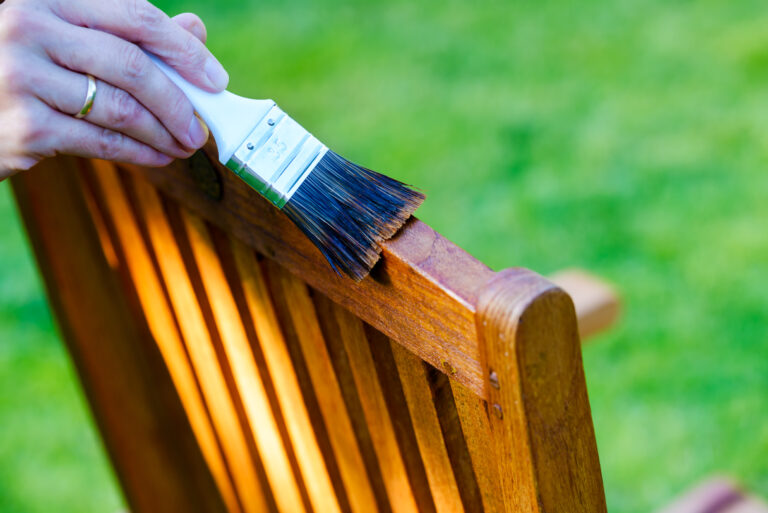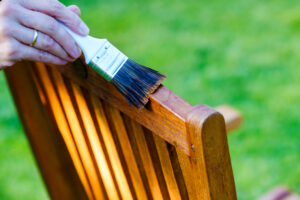 Applying Polyurethane helps seal outdoor furniture. Make sure that you'll use a polyurethane product with UV blockers. The coat will protect your furniture from the sun's heat while bringing out its natural beauty. 
Paste Wax on Metal and Aluminum
Paste wax is proven effective in protecting metal and aluminum outdoor furniture. Like sunscreens that protect our skin, paste wax protects the outer surface of furniture. Scrap the rust, and repaint your furniture before applying primer coat and paste wax.
Use Protectant on Plastic Furniture
Extreme heat is the greatest enemy of plastic outdoor furniture. Prolonged exposure can severely discolor your plastic furniture. A protectant coat can prevent cracking and fading.
Keep your Outdoor Furniture Clean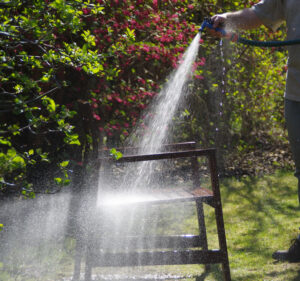 Even if your outdoor furniture is coated and covered, it will still accumulate dirt that could cause rot and rust. Cleaning once in a while will prevent the buildup of these detriments. 
Use a sponge soaked in warm water mixed with mild soap to clean your furniture. Then hose away any residue. Let it dry before replacing the cushions and placing them back. A pressure washer is perfect for cleaning sturdy, rugged furniture. But be careful, though; too much pressure can damage your furniture.
Provide Shade
Providing some shade offers the best way to protect outdoor furniture from damage. Various elements like rain, wind, snow, and hail can speed up wear and tear. Full sun can cause damage, like darkening and permanent discoloration.
Outdoor Furniture Winter Storage
Exposing your furniture outside during winter is a bad idea. That is why winter care for your furniture is essential. Molds can actively grow during the winter months due to left moisture and dirt. Constant water changes can also leave your furniture in bad shape.
Is Your Furniture Protected From All Weather Conditions?
Seasonal wheatears are unpredictable. So, when you know bad weather is coming, don't forget the tips above. Anchor your furniture when there's a strong wind possibility. Cover your furniture if a hot climate or rainy day is expected. And hide your furniture during winter. Applying all these can help you protect outdoor furniture during all seasons. 
Read More