==================
A Caveat and Affiliates
First off, a little caveat: within my articles you will find affiliate links, meaning if you buy them, I get a small commission. Your cost is not affected. In addition, I am an Amazon Associate and I earn from qualifying purchases on Amazon.
And yes, if I say that I recommend a product here, it means I truly believe it is a good product. I refuse to recommend any product that I have not researched and believe to be a good value.
Even better, I provide you with a very clear picture of the product, it's use, and the probable value.
Earning your trust is important to me. I run this website myself and the commissions and donations help support the site.
Sound reasonable and fair enough? Let's continue to the article.
==================
Setting up portable cooking can be a big problem because you need lots of space. It gets even harder when you're cooking for a big party and have to use many grills at once. But what if there is a special cooking unit that could make everything easier and less stressful?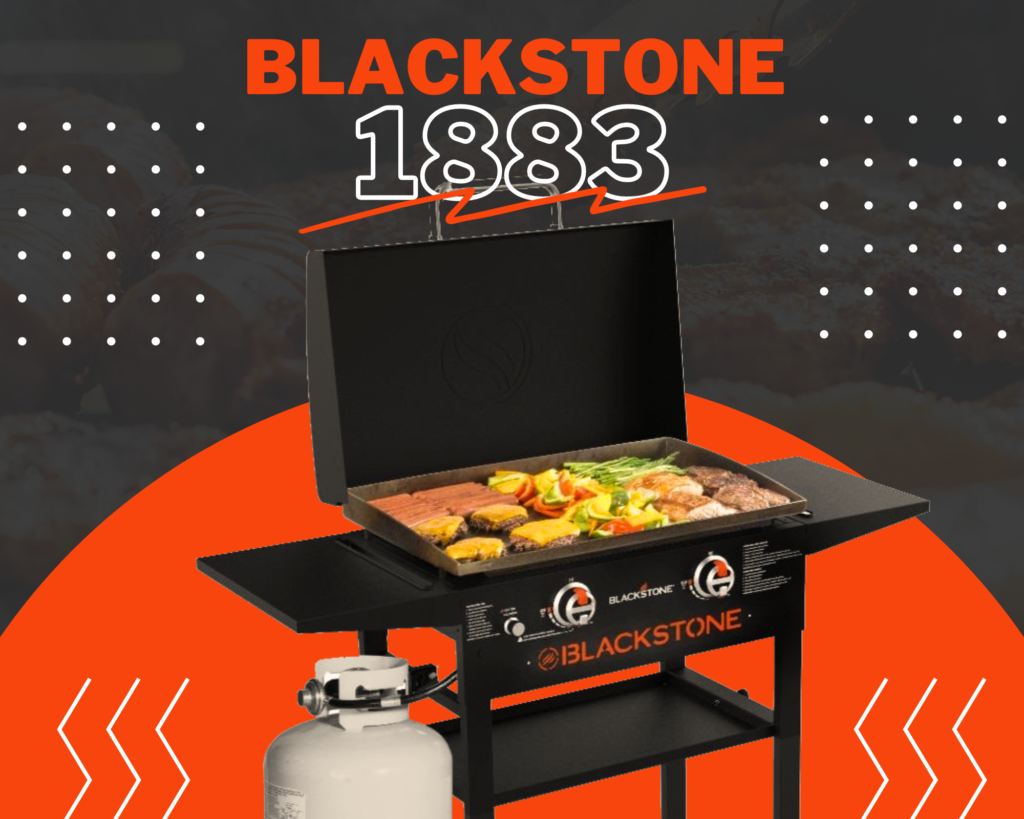 The Blackstone 1883 is One of the Best
Cooking on the go can be challenging because of limited space. But what if there was a single cooking unit to solve all your problems? This magical device eliminates the need for many grills and makes cooking stress-free. With it, you can create delicious meals without too much effort. So, for your next picnic or outdoor party, let this fantastic cooking unit be your superhero. It's here to make cooking fun and easy.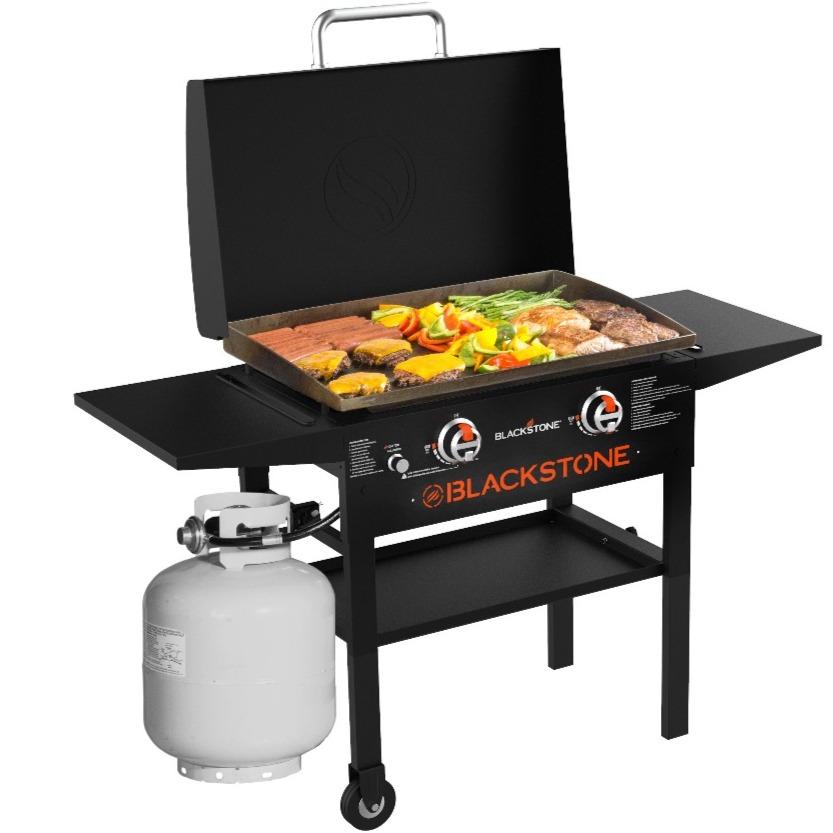 This model has a major advantage – it's very portable. Folding its parts and securing the propane gas tank becomes a compact piece of equipment. You can take it on vacation or enjoy it during a picnic or day out. It's designed to be convenient and hassle-free, allowing you to cook wherever you go. Whether exploring new places or having a fun day outdoors. This portable cooking equipment adds extra enjoyment to your experience.
Product Information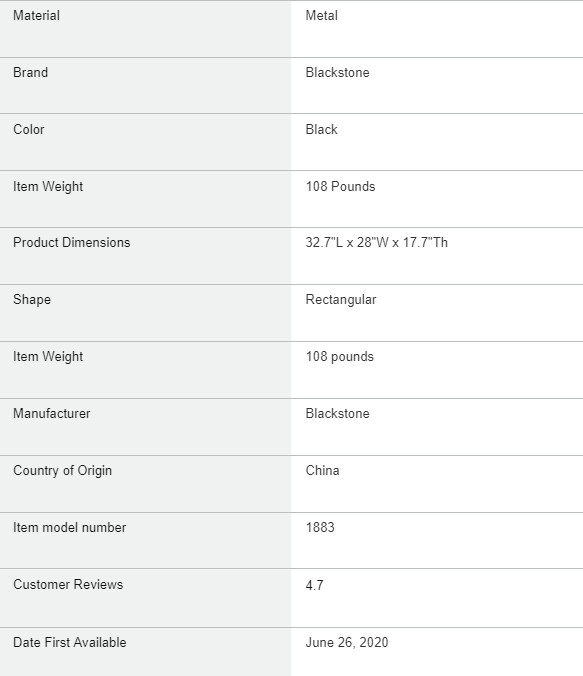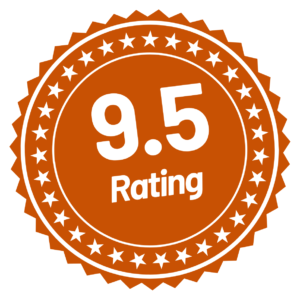 BUY IT HERE!!!
In this brief video, Eric unboxes, assembles, and seasons his brand-new 36-inch Blackstone cooking station with hood and folding shelves. He shares his excitement about entering the griddle-cooking world and discusses the grill's features. Eric demonstrates the cleaning and seasoning process, applying flax oil to create a protective layer on the griddle surface. He also showcases some accessories he purchased for easy cleanup and cooking, including disposable grease pans, a lodge bacon press, a griddle scraper, and a lid. Eric invites viewers to suggest recipe ideas and expresses his satisfaction with the Blackstone griddle.
More About Blackstone 1883 Gas Hood & Side Shelves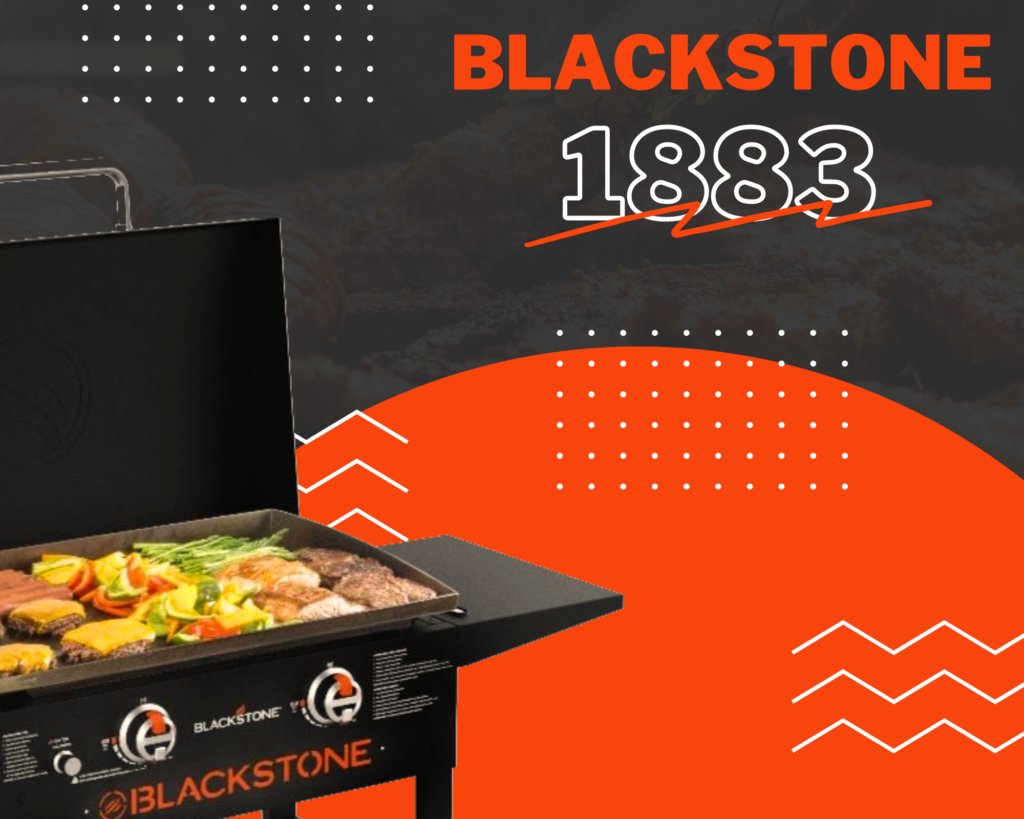 The Blackstone product is designed for people who love traveling or hosting parties at home. It offers a simple and versatile way to cook various foods without hassle. You don't need to plan your cooking days because the Blackwell is always ready to use. Setting up the Blackwell is quick and easy. First, secure the fuel supply, unlock the legs, and unfold the shelves. You don't have to buy extra shelving or units because it's a cooking machine.
Yet, different models are available to suit other chefs and cooking styles. You can buy extra Blackwell accessories if you want to level up your cooking experience. But let's focus on the 1883 model for now and explore its features in more detail.
The Blackstone 1883 Specifications
Blackstone manufactures the Blackstone 1883 Gas Hood & Side Shelves. The Blackstone 1883 is powered by propane gas. The gas provides efficient and consistent heat for cooking. The grill weighs 108 lbs. This heavy-duty grill is built to withstand various outdoor conditions while ensuring durability.
Its grill dimensions are 32.7 inches x 21.7 inches x 17.7 inches. It offers a generous cooking surface area extending up to 53 inches at maximum capacity. This ample space allows you to cook multiple items simultaneously. Making it perfect for gatherings and events. The grill features two burners, delivering even heat distribution and precise temperature control. This feature ensures that your food is cooked to perfection every time.
Additionally, the foldable legs and shelves provide convenience for transportation and storage. This allows you to take it on your outdoor adventures easily. The plug & play propane functionality simplifies the cooking process. Also, it enables you to set up and start grilling without any hassle. The Blackstone grill combines functionality, portability, and high quality. These make it a perfect choice for all your grilling needs.
Blackstone 1883 Gas Hood & Side Shelves Features?
The Blackstone grill is designed with convenience, evident from the specifications above. It has foldable surfaces like shelves, allowing users to open 1883 immediately. Don't let its size fool you! Despite being compact, this grill has two burners. The burners are perfect for cooking sauces, side dishes, vegetables, etc. The griddle is easy to use and can cook a wide variety of vegan-friendly foods, including vegetables, plant-based proteins, and plant-based egg substitutes.
Cleaning is a breeze; its immense size makes it effortless to flip and manage food. It can cater to up to ten people at once. The extendable grill area is a great feature. The extendable gr allows you to use it for smaller dishes, picnics, and larger BBQs.
For added convenience, there is an optional protective cover available for sale. This cover allows you to store the grill outdoors without worrying about getting wet. It's worth adding to your purchase. The grill includes a fat/drip tray that catches any drippings during cooking. This feature makes cleanup a breeze, saving you time and effort.
Benefits of Blackstone 1883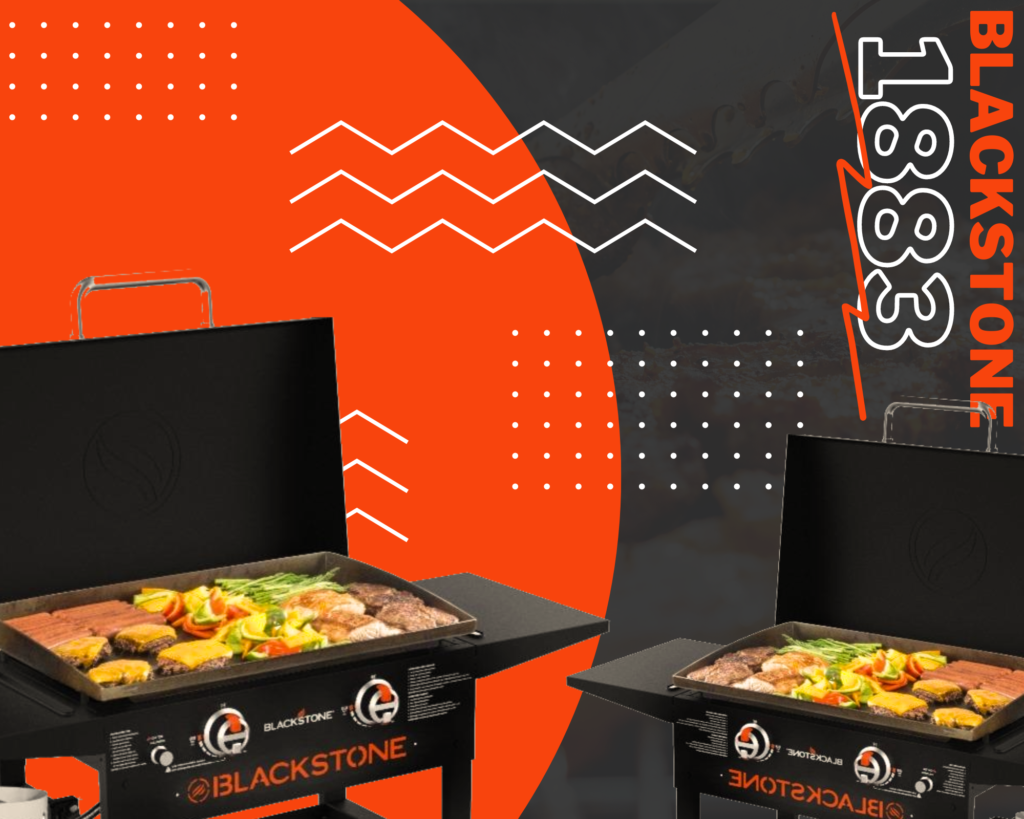 I love the flexibility of the Blackstone 1883 grill. It's no wonder users consistently rank it highly. Not only because it is quick to fold up and pack, but it's also effortless to clean and maintain. The versatility of this grill is outstanding. I can cook a wide range of foods on it, making it perfect for taking holiday trips. I can pack all the ingredients in cool boxes and defrost them. After that, you can place them on the grill when I arrive. It makes stir fry, plant-based egg dishes, and other delicious vegan meals fantastic. It is genuinely multi-functional equipment.
Setting up the Blackstone 1883 is a breeze, which is a big plus. I need to lower the legs, unfold the shelves, and attach the propane gas tank, and I'm ready to start cooking! Within minutes, I can prepare delicious food, whether cooking for one person or a group of ten. One of the stunning features for me is the grill's ability to handle different types of food. The spacious design and flexible layout mean I can cook in no time of the same dish without any hassle. It's a game-changer in terms of convenience and efficiency.
What Are the Drawbacks of This Grill?
It's impossible to create a grill that satisfies everyone's size preferences. But, the designers at Blackstone have taken consumer feedback into account. They've added extending shelves to accommodate space to place utensils and ingredients. The cost of the Blackstone 1883 can vary depending on where you buy it. It may be more expensive than other grills on the market. Yet, fans of the Blackstone 1883 will tell you that its ease of use and spacious grill area make it worth the investment. Some verified buyers of the Blackstone 1883 have mentioned so.
Although in the minority, temperature control and heat distribution could be improved. But, it's essential to consider that the individual's cooking skills can influence these factors. Also, even the weather during a BBQ. Overall, as long as you have some experience with grilling, you shouldn't encounter many issues with the grill.
What Is Blackstone?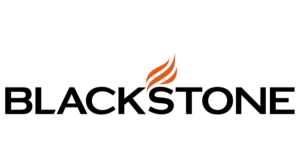 Blackstone Products is a company specializing in outdoor cooking equipment. They are committed to providing innovative, high-quality grills, griddles, and accessories. Their products enhance and level up the outdoor cooking experience.
With a focus on customer satisfaction, they continuously strive for excellence, with the help of incorporating user feedback into their designs. Blackstone is dedicated to making outdoor cooking more effortless, convenient, and enjoyable.
You Really Should Buy the Blackstone 1883
The bottom line is I recommend buying the Blackstone 1883 if you often cook for large groups of people. It's a worth-it investment, especially if you want to avoid setting up and packing away a regular grill. You'll get a lot of convenience out of it.
If you're looking for a portable kitchen that is easy to use, transport, and maintain, the Blackstone 1883 is the perfect choice. I admire this grill as it is a portable kitchen straight out of the box. The versatility of the Blackstone 1883 is outstanding. With its fully extended size of 53 inches, you can load it up with various foods and conveniently organize your utensils within reach.
What's more, cleaning up after cooking is a breeze. I'm stunned by the design of 1883. It's built to focus on stability and durability, ensuring it will last long. The folding legs are a standout feature, making it easy to pack up and transport. It's a game-changer compared to the flimsy and unreliable BBQs I've used. If you're looking to invest in a BBQ/grill system that can adapt to your various cooking needs while on the go, the 1883 design takes a lot of work to beat.
While some buyers may talk about the price compared to cheaper options, this grill is worth every penny regarding flexibility, reliability, and the amount of cooking space it offers.
Is the Blackstone 1883 easy to clean?
Yes, the Blackstone 1883 is designed for easy cleaning. Its flat top griddle surface and removable grease tray simplify cleaning.
Can the Blackstone 1883 cater to large groups?
Absolutely! The Blackstone 1883 has a spacious grill area, making it suitable for cooking for up to ten people at once. It offers plenty of room for preparing and serving food.
How many burners does the Blackstone 1883 have?
The Blackstone 1883 has two burners. These burners provide versatility in heat control. Also, it allows the simultaneous cooking of different foods.
Is the Blackstone 1883 a reliable and durable grill?
The Blackstone 1883 is known for its heavy-duty build and durability. It is designed to withstand outdoor conditions and provide long-lasting performance.
Elevate Your Outdoor Living: Create Your Dream Outdoor Space With Backyard Patio Life
Discover the ultimate paradise for outdoor furniture enthusiasts and patio renovation lovers! ??✨ Join our vibrant community on Facebook, Instagram, Pinterest, Twitter, and TikTok for an unforgettable journey into the world of stunning outdoor spaces. ?? ?
Immerse yourself in breathtaking photos and videos on Instagram, capturing the essence of outdoor living. Get inspired by our beautifully curated gallery, featuring the latest trends and creative patio makeovers. Follow us at https://www.instagram.com/backyardpatiolife/!
? Pin your dreams on Pinterest! Explore our boards filled with endless ideas, tips, and tricks to transform your patio into a haven of relaxation and entertainment. Follow us at https://www.pinterest.com/backyardpatiolife, and let your imagination soar!
? Like us on Facebook to be part of a warm and welcoming community, where outdoor furniture enthusiasts and patio renovation aficionados gather to share their stories, exchange advice, and discuss the latest trends. Join the conversation at https://www.facebook.com/BackYardPatioLife/!
? Follow us on Twitter for daily outdoor living inspiration, quick tips, and product reviews. Stay connected with fellow enthusiasts and stay in the loop on the hottest deals and discounts. Find us at https://twitter.com/HappyBYPL and let's tweet our way to a dream patio!