==================
A Caveat and Affiliates
First off, a little caveat: within my articles you will find affiliate links, meaning if you buy them, I get a small commission. Your cost is not affected. In addition, I am an Amazon Associate and I earn from qualifying purchases on Amazon.
And yes, if I say that I recommend a product here, it means I truly believe it is a good product. I refuse to recommend any product that I have not researched and believe to be a good value.
Even better, I provide you with a very clear picture of the product, it's use, and the probable value.
Earning your trust is important to me. I run this website myself and the commissions and donations help support the site.
Sound reasonable and fair enough? Let's continue to the article.
==================
Winter is near! Low levels of temperature, as well as blistering snow, can make staying outside unideal. But don't let this stop you from enjoying outdoor living space in winter. 
We all know how spending recreational activities outside affects our well-being. There is a handful of things to do to enjoy your outdoor living space, such as yoga, morning coffees, and even parties. To carry on with these outdoor space activities even winter long, you have to take some extra steps. Here are some backyard winter ideas for you. 
 The key to enjoying your outdoor space in winter is modification—recreating your backyard, deck, patio, or balcony winter-ready. It also includes adding some extra fixtures appropriate for the cold weather. Here are 10 practical steps for keeping your outdoor space cozy in winter. 
 The key to enjoying your outdoor space in winter is modification—recreating your backyard, deck, patio, or balcony winter-ready. It also includes adding some extra fixtures appropriate for the cold weather. Here are 10 practical steps for keeping your outdoor space cozy in winter. 
If you want to enjoy outdoor living space in winter, you should first be able to stay outdoors in the cold. Investing in a source of heat will enable you to do this. A heat source will keep you warm even in a chilly environment. 
As we all know, fire is vital for providing warmth. It has been an ancient practice to use fire in order to fight the cold. As such, fire is essential to enjoy outdoor living space all winter. 
An outdoor heater (portable or permanent), a firepit, an oven, or anything with clean-burning fuel is great for warm outdoor gatherings during winter. Even a grilling station would do. Many people enjoy grilling food outdoors in the cold season. 
But try to stick with recipes you know for cooking times during freezing temperatures tend to be longer. Then, serve the fresh cuisine on the deck, patio, or in any outdoor space you prefer.
#2 O
utdoor living space winter
Lighting
 Since not all outdoor space activities in winter happen in daylight, consider setting up outdoor lighting. Set up lights and lanterns for tall fences, posts, or other structures. Or crisscross string lights across your yard to illuminate a cozy canopy effect. Your outdoor lighting can be LEDs or solar. Other different options include:
Garden lights

Spotlights

Path markers

Patio String lights
Lights with timers can be readjusted as it's early to get dark in winter. Proper lighting can quickly change the mood of your guest assembled in your outdoor living space in winter. 
Speaking of setting up the mood, outdoor candles will surely spruce up your patio, especially during days of less daylight, like winter. There's nothing more like the glow of a candle for creating a cheerful atmosphere in the cold, plus you'll have more time for enjoying candlelight outdoors.
#3 Enjoy outdoor living space winter Jacuzzi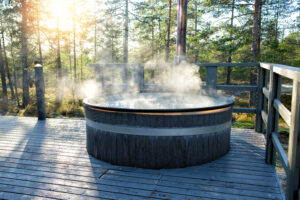 Soaking in a hot tub can make you feel soothed and relaxed after a long, tiring day. It also increases your body's temperature. This serves you best during cold temperatures. Besides what was mentioned, soaking in a hot tub can improve metabolism and the cardiovascular system. Whether you enjoy it alone or with friends, hot tubs will always be cozy outdoor leisure in winter.
#4 Winter-proof Furniture
Transform your outdoor living space into winter-proof to enjoy your outdoor living space in winter. Consider what furniture you will use in your outdoor living space. Winter-resistant furniture made from teak, powder-coated steel, and polyresin wicker is built to last even in winter. 
Well, aside from ensuring winter-proof materials, covering your furniture, cushions, and pillows is also excellent protection from snow. There are many alternatives available in the market today. A lot of these synthetics have cozy textures that mimic the feeling of warmth boucle, chenille, velvet, wool, and even fur.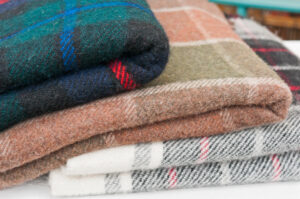 We've talked about adding a source of heat and light, as well as winter-proofing furniture. Now let us hyphen the mood by elevating coziness. To do so, add some comfort, pillows, and throw blankets to share with family and friends. 
Wrapping yourself in a throw blanket during winter is one of the best ways to retreat from the cold. Classic cold-weather blankets can help you enjoy outside without worrying about the low levels of temperatures. There are various types of blankets you can add to your collection. 
Example: Boiled wool blankets are great for holding heat well and are easy to wash. Try to drape them over the back of your outdoor couch and chairs. Or, offer them to your guests as an extra layer when seeping hot beverages or while looking at the stars at night. 
For easy access, keep blankets in a box near the entryway of your house and outdoor space. This way, you quickly grab a blanket for yourself or for others. Additionally, blankets and cushions with warm colors will also invite a warm sensation. Use summery colors like shades of cranberry, paprika, hunter green, or pumpkin to create a warming effect. Budget-wise, buy one set of cushions with a neutral color and use it for the whole year. Then, simply change for hues right for a particular season.
#6 Decorate O
utdoor Living Space in Winter
 Include your backyard when decorating for the holiday season. Let the transition between your indoors and outdoors be aesthetically consistent. In simple terms, make your indoors and outdoors identical. Add elements like lighting, and curtains manifesting the holiday theme. In case to basis, you can place small, simple, weatherproof, non-breakable decorations in your backyard. Make sure that your decor isn't just cute, but functional as well. Remember that it's all about adding function and embracing winter while staying warm.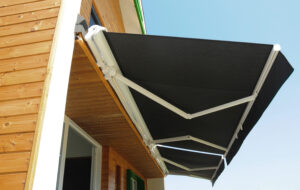 Adding some type of enclosure to your outdoor living space is beneficial in both practical and aesthetic ways. Enclosing your patio is a great way to enjoy your outdoor living space all winter long. An enclosure can be anything that can serve as a wall or ceiling. There is a variety of patio enclosures available in the market. This can include prefabricated tents, curtains, and rolling shades. Compared to regular walls, enclosures can be installed in the winter and can be removed during other seasons. 
Curtains can give your outdoor space a room-like experience, as well as an intimate and warm feeling. They can also provide protection for your open porches from uncomfortable weather. 
Rolling shades are a modern option for the enclosure of your deck. You can install them on a vertical beam or on the overhead pergola of your patio. Unlike regular curtains, rolling shades can be remotely controlled to open or close individually or at once. Some remote-controlled rolling shades will permit you to control how far you want the screens to go down. 
To take it up a notch, depending on how big your outdoor space is, you can put up a tent to enjoy your outdoor living space despite the weather. The most common tent for an outdoor space is a canvas yurt and styled tent.
 Embrace the winter months with a winter-ready mindset. And this starts with having the right winter clothing. Investing in winter clothes and dressing appropriately will help you stay outside and enjoy your outdoor space in winter. Winter clothes are thick outerwear like coats, jackets, hats, scarves, and gloves. This also includes earmuffs, warm underwear, union suits, and socks.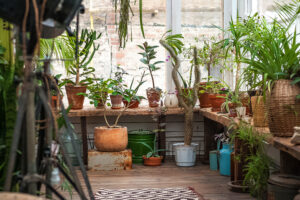 Though most flowers stay dormant during the cold, there are some seasonal plants that you can care for during winter. Growing these plants will allow you to enjoy outdoor living space in winter. Winter gardening will make you accommodated outside, making you feel like it's just a normal season. After you're done, you can then relax and enjoy the coziness of your deck.
#10 Plan an Outdoor Activity
For adults, sitting around a warm fire drinking something, and conversing is enough, but it won't hurt to spice things up a little. With proper planning, you can come up with endless possibilities. So why not plan an exciting outdoor activity for winter? Invite your friends and family to come over to have a game, party, or watch a movie in your backyard. 
Cook fresh meals using your outdoor oven or grill. Grill a burger, hot dogs, kababs, and pizza, or cook a hot dish like porridge and fondue. You can also enjoy roasting marshmallows, drinking coffee, and seeping hot chocolate around a fire pit. 
Play games like board games, soda-pong, or other backyard snow games like building a snowman and snowball fight. What matter is how you execute your plan in creating the perfect space for your friends and family.
 Cold temperatures can easily make your guests retreat home. For this reason, consider your guest when planning ways to enjoy your outdoor living space in winter. Keep your guests involved in all the activities and preparations. Cooking food as a group instead of doing it single-handedly makes it more fun and exciting. But food is not your last resort—think outside the box. Plan for the whole day. The important thing is involving your guests while keeping them warm.
 How to Stay Safe While Enjoying Outdoor Living Space in Winter
While the goal is to create a warm backyard in winter, one should not neglect safety. Ensure that your outdoor living space is comfortable and relaxing without any potential hazards. Here are some pro tips for keeping your outdoor living space winter safe.
Extinguish fire or any live flame before entering your house. 

Unplug heaters after backyard parties.

Keep flammable elements like fabric and oil away from the heater.

Relocate furniture. Wooden and plastic furniture should be at least three feet away from the edge of the fire pit.

Rugs, cushions, curtains, and blankets must be far from the fire pit.

Comply with the local requirements if you're planning to build a permanent fire pit.
Benefits of Spending Time Outdoors in the Winter
Spending time outdoors, even in winter months, comes with a lot of benefits for both mental and physical health. 
Though the sun is aloof in the cold season, we can still get calciferol or Vitamin D during the daytime. The Vitamin D we get is vital for protecting us against certain illnesses. In the cold season, our bodies burn calories faster the usual. So, while it can be hard to run on frozen roads, moving around outside in the wintertime is important. 
Spending time outdoors in the winter can also improve mental health! Lots of activities can be made to improve mood and avoid winter blues in the cold season. Winter blues, a seasonal condition in which people suffer from mood swings, is a common problem in the cold season. Also, a lot of people experience SAD or Seasonal Affective Disorder in the winter months. Cheer up by doing some gardening and bird-watching in winter. These can help you get out and be happier. 
Windup

Enjoying your outdoor living space in winter depends on how to act according to your ideals. All it takes are 10 simple steps that include concrete planning, designing, craftsmanship, and a little investment. But whether you are planning to use a portion or the entire section of your outdoor space, remember to have fun and be safe.

Read More

https://backyardpatiolife.com/grilling-outside-in-winter-top-tips/