==================
A Caveat and Affiliates
First off, a little caveat: within my articles you will find affiliate links, meaning if you buy them, I get a small commission. Your cost is not affected. In addition, I am an Amazon Associate and I earn from qualifying purchases on Amazon.
And yes, if I say that I recommend a product here, it means I truly believe it is a good product. I refuse to recommend any product that I have not researched and believe to be a good value.
Even better, I provide you with a very clear picture of the product, it's use, and the probable value.
Earning your trust is important to me. I run this website myself and the commissions and donations help support the site.
Sound reasonable and fair enough? Let's continue to the article.
==================
As an avid outdoor enthusiast, I always seek furniture that can transform my patio into a cozy haven. I was immediately drawn to the modern design of the Pamapic Patio Furniture Set. I'll share my experience with this unique outdoor furniture set in this review. I will highlight its design, comfort, durability, and feature.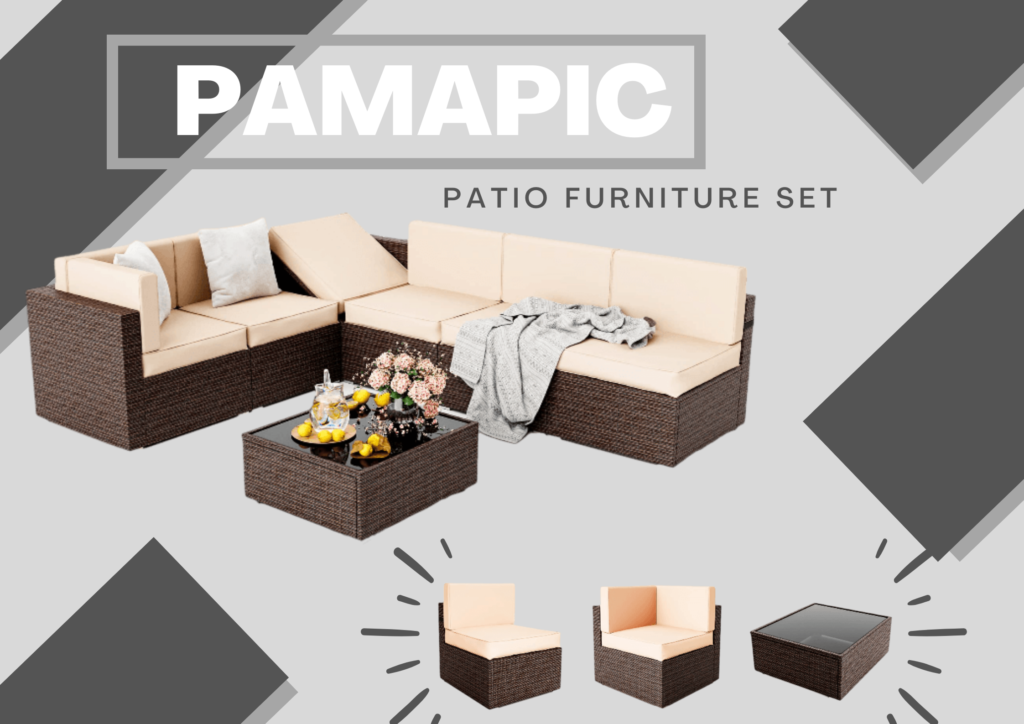 Stability and Firmness
The Pamapic Patio Furniture Set offers stable and firm seating. These features allow you to experience your desired seating. You can choose between sitting upright or lying down using four reclining levels. The reclining feature ensures optimal comfort and relaxation.
Sectional L Shaped
This furniture set is sectional and L-shaped. This set allows you to assemble it in any configuration to fit your outdoor space to your specific needs. You can create the ideal combination that suits your style and change it as often. This patio furniture set can adapt to different occasions or preferences.
Comfortability
When we say comfort, this patio furniture sets back and seat cushions. The cushions provide a delightful relaxation experience from your back to your butt. You can unwind and enjoy the plush comfort they offer. Moreover, the pillows are machine washable, saving you time and energy. It also has zippers, so you can easily remove the cushions for cleaning to make it look new again.
Applicability
The applicability of the Pamapic Patio Furniture Set is extensive. This furniture set is suitable for various outdoor spaces in your home. Whether it's your patio or another, this set brings a stylish and relaxing atmosphere. Its classic style ensures that it remains timeless. This set also always goes in fashion, adding a touch of elegance to your outdoor areas.
Packaging
Regarding usage and packaging, this furniture set is easy to assemble and place on patios. The delivery of the package will be in three separate boxes. The separation ensures a quick and hassle-free assembly process once the boxes arrive. Just so you know, the packages may come in stages. But I recommend starting assembling the set after receiving all the boxes.
Details of the Package
For your reference, the package details are as follows: Package 1 size is 29.13 "×28.74 "×14.96". Package 2 size is 31.49 "×29.13 "×16.53", and Package 3 size is 31.89 "×27.75 "×17.72". The packaging ensures the product's safe delivery. And it also allows you to unpack and assemble the furniture set to enjoy its quality and comfort.
Upon receiving the Pamapic Set, I was impressed by its contemporary design. The dark brown woven rattan and sturdy steel frame match my outdoor space. The four separate pieces offer flexibility in arranging the seating. The pieces include two armless chairs, one corner chair, and an ottoman.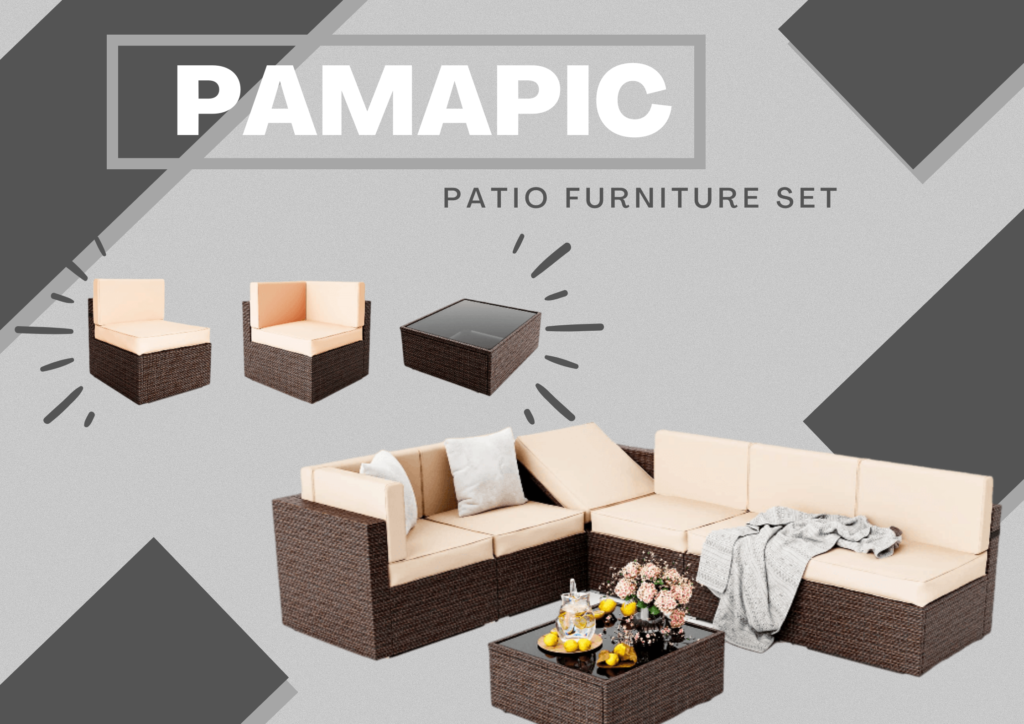 The meticulous craftsmanship of this furniture set was evident in every detail. The rattan weave showcases a remarkable level of artistry and durability. The alluring texture and rich color gave my patio a sense of warmth and sophistication. It also creates an inviting atmosphere for relaxation and social gatherings.
The highlight of the Pamapic Conversation Set was undoubtedly its exceptional comfort. The moment I sank into the deep and plush cushions, I knew I had found my new favorite outdoor seating. The high-density foam provided excellent support for my back. While the soft and breathable polyester fabric made sitting a pleasure, even on summer days with high temperatures.
The chair's ergonomic design and the width of the armrest added an extra level of comfort. The design allows me to sit for hours without any discomfort or strain. I particularly appreciated that the cushions were removable and machine washable. This feature makes maintenance a breeze.
Durability and Weather Resistance
Living in unpredictable weather, I needed outdoor furniture that could withstand the elements. The Pamapic Conversation Set proved to be up to the challenge. The rattan material showed no signs of fading or cracking thanks to its UV resistance. The steel frame ensured rust and corrosion would not ruin the set's appearance over time.
I also appreciated the waterproof covers that added protection during heavy rain. The fact that I didn't have to worry about bringing the set inside during rainy days was a huge convenience.
Easy Assembly and Maintenance
As someone who is not particularly handy, I was relieved that the Pamapic set was easy to assemble. The package came with clear instructions and all the necessary tools and hardware. Within an hour, I had the set and ready to enjoy.
Maintenance was also hassle-free. Wiping down the rattan material with a damp cloth was all it took to keep it clean and looking fresh. And when the cushions needed a refresh, I removed the covers and tossed them in the washing machine. It couldn't have been easier.
Customer Feedback and Ratings
From the moment I saw the Pamapic Patio Furniture Set, I knew I wasn't alone in my admiration. Customers from all walks of life have praised this remarkable furniture set. They highlight its unbeatable combination of sturdiness, comfort, and aesthetic appeal. This set was more than just an ordinary outdoor furniture collection.
One of the aspects that complimented the most was the quality of materials used in the set. Based on the reviews, there has yet to be a comment from the customer about failure in using this product. This level of reliability instilled confidence and reassurance in me. Knowing that I had invested in a product that continues to deliver good quality for years.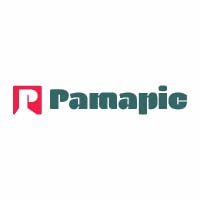 The Pamapic aim is to give all one solution for all your patio and garden needs. Every product they make has a purpose that fits in their product line. Pamapic is a brand that specializes in creating excellent patio furniture. Their main goal is to ensure you have a great experience with their furniture. And also always satisfy you with their product. They have developed strong partnerships with manufacturers. They leverage their expertise to deliver top-quality products. Pamapic believes in its mission. The mission enables them to offer outstanding products and value for your money. 
Please Don't Wait Until It's Too Late
In my experience, the Pamapic Patio Furniture Set has exceeded all expectations. Its modern design, comfort, and durability have made it a standout. This set provides style and relaxation, whether on occasion or on a typical day. If you're searching for an outdoor furniture set that offers all you want, don't hesitate to buy this set.
What materials were used to construct the Pamapic Patio Furniture Set?
The furniture features a sturdy steel frame that provides stability and durability. The seating surfaces are made from dark brown woven rattan material.
Is the Pamapic Patio Furniture Set weather-resistant?
The design of the Pamapic Set is made to withstand various weather conditions. The rattan material is resistant to fading, warping, and cracking. The rattan resistance makes it suitable for outdoor use. The steel frame is also corrosion-resistant, which ensures longevity.
Where can I use Pamapic Patio Furniture Set?
The Pamapic Patio Furniture Set suits various outdoor spaces. This includes patios, porches, backyards, balconies, poolside areas, and gardens. Its flexible design and stylish appearance make it a great addition to any space in your home.
Is assembly required for the Pamapic Patio Furniture Set?
Some assembly is required for the Pamapic Patio Furniture Set. Yet, the set is designed for easy assembly, and the instructions and tools are included. With proper guidance, you'll be able to assemble the furniture set in no time.
Elevate Your Outdoor Living: Discover BackYardPatioLife
We're excited to connect with you beyond our website. Join us on our social media platforms to stay up-to-date with the latest trends, inspiration, and ideas for transforming your backyard into a beautiful, inviting patio space.
Follow us on Facebook, Instagram, Pinterest, and Twitter for quick updates and tips. Let's create your dream backyard together!   Discover us on social media: ? Facebook: facebook.com/BackYardPatioLife ? Instagram: instagram.com/backyardpatiolife ? Pinterest: pinterest.com/backyardpatiolife ? Twitter: twitter.com/HappyBYPL